Opinion: Trump 'raises' election meddling with Putin — and immediately moves on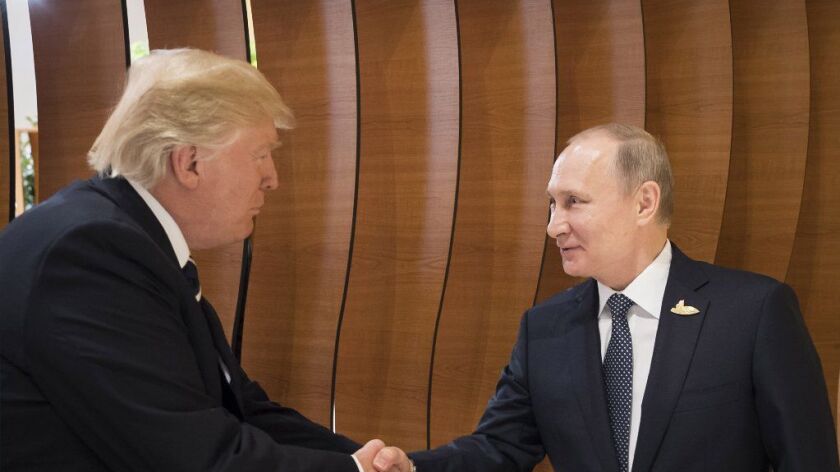 It was the overarching question about President Trump's meeting with Vladimir Putin: Would Trump complain to Putin about Russian interference in last year's U.S. election or remain silent about it?
Apparently Trump decided to split the difference: bringing up the issue but not being adamant or unpleasant about it.
Briefing reporters, Secretary of State Rex Tillerson said that Trump began the two-hour-plus discussion by "raising the concerns of the American people regarding Russian interference." That was followed, Tillerson said, by a "robust" and "lengthy" discussion of the issue.
But the dominant theme of the discussion in Tillerson's telling seemed to be "let bygones be bygones," or, as Tillerson put it, "There was not a lot of re-litigating" of past differences.
To extend the legal metaphor, it seems that, in connection with the election issue, Putin at most did what defendants in a lawsuit do when they sign a consent decree: deny past wrongdoing while promising not to do wrong in the future. Tillerson said that he and Putin decided to create a "framework" to monitor cyber attacks and evaluate who should be "held accountable."
"Both leaders felt there are a lot of things both of us are unhappy about," Tillerson said, but they wanted to move on.
So should Trump get credit for "raising the concerns of the American people" — as opposed to his own concerns about Russian interference, which as of Thursday seemed as minimal as ever? (Trump said in Warsaw that "I think it could very well have been Russia" but that "it could well have been other countries.")
I don't think so. The New York Times described Trump's decision to mention the subject as "a big shift" from his comments on Thursday. But that seems an exaggeration unless the president was a lot more insistent and aggrieved than Tillerson's account suggests.
Perhaps the picture will change if Tillerson or Trump himself provides additional details about the meeting. (They may have to, now that Russian Foreign Minister Sergei Lavrov has told reporters that Trump accepted Putin's contention that Russia "has not interfered in the elections.")
But for now it appears, even by the U.S. account of the meeting, that Trump didn't read Putin the riot act about what the intelligence community has called "a significant escalation in directness, level of activity, and scope of effort compared to previous [Russian] operations aimed at U.S. elections."
As the president himself might say: Sad. But not surprising.
Follow the Opinion section on Twitter @latimesopinion and Facebook
---
A cure for the common opinion
Get thought-provoking perspectives with our weekly newsletter.
You may occasionally receive promotional content from the Los Angeles Times.