Opinion: Why John Chiang doesn't deserve your protest vote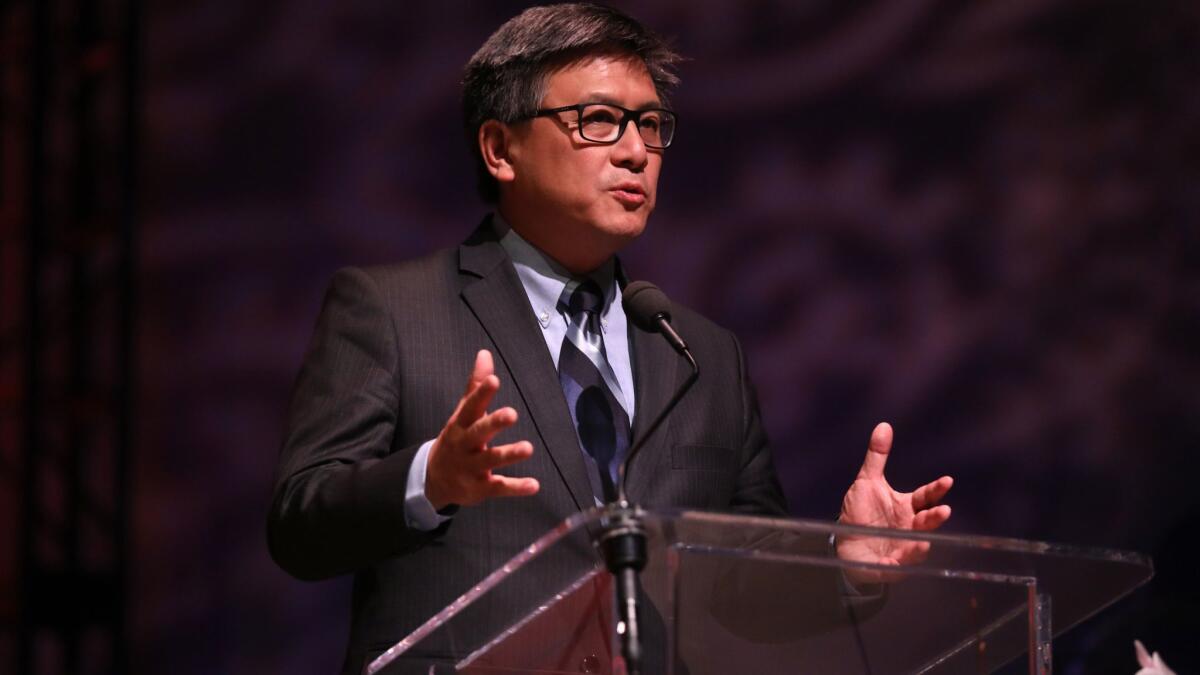 It's a good question, and one that has come up more than once since the Los Angeles Times editorial board decided to throw in with former Los Angeles Mayor Antonio Villaraigosa in the governor's race on June 5: What about John Chiang? After all, we'd endorsed Chiang for both his current job as state treasurer and his previous gig as state controller.
So what happened? We rarely spend much ink bagging on other candidates we aren't supporting in endorsement editorials. But I feel compelled to share more about why the editorial board didn't endorse Chiang because he has become something of a status candidate among progressive-ish folks disenchanted by the mainstream, "corporate" Democratic politicos Lt. Gov. Gavin Newsom and Villaraigosa (the really hard-core progressives are pulling for Delaine Eastin, a former state superintendent of education who's got the Bernie Sanders thing going on).
The Times editorial board had high hopes for Chiang. He's smart and likable, and having spent more than 20 years deeply involved in the state's finances, it seemed likely he'd have some insight into and solutions to offer for the state's biggest problems. Sure, he's been pretty cautious about taking positions in the past, but maybe he felt that as the state's money man he shouldn't step into non-financial debates. Fine. The race for governor was his opportunity to let loose with all the wisdom gleaned from four terms and become the candidate that really blew us away.
Boy, did that not happen. In fact, during our meeting with Chiang in early April, he was harder to pin down than a greased pig on roller skates.
When we tried to get him to explain his position on Senate Bill 827, for example, it took several frustrating follow-up questions to find out what he thought of the ideas in the bill, which would have stripped zoning authority from local governments in order to build more housing. He said he didn't support the bill "unless amended," but liked it in concept. What did he like about it? Was he cool with the idea of stripping zoning rights from cities? If so, in what instances?
Finally, after half a dozen queries, we finally got something of an answer: "I haven't made a final judgement in which cases. I haven't totally precluded state from overruling, right, but I haven't set conditions under which options that I would have the state overrule."
OhhhK.
This wasn't just the experience of The Times' editorial board. Chiang's responses were just as substance-free in the debates and in interviews with other media. Check out this piece by Ben Christopher at CALmatters. Here's an excerpt:
"Chiang certainly lived up to his reputation as soundbite-averse. Ask the gubernatorial candidate for his stand on a particular topic and he might provide a program's financial minutiae, an overview of the pros and cons of a political debate, or — more often than not — a call for more conversation, more study, more data, more deliberation."
Sounds familiar. Indeed, most of our questions about pertinent issues elicited similar answers. On Delta tunnels: "I am waiting for all that research to be completed." On budgeting: "We will look at it and we will prioritize." On what to do with cities that defy the state's sanctuary law: "We're going to have some very energetic and vibrant conversations."
These kind of non-responses paint a worrisome picture. Look, we want the next governor to be thoughtful, of course. But there's a point at which thoughtfulness is just a cover for indecision.
The next governor of California may well face a character-testing confluence of economic and natural disasters. The last thing we need is a leader unwilling — or unable — to commit to anything or risk-taking controversial positions. You can mock Villaraigosa for not reaching his million trees goal or current L.A. Mayor Eric Garcetti for not housing every homeless vet by 2015 like he promised to do. But both were courageous enough to set bold goals that they knew might not be reached. In so doing, hundreds of thousands of trees were planted and thousands of homeless vets were housed in Los Angeles who might otherwise still be on the streets.
Twitter: @marielgarzaLAT
A cure for the common opinion
Get thought-provoking perspectives with our weekly newsletter.
You may occasionally receive promotional content from the Los Angeles Times.