Appeals court delays abortion for immigrant held in federal detention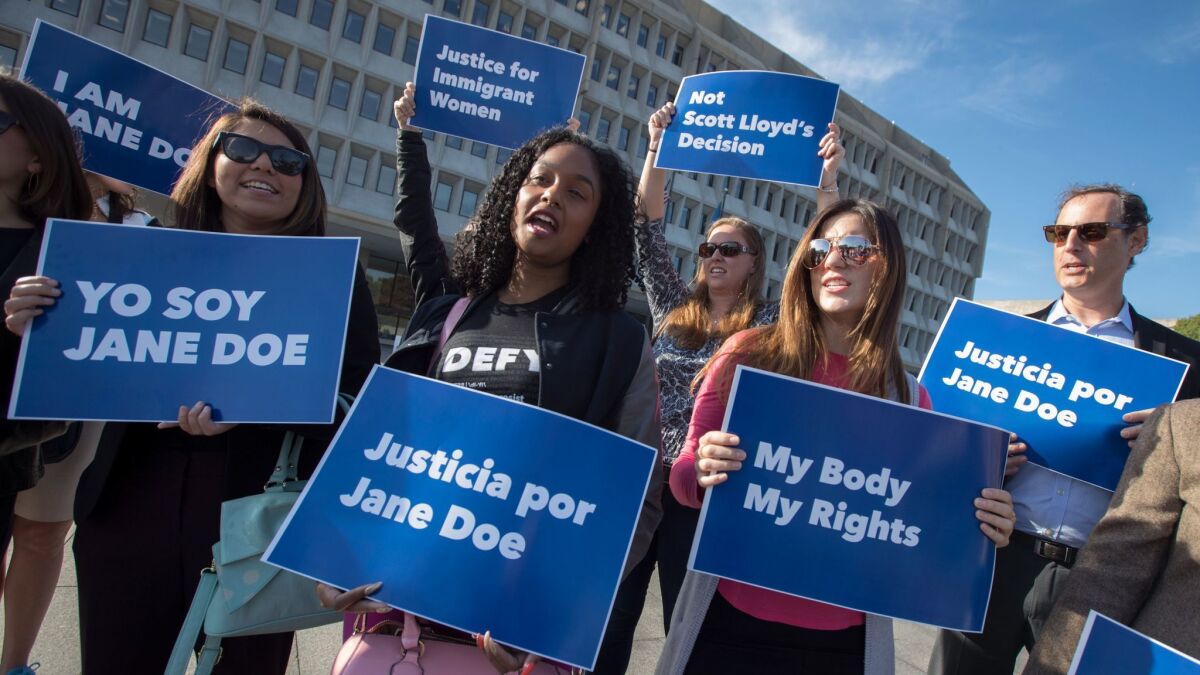 Reporting from Washington —
A divided federal appeals court delayed final resolution of the case of a 17-year-old pregnant migrant in federal detention who is seeking an abortion, giving the Trump administration until the end of this month to find a private sponsor who can house her and will allow her to obtain the procedure.
The 2-1 ruling, written by Judge Brett M. Kavanaugh, a conservative appointed by President George W. Bush, said that if the government failed to find a sponsor by Oct. 31, the young woman could return to a district court that earlier this week ordered the government to allow her to get an abortion by this weekend.
The young woman, called Jane Doe to protect her identity, has been detained in a shelter in Texas since she crossed the border illegally in September. She is 15 weeks pregnant and has been trying for several weeks to get an abortion, but the government's Office of Refugee Resettlement, now headed by a lifelong antiabortion activist, is blocking her from getting one.
During oral argument of the case on Friday, judges on the panel made clear that they hoped to avoid making a decision that could have significant ramifications on abortion law. Kavanaugh repeatedly pressed lawyers on whether the conflict could be solved by moving the young woman from the shelter where she is currently detained to the custody of a family member or other sponsor.
"We're being pushed in the span of 24 hours to make a sweeping constitutional ruling," he said. Judge Karen Henderson, also a Republican appointee, joined Kavanaugh's decision but indicated she did not fully agree with his reasons.
The one Democratic appointee on the panel, Judge Patricia Millett, dissented, saying that further delay of Doe's right to have an abortion was unwarranted.
"In this context, timing profoundly matters," she wrote, noting that at this stage of a pregnancy, each passing day can "increase the health risks associated with an abortion procedure." By the end of the month, when Doe would be 17 weeks pregnant, she probably would no longer be able to use the abortion clinic near the shelter and would have to travel to a clinic in north Texas hundreds of miles away, Millett added.
Lawyers for the ACLU, which represents Doe, expressed disappointment with the ruling. During the hearing, lawyers noted that finding a sponsor is often a lengthy process that involves extensive vetting.
"Justice is delayed yet again for this courageous and persistent young woman. She continues to be held hostage and prevented from getting an abortion because the Trump administration disagrees with her personal decision," Brigitte Amiri, senior staff attorney with the ACLU Reproductive Freedom Project, said in a statement. "We are investigating all avenues to get justice for her."
In a class-action lawsuit that could become a significant test of abortion rights, the ACLU has argued that the refugee office's policy against allowing abortions for any women in its custody is unconstitutional.
The administration has argued that it has no obligation to help Doe get an abortion while she is in detention, saying she could get out of the facility if she were willing to leave the country. Lawyers conceded, however, that Doe's home country, which has not been identified, does not allow abortions.
In his ruling, Kavanaugh noted that the administration had "assumed, for purposes of this case" that Doe "possesses a constitutional right to obtain an abortion in the United States" despite her immigration status.
The case has become a flashpoint in the wars over abortion. On Friday morning, activists with Planned Parenthood demonstrated outside the Health and Human Services Department building, waving signs saying, "I am Jane Doe" and "Justicia por Jane Doe."
The Texas Catholic Conference of Bishops issued a statement supporting the administration's position: "No one — the government, private individuals or organizations — should be forced to be complicit in abortion," the statement says.
The resettlement office takes custody of undocumented minors who cross the border illegally and places them with a network of shelters run by churches and social organizations unless a family member or other sponsor is available. The Catholic Church is the biggest provider in the network. The 17-year-old, however, is not in a church-affiliated shelter.
The new director of the refugee office, Republican lawyer E. Scott Lloyd, has spent most of his professional career advocating for restrictions on abortion and contraception. In March, the office instructed shelters that women were not permitted to get abortions without the director's written permission. Since then, he has personally tried to convince teenagers in the shelters to not get abortions, court papers show.
During oral arguments Friday, under questioning by both a Republican and Democrat on the three-judge panel, a Justice Department lawyer acknowledged inconsistencies in U.S. policy, which allows access to abortions for adult women in both federal prison and immigration detention.
Kavanaugh pointed out that if Doe had crossed the border and been jailed for a crime, she'd be permitted to get an abortion.
The lawyer, Catherine H. Dorsey, tried to avoid taking a position on whether undocumented immigrants are covered by the Constitution's guarantee of a woman's right to abortion, eventually surrendering the point.
"Is there any way it's not relevant?" asked Millett.
Even if Doe has those rights, "she can file a request for voluntary departure at any time," Dorsey said.
Twitter: @jtanfani
ALSO
Young, pregnant migrant's case becomes a test of Trump policies on abortion and immigration
As Trump looms over the race, Virginia tests whether an establishment Republican can succeed
In stunning attack, George W. Bush rebukes Trump, suggesting he promotes falsehoods and prejudice
---
UPDATES:
4:15 p.m.: The story was updated with quotes from the dissenting opinion.
3:35 p.m.: The story was updated with additional quotes from the ruling and reaction.
3 p.m.: The story was updated with the ruling of the appeals court.
The story was initially published at 1 p.m.
Life is stressful. Our weekly mental wellness newsletter can help.
You may occasionally receive promotional content from the Los Angeles Times.