Young, pregnant migrant's case becomes a test of Trump policies on abortion and immigration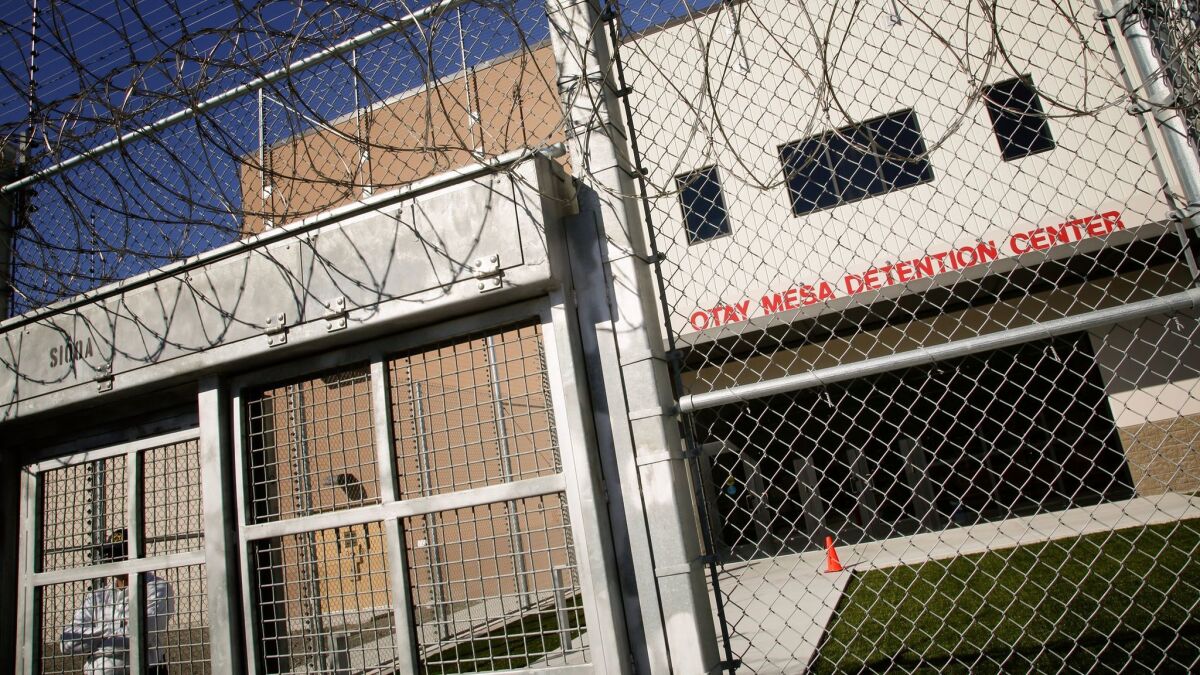 Reporting from Washington —
When the Trump administration chose E. Scott Lloyd, a prominent antiabortion activist and attorney, to head the federal agency that oversees refugee affairs, he quickly set about enforcing strict policies.
For months, even as he personally intervened in cases and tried to talk young women out of getting abortions, his efforts drew little attention.

For the record:
4:55 p.m. Oct. 19, 2017
An earlier version of this story did not make clear that the teenager has obtained private funding for an abortion.
The case of a 17-year-old pregnant girl in an immigration detention center in Texas has suddenly changed that.
On Friday, a federal appellate panel here is scheduled to hear arguments in a case brought by the girl, called Jane Doe to shield her identity, to force Lloyd's office to allow her to have an abortion. The dispute could be an important early test of both abortion rights and the treatment of immigrants in custody in the Trump era.
Doe was pregnant when she crossed the border in September as an unaccompanied minor. Since then, she has been detained in a shelter in Texas. Lloyd, who has campaigned against abortion since his days as a law student at Catholic University, has denied her requests to leave the shelter to obtain an abortion, according to court papers.
"I feel like they are trying to coerce me to carry my pregnancy to term," she said in court filings, saying she was forced to attend a counseling session at a religiously affiliated center and made to look at a sonogram of her fetus.
The Office of Refugee Resettlement, part of the Department of Health and Human Services, uses a network of private shelters to care for minors who are caught crossing the border illegally. In March, shortly before Lloyd took over, the office put in place a policy that bars young women in their custody from taking any action to terminate a pregnancy, including scheduling medical appointments, without the written approval of the director.
The American Civil Liberties Union has sued to overturn the policy, saying it puts an unconstitutional "undue burden" on a woman's right to an abortion. Brigitte Amiri, a senior staff attorney with the ACLU's Reproductive Freedom Project, says Lloyd is illegally carrying his antiabortion crusade into his work as a government official.
"Everyone is entitled to their beliefs about abortion in this country, but it is an entirely different matter when a government official assumes power and uses those beliefs to personally coerce young women," Amiri said in an interview.
"Imagine you're a young woman who comes here," Amiri said. "Your immigration status is held in the palm of Scott Lloyd's hand, and this guy comes to you — this white guy in a suit — and says, 'I think you should really carry your pregnancy to term.' That abuse of government power is stunning."
In a brief telephone interview, Lloyd declined to comment and referred questions to the department.
Administration lawyers have asserted the government has broad power to determine whether minors in immigration custody can obtain an abortion.
Justice Department officials told the appeals court in a motion that the government was not infringing Doe's rights because she could leave custody at any time if she agreed to waive her immigration claims and be deported.
"Even if she must choose between leaving the United States and the ability to seek an abortion, that choice does not constitute an 'undue burden' because Ms. Doe, as an illegal alien, has no legitimate right to remain in the United States," they wrote.
In a statement Wednesday, after a lower court rejected those arguments, the agency said that it would fight to "ensure our country does not become an open sanctuary for taxpayer-supported abortions by minors crossing the border illegally."
If Doe has an abortion, it will be paid for privately since federal law does not allow tax funds to be used for the procedures.
The legal battle is playing out as the Trump administration moves toward other policies championed by religious conservatives. Earlier this month, Atty. Gen. Jeff Sessions issued a memo instructing agencies that "except in the narrowest circumstances, no one should be forced to choose between living out his or her faith and complying with federal law."
Lloyd has been deeply involved in antiabortion issues much of his adult life, and while at Catholic University a decade ago he worked with a professor on the case of Terri Schiavo in Florida, fighting on the side of her parents, who wanted their daughter kept alive by feeding tubes.
He later started a law firm, LegalWorks Apostolate, which married the law with Catholic doctrine. During a stint working in the George W. Bush administration, he co-wrote a "medical conscience" rule that allowed medical personnel who morally opposed abortion or other services to refuse to provide them to patients. Many of those rules were rescinded by President Obama.
In an essay on his firm's website, Lloyd decried an Obama rule that extended healthcare benefits to contraceptive services.
"Our tax dollars are being used to help trick people into aborting their own children, when they would not do so if someone was not lying to them," Lloyd wrote.
In one case as director of the refugee agency, Lloyd flew to San Antonio to try to talk a young woman out of having an abortion, court filings say.
"As I've said, often these girls start to regret abortion, and if this comes up, we need to connect her with resources for psychological and/or religious counseling," he wrote in an email included in the court filings.
In another email, he stressed that shelters under the refugee office could only provide "pregnancy services and life-affirming options counseling."
The new antiabortion rules are a sharp departure from practices in other administrations, according to Robert Carey, who ran the resettlement office during the Obama administration.
"Pregnant girls in our care were entitled to be informed of their options," he said. "The role of the director is not to convince a woman to pursue a course of action."
Conflicts over abortion did come up in the program during the Obama administration. The ACLU sued the government last year because some Catholic-run shelters refused to accommodate abortions. Usually, Carey said, the department steered pregnant minors to shelters not opposed to abortions in order to preserve their options.
The case has already become a rallying cry for abortion rights advocates. In a statement, the Planned Parenthood Federation of America called the government's actions "outrageous."
Sen. Dianne Feinstein (D-Calif.), in a statement Thursday, said, "It's appalling that the Trump administration believes women — undocumented or otherwise — don't have the right to control their own bodies and make their own health care decisions."
Twitter: @jtanfani
Life is stressful. Our weekly mental wellness newsletter can help.
You may occasionally receive promotional content from the Los Angeles Times.