Judge affirms order evicting Michael Avenatti's law practice from office in Newport Beach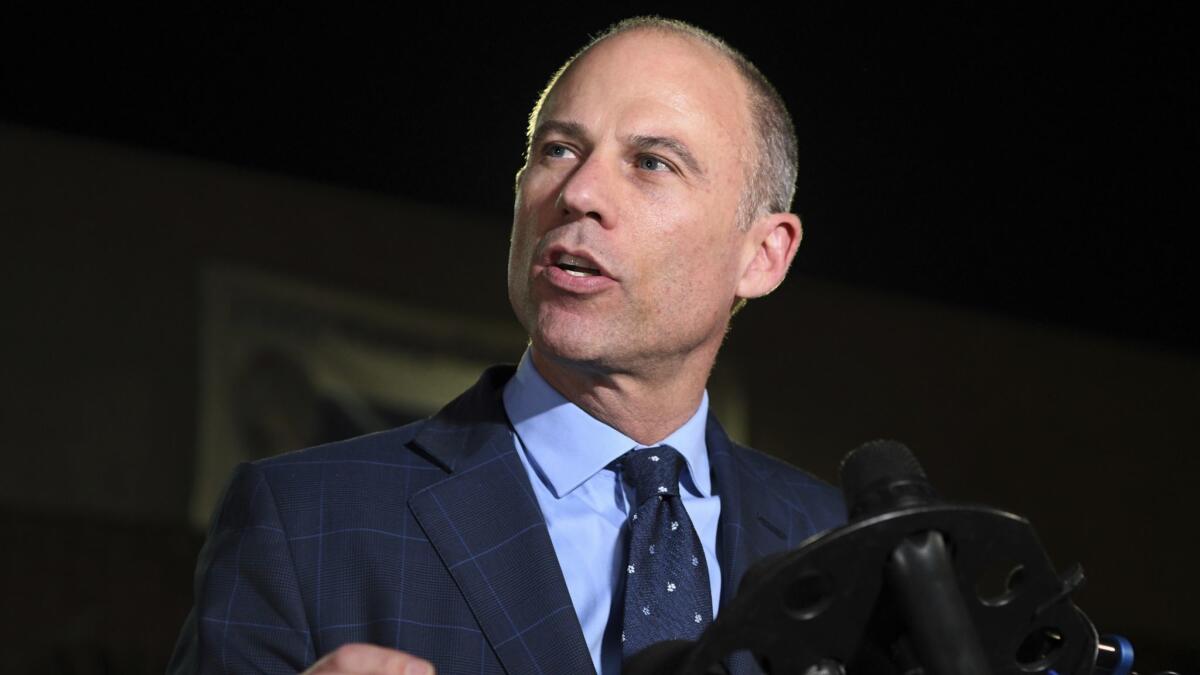 Michael Avenatti, the lawyer for adult film actress Stormy Daniels, lost a last-ditch appeal Friday to block the eviction of his law practice from its Newport Beach offices.
In a brief hearing at Orange County Superior Court in Santa Ana, Judge Robert J. Moss affirmed his Oct. 22nd order that Avenatti and his staff vacate their ocean-view suite in a building across from the Fashion Island mall. He ordered them to leave by Monday.
Avenatti's longtime law firm, Eagan Avenatti, skipped $213,254 in rent payments due over four months, leading the landlord, the Irvine Co., to sue for eviction.
After the landlord won the case last month at a one-hour trial that Avenatti skipped, the Orange County Sheriff's Office posted a notice at the law office ordering the firm to vacate the premises by 6 a.m. on Nov. 1.
Avenatti requested a reprieve that won him a delay until Friday's hearing, which he also did not attend.
Moss asked Mark Kompa, the landlord's attorney, if he had heard from Avenatti. Kompa said he spoke to the celebrity lawyer on Tuesday.
"There were other events that transpired so I haven't heard from him since then," Kompa said.
Avenatti was arrested Wednesday in Los Angeles on suspicion of domestic violence, according to police. He was released after posting $50,000 bond and has denied the allegations.
Asked about the eviction order in an email, Avenatti responded, "It does not matter as Eagan Avenatti, my former firm, was already in the process of moving. A non-event."
On Oct. 31, Avenatti asked the court to stop the eviction, saying Avenatti & Associates, another entity that he owns, had an "oral rental agreement with the landlord" that must be honored.
The landlord denied there was any such agreement.
Avenatti says the two businesses are distinct firms, but they function as the same law practice with the same lawyers and support staff in the same Newport Beach office suite.
After Eagan Avenatti sought federal bankruptcy protection from its creditors last year, Avenatti identified himself in court proceedings as the sole owner of Avenatti & Associates, which in turn owned 75% of Eagan Avenatti.
He later told a judge that Avenatti & Associates had bought out the firm's minority partner Michael Eagan of San Francisco and become 100% owner of Eagan Avenatti.
After the firm was hit with a $10-million judgment in a dispute with a lawyer who used to work there, Avenatti said that Avenatti & Associates no longer held any ownership stake in Eagan Avenatti, but declined to name the new owner.
Get our Essential Politics newsletter
The latest news, analysis and insights from our politics team.
You may occasionally receive promotional content from the Los Angeles Times.