Democrats pushing for vote on Dream Act as White House backs off demands to link it to border wall funding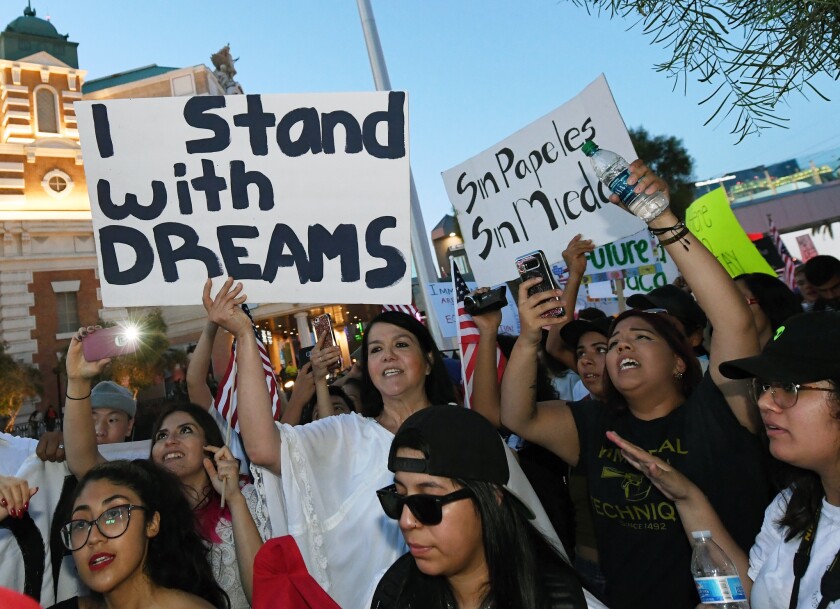 Reporting from Washington —
Democrats are pushing for a vote on the Dream Act in a matter of weeks after President Trump told congressional leaders he wanted action on legislation to protect the young immigrants known as "Dreamers."
House Minority Leader Nancy Pelosi said Tuesday that Democrats are trying to force a vote, using a procedural maneuver or at least provide a show of strength that leaves Republican leaders few options but to call one.
"The president asked them to bring it up," Pelosi (D-San Francisco) told a small group of reporters Tuesday in an interview at the Capitol. "We told him ... we will not rest until it's passed, and we want to do it as soon as possible."
Though Trump terminated the Obama-era Deferred Action for Childhood Arrivals program, he gave congressional leaders six months to come up with a legislative fix for the immigrants, who were brought illegally to the U.S. as children. DACA allows them to temporarily avoid deportation and work legally.
Pelosi's efforts come as a top White House aide reiterated Tuesday that the administration is not insisting — at least not now — that funding for a proposed wall along the Mexican border be part of any deal. Trump promised during the campaign that Mexico would pay for the wall. The White House insists Mexico will reimburse the U.S., but Mexican officials contend that they will never pay for the wall.
"The president is committed to sticking by his commitment that a physical structure is what is needed to help protect America," White House legislative director Marc Short told reporters at a breakfast Tuesday sponsored by the Christian Science Monitor. "Whether or not that is specifically part of the DACA package, or a different legislative package, I am not going to prejudge here today."
Instead, both sides are more likely to come to agreement on a package of other border security measures that could be paired with the bill.
Trump, who had previously threatened a government shutdown over border wall funding, outlined the contours of a possible deal last week.
"We want responsible immigration reform," White House Press Secretary Sarah Huckabee Sanders said Tuesday. "That hasn't changed. The president's very much committed to the wall. We're also committed to some other principles that we've laid out, and none of those have changed."
Pelosi told reporters that Trump, during his recent meeting with congressional leaders, made clear he wanted to see legislative action on a DACA protection bill, and Democrats let the president know they will not allow wall funding as part of it.
"We've been very clear: There is no wall in our DACA future," Pelosi said. "It's just not going to happen."
Democrats are gathering signatures in the House in support of their bill, sponsored by Rep. Lucille Roybal-Allard of Downey, to force a floor vote.
As the minority party, Democrats are trying to build support for a discharge petition, which is a procedural move to force a vote after Sept. 25, if enough Republicans agree.
More than two dozen House Republicans have already signaled support for similar DACA-like legislation, sponsored by Rep. Carlos Curbelo (R-Fla.).
Democrats would need most of those Republicans to back their bill, and some may be hesitant now to do so. But Pelosi noted that even the threat of enough support could prod the majority party leadership to act.
"We're hoping a number of them will come over," Pelosi said.
Meanwhile, the White House is preparing to release legislative principles in the weeks ahead on other border security measures as part of a DACA deal.
"There are several things we think are important," Short said. "We do think it is important to secure our border. We do think interior enforcement is critical. And we also think that we should be moving to a merit-based immigration system."
Short said those ideas could be part of one legislative package or multiple bills. One option would be to add a Dream Act bill to a must-pass, year-end legislative package to fund the government.
Top Democrats have signaled they are willing to consider security options, if the wall funding is not part of the package.
Experts have questioned the ability of a physical wall to deter illegal entries, and some lawmakers from both parties have suggested other border options to better secure the crossings.
"There are a lot better ways and a lot cheaper ways to provide security at the border," said Senate Minority Leader Charles E. Schumer (D-N.Y.). "We want to do it smartly, and we certainly don't want the symbol of America to the world, which is now the beautiful lady in the harbor with the torch that I represent, to turn into a wall."
ALSO
Bannon's ouster could boost the powerful Koch network, which has surprising sway in Trump's White House
McCain's surprise vote doomed GOP healthcare bill, but did it open the door for Senate bipartisanship?
Is this small-town congressman from New Mexico tough enough to win Democrats the House majority?
---
For reporting and exclusive analysis from bureau chief John Myers, get our California Politics newsletter.
You may occasionally receive promotional content from the Los Angeles Times.