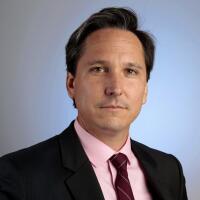 Brian Bennett
Brian Bennett previously covered the White House, national security and immigration in the Los Angeles Times Washington bureau, where he worked from 2010-18. While there, he documented a pattern of excessive force by U.S. Border Patrol agents and revealed the first arrest on U.S. soil using a Predator drone. He reported for Time magazine starting in Hong Kong in 2000, from Pakistan and Afghanistan after the Sept. 11 attacks and was its Baghdad bureau chief in 2003 and 2004. A native of Riverside, Calif., he misses being able to pick avocados and oranges in the backyard.
Latest From This Author
The Trump administration announced a hastily assembled plan Wednesday to deploy National Guard troops along the southwestern border, hoping to make good on a promise the president made a day earlier that caught many in the military by surprise.

President Trump has ordered the Pentagon to plan to withdraw U.S. troops from Syria, but held off setting a date after his foreign policy advisors warned that a premature pullout from the multi-sided maelstrom could repeat U.S. mistakes in Iraq and give Russia and Iran even greater sway in the region.

The Trump administration is asking border-state governors to send National Guard units to the Southwestern border, Homeland Security Secretary Kirstjen Nielsen said Wednesday.

President Trump announced Thursday that he was replacing his national security advisor, Lt. Gen.

President Trump is moving toward a major confrontation with China over its trade practices, as administration officials put the final touches on billions of dollars of tariffs aimed at Chinese exports and possible restrictions on investments in the U.S.

President Trump's nomination of Mike Pompeo as secretary of State probably augurs the end of the 2015 accord that has blocked Iran from building nuclear weapons, an agreement praised by world powers but detested by Trump — and by Pompeo, a notable hawk on the Islamic Republic.

Hard on the heels of firing his secretary of State, President Trump is preparing another shake-up, moving toward replacing his national security advisor, H.R.

The Trump administration on Thursday announced sanctions against 19 Russian individuals and five organizations for meddling in the 2016 election and for other "destructive cyber-attacks" still targeting the U.S. electrical grid and water systems.

El presidente Trump estuvo fuera de Washington solo 36 horas para realizar un viaje nocturno a California y el miércoles a St.

President Trump was only out of Washington for 36 hours this week, for an overnight trip to California and, on Wednesday, to St.