Family separation crisis continues on border even as court-ordered deadline nears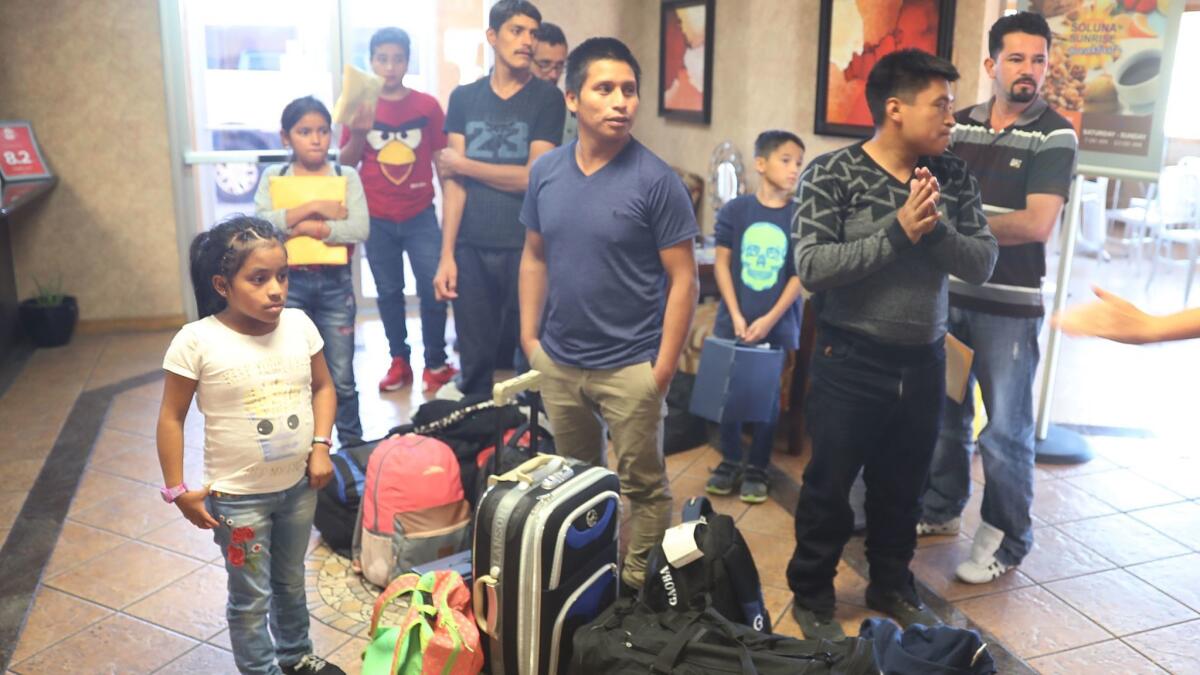 Reporting from Washington —
The calls for help started coming in to immigration lawyers across the country just before Memorial Day. Immigrant detainees, many fleeing gangs and violence and seeking legal asylum in the U.S., were flooding courtrooms along the Southwest border.
Dozens were parents reporting that Border Patrol agents had taken away their children, and many were under the impression they would see their sons and daughters again within hours.
"We had to break the news to them that that wasn't true," said Efrén C. Olivares, who was among the attorneys with the Texas Civil Rights Project to come to the aid of public defenders in McAllen. "And then the question became, 'If not today, then when?'
"We didn't have an answer to that."
Nine weeks of chaos and confusion later, many still don't.
Under an order issued by U.S. District Judge Dana Sabraw in San Diego, Thursday is supposed to be the deadline for reuniting the more than 2,500 children who were taken from parents apprehended while crossing the border.
Government lawyers have conceded they will fail to reunite all the families by that deadline — hundreds of parents already have been deported without their children, and the government has been unable to locate many others. Officials said in court Tuesday they expected to have reunited just over 1,600 families by the deadline.
Despite the administration's professed "zero tolerance" policy, hundreds of those families have been released on immigration parole, pending hearings on their asylum claims, typically with the adults wearing ankle monitors. Scores of other families, however, have been sent to immigration detention centers, including two in Texas where at least 80 families are being held in custody.
Why some families have been released and others detained remains unclear, as is how long those detentions may last, according to lawyers for the families. Government officials have refused to provide answers. A federal court settlement dating to the 1990s generally limits the lockup of children in immigrant detention centers to 20 days.
As of Wednesday, the government was still working to reunite more than 1,500 parents with children. About 900 parents were fighting final deportation orders. American Civil Liberties Union lawyers have asked Sabraw to delay those deportations to give the parents more time to decide whether to leave the country with their children or separate from them and have the children continue to press for asylum claims of their own.
Government lawyers say about 130 parents voluntarily left their children behind. But in affidavits filed Wednesday, lawyers said some parents believed they were signing forms to release their children to relatives in the U.S. Others were coerced or frightened, and many were given documents they could not read, the lawyers have said. Some of the families primarily speak indigenous languages and are not literate in Spanish or English.
More than 450 parents already have probably been deported without their children, government lawyers told Sabraw this week. The precise number, perhaps 463, remains "under review," they said. An additional 64 were deemed ineligible to be reunited with children because they had criminal records or other reasons that government officials said made them unfit.
At least 217 parents were released into the U.S. without their children, government lawyers said. Both the government and volunteer lawyers for the ACLU are trying to locate them in efforts to reunite the families.
The continued confusion, Sabraw said in court this week, was the "unfortunate" result of a policy adopted "without forethought to reunification or keeping track of people."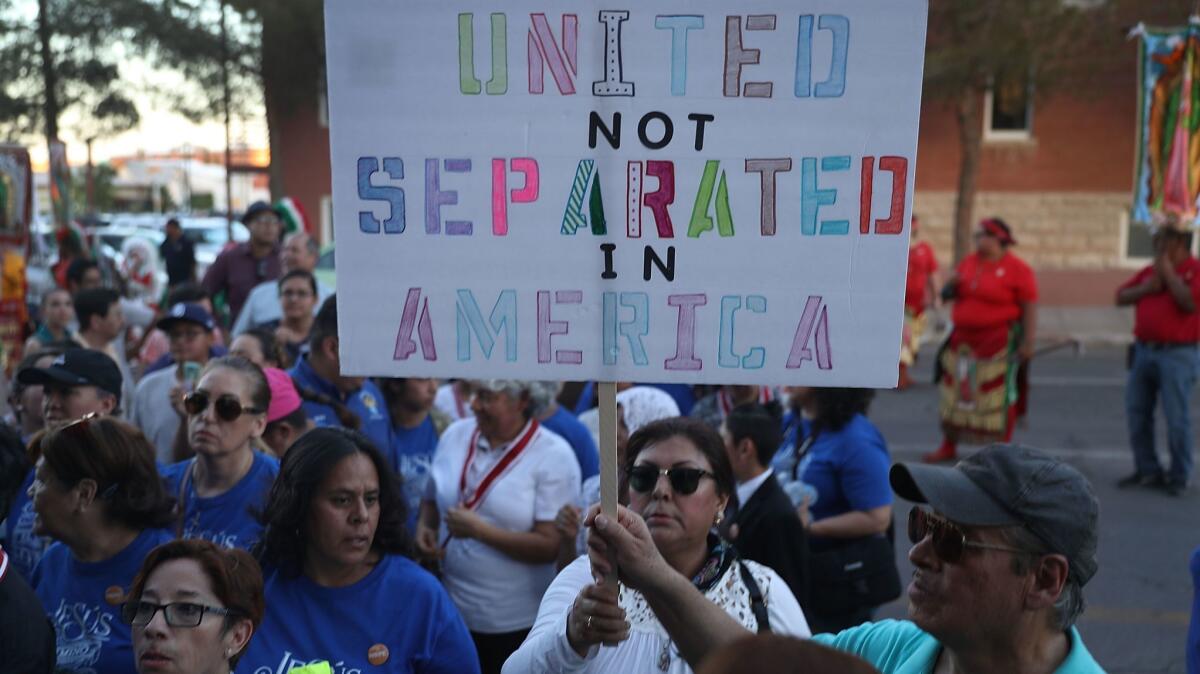 Along the Southwest border, immigration lawyers have described a reunification process as chaotic and scurried as the separations themselves. With family reunions often taking place in the parking lots of detention centers, activist groups have flooded the Texas border to provide help to exhausted, traumatized parents and children.
Annunciation House in El Paso has assembled hospitality centers with beds, meals, showers and a change of clothing for families. So far, it has helped 250 families who were released from detention after being reunified, the group said in a statement.
In the Rio Grande Valley, to the southeast, Catholic Charities had taken in another 100 families on Wednesday, and hundreds of volunteers were cooking meals and soliciting food donations.
"We are providing them a place to be with their children … making sure they have a safe space, a tranquil space," said Brenda Riojas, the charity's spokeswoman.
Money raised from private donors and congressional organizations, faith groups and nonprofits under the Families Belong Together coalition has allowed advocates to purchase airline and bus tickets to help parents travel to the homes of relatives or friends across the country.
Lawyers groups, such as the American Immigration Council, have been taking donations to provide counsel to parents seeking asylum or other forms of immigration relief. But ensuring families have access and can connect with lawyers has been trying.
A little before noon Wednesday, Jaqueline Aranda Osorno, an attorney at Public Counsel in Los Angeles, got word that her client, a Guatemalan father, had reunited with his 13-year-old daughter. From her home, Aranda coordinated with volunteers in McAllen to get the pair out of town.
Buses destined for a Texas town where a sponsor family waited for them were sold out. A local church was already packed with recently reunited parents and children. Multiple families were sharing rooms.
"It's been incredibly hard to figure out how to get this family out," Aranda said.
Other advocates said they hadn't been allowed on the grounds of some shelters, hurting their access to families. "Some are told to report to Immigration and Customs Enforcement in a week but may not understand what to do to avoid being detained again," said Bethany Carson, an organizer with Grassroots Leadership in Austin, Texas.
Hundreds more children remain in the hands of the government — and as many as 37 have not been matched with a parent. Congressional Democrats, immigrant rights advocates and lawyers continue to clamor for answers about what's next for the separated families and other migrant children.
"We are going to continue to ask the questions," said Rep. Val Demings (D-Fla.), a member of the House Homeland Security Committee. "We are going to continue to track where parents are and where children are, and we are not going to let it go until every child is reunited."
Atty. Gen. Jeff Sessions announced the "zero tolerance" policy at the border in April. It took effect in early May. Under the policy, all adults who crossed into the country illegally were prosecuted for illegal entry. That offense is a misdemeanor, and in nearly all cases, the immigrants were sentenced to time served, but the fact that they were taken into custody provided legal justification for the government to take children away from their parents.
With parents moved into the custody of the U.S. Marshals Service, federal officials shuffled children into tent camps or more than 100 shelters nationwide.
Pentagon officials said the military has been directed to build more tent camps at two bases in Texas to temporarily house migrants.
On June 20, with pictures of children behind fences generating an international outcry, President Trump suspended the separations through executive order. Sabraw subsequently required the government to reunite children younger than 5 with their parents within 14 days, and older children by this week.
At least 57 children under 5 and more than 1,185 older children have since been reunited with families under the court order. Nearly 500 more were reunited within hours by Border Patrol agents in June.
Administration officials first floated the idea of separating migrant families at the border as a form of deterrence as early as March 2017. Homeland Security Secretary Kirstjen Nielsen initially denied the existence of a family separation policy, then denied that Trump ordered it as a deterrent.
She and Sessions since have defended the decision to prosecute anyone who is caught crossing the border between legal ports of entry. Asked last week whether she had been notified of the family separation policy ahead of time, she said her answer was "yes and no."
"We had always done this at DHS. In other words, we had always enforced the law. The last administration enforced the law, which means they enforced the law against families," she told an audience at the Aspen Institute. Before May, however, most families with asylum claims were released pending a hearing, and few were prosecuted for illegal entry.
Through letters and private briefings, members of Congress have continued to press federal officials on how the family separation policy was crafted and rolled out, including details on the budgets and coordination among agencies under the departments of Homeland Security, Health and Human Services and Justice.
The response from agencies and Trump administration officials has ranged from mixed messages to silence. In the latest briefing on Wednesday, members of the Congressional Hispanic Caucus said Nielsen had expressed confidence the government was on pace to meet the deadline.
But members said Nielsen and other federal officials' accounts often conflicted with what constituents are seeing. In some cases, they said, parents in detention are being charged for phone calls to their children or can see them for only an hour a day.
Court declarations, a scathing report from attorneys and records from at least five lawsuits against federal agencies have given glimpses into the treatment of children and families in immigration custody.
At one Customs and Border Protection facility in El Centro, Calif., families with children as young as 3 were sleeping on cold, concrete floors with no padding, according to the case filings. Detainees, including juveniles, were not given adequate access to drinking water and basic hygiene products.
The cases have prompted support from doctors, psychiatrists and pediatricians.
Members of the American College of Physicians have called for congressional oversight on the health effects of family detention on children.
"We have two main concerns," said Matt Adams, legal director of the Northwest Immigrant Rights Project, which is representing more than 60 parents, grandparents and other relatives separated from children at the border. "Will the government meet its deadline? Are families going to be locked up or treated with dignity?"
Times staff writer Ulloa reported from Washington and San Diego Union-Tribune staff writer Davis reported from San Diego. Times staff writers Molly Hennessey-Fiske in Roma, Texas, and Cindy Carcamo in Los Angeles contributed to this report.
More stories from Jazmine Ulloa »
---
UPDATES:
3:45 p.m.: The article was updated with additional comments from aid organizations and descriptions of events at the border.
The article was originally published at 1:50 p.m.
Get our Essential Politics newsletter
The latest news, analysis and insights from our politics team.
You may occasionally receive promotional content from the Los Angeles Times.