Trump administration reunites just over half of migrant children under 5 with parents, says others are 'ineligible'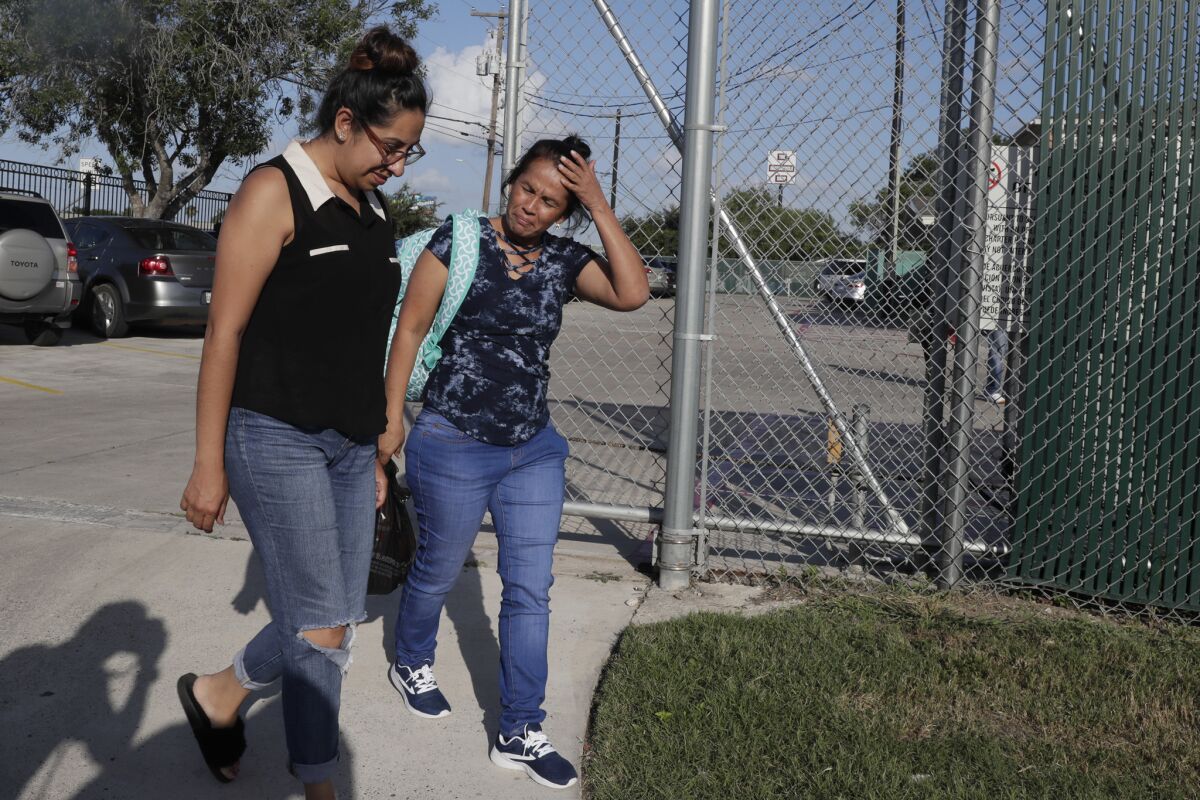 Federal officials said early Thursday they had reunited 57 of 103 young migrant children separated from their parents at the U.S.-Mexico border largely as part of the Trump administration's "zero-tolerance" policy on suspected illegal crossings, but they have not returned an additional 46 for cited reasons including deportation and criminal histories of some of the adults.
The government began its first major wave of reuniting migrant children with their parents on Tuesday, the deadline set by U.S. District Judge Dana Sabraw for those children younger than 5. Sabraw ordered the reunifications after a class-action lawsuit filed by the American Civil Liberties Union.
Of 103 children younger than 5 who were covered by the court case, 57 had been reunited as of 7 a.m. EST, officials said. Forty-six were "acknowledged by the court to be ineligible for reunification or determined by HHS, DHS and DOJ to be ineligible under court-approved criteria."
RELATED: What it took to reunite one immigrant family separated under U.S. 'zero tolerance' policy »
Sabraw's court in San Diego had ordered the government to take a streamlined approach to matching and vetting parents for reunification. Under the new guidelines, DNA testing can be used only if the government has a specific concern about a child's parentage, or if it would speed up the reunification process. But if parentage can be proved through other official means, Sabraw said, that was enough.
The judge also threw out policies that called for background checks of other adults in the household, establishment of a care plan, and home visits — unless officials have specific concerns they can explain and justify. Criminal background checks will still be run on the parents.
"As of this morning, the initial reunifications were completed. Throughout the reunification process our goal has been the well-being of the children and returning them to a safe environment," Health and Human Services Secretary Alex Azar, Homeland Security Secretary Kirstjen Nielsen and Atty. Gen. Jeff Sessions said in a joint statement. "Of course, there remains a tremendous amount of hard work and similar obstacles facing our teams in reuniting the remaining families. The Trump administration does not approach this mission lightly, and we intend to continue our good faith efforts to reunify families."
Twenty-two of the 46 remaining children were declared ineligible for reunification because of safety concerns posed by the adults in their cases, including serious criminal histories and adults determined not to be a parent, according to HHS.
Eleven adults have serious criminal histories, including charges or convictions for child cruelty, kidnapping, murder, human smuggling and domestic violence, according to HHS. Seven adults were determined not to be a parent, one had a falsified birth certificate, one was alleged to have abused the child, one planned to house the child with an adult charged with sexually abusing a child and one is being treated for a communicable disease, according to HHS.
An additional 24 children were declared not eligible because of various circumstances of the adults — 12 have been deported, nine are in custody of the U.S. Marshals Service, two are in the custody of state jails and the location of one has been unknown for over a year.
The government was ordered to provide an update Thursday afternoon and if all eligible children weren't reunited by the deadline, explain why. If the ACLU finds that the government is not in compliance with the order, then it can then request relief, which could include significant fines.
The ACLU tweeted that if the government "has in fact reunified 57 kids because of the lawsuit, we are thrilled for those families."
"But make NO mistake: the Trump administration missed the deadline, even for those 57 kids," the tweet stated. "We will be recommending remedies for the non-compliance."
Administration officials have recently appeared to soften their hard-line stance on how the border detainees are treated, saying the majority of parents of children younger than 5 would be released with ankle bracelet monitors rather than being held indefinitely as a family. They declined to say whether they would similarly release the parents of the much larger group of 2,000 to 3,000 children ages 5 to 17.
Sabraw has ordered that thousands of older children should be reunited by July 26.
On Monday, a federal judge in Los Angeles rejected the Justice Department's request to modify a long-standing legal settlement outlining how long immigrant minors may be detained. The 1997 agreement, known as the Flores settlement, requires that minors be released "without unnecessary delay," preferably to a parent, legal guardian or close relative.
In court Tuesday, Justice Department attorneys told Sabraw that they believed the two orders still allowed the administration to ask parents detained at the border to either waive the right to remain with their children, as recognized in the San Diego case, or waive the Flores settlement's maximum 20-day limit that a child can be forced to spend in immigration detention.
In Thursday's joint statement, officials stated that the "American people gave this administration a mandate to end the lawlessness at the border, and President Trump is keeping his promise to do exactly that."
"Our message has been clear all along: Do not risk your own life or the life of your child by attempting to enter the United States illegally. Apply lawfully and wait your turn," the officials said. "The American immigration system is the most generous in the world, but we are a nation of laws and we intend to continue enforcing those laws. Establishing the immigration system demanded of our political leaders by the American people for more than 30 years — one that serves the national interest — will allow our nation to further realize the foundation of freedom, safety, and prosperity we inherited from our founders."
San Diego Union-Tribune staff writer Kristina Davis contributed to this report.
Twitter: @Brittny_Mejia
---
UPDATES:
9:50 a.m.: This article was updated with an ACLU tweet.
8:10 a.m.: This article was updated with details about a streamlined approach to reunifying children and parents.
8 a.m.: This article was updated with details about criminal histories of some of the adults.
6:20 a.m.: This article was updated with additional details.
This article was originally published at 5:45 a.m.
---
The stories shaping California
Get up to speed with our Essential California newsletter, sent six days a week.
You may occasionally receive promotional content from the Los Angeles Times.