White college grads' distaste for Trump hurt GOP in 2017. Will it flip control of Congress to Democrats in 2018?
Reporting from Summerlin, Nev. —
White college graduates in America's suburbs have turned hard against Republicans in elections around the country and threaten to upend the party's control of Congress in the 2018 midterm elections.
Put off by Donald Trump's presidency, they have been shunning Republicans in congressional and state legislative contests. Their support was crucial in electing Democrats as governor in Virginia and U.S. senator in conservative Alabama.
Republican hopes for keeping control of the U.S. Senate next year will hinge on affluent, mainly white suburbs like Summerlin, Nev., where Trump's unpopularity is weighing on GOP Sen. Dean Heller in his run for reelection.
It's an open question whether the Republican Party — encumbered by Trump's often racially charged cultural appeals to blue-collar voters — has repelled well-educated whites for the long term.
"This is a big group of people, and they're growing, and if they turn into a base group for the Democratic Party, that really changes things a lot," said Ruy Teixeira, a demographics expert at the left-leaning Center for American Progress. "If there's anyone who can do that, it's Donald Trump."
For now, the Trump backlash is endangering House Republican incumbents in well-off suburban districts nationwide, including more than a half dozen in Southern California. Republican Reps. Dana Rohrabacher of Costa Mesa and Darrell Issa of Vista are two of the Democrats' top targets for 2018.
It also puts at risk the Republicans' one-vote majority in the Senate.
Heller is widely seen as the party's most vulnerable senator, and his reelection in this closely divided state depends on convincing white voters in upscale swing suburbs like Summerlin that Trump's shortcomings should not be held against the senator.
It won't be easy when Republicans like Judy Lehman, 77, regret voting for Trump.
"At the time I thought it was a very good thing — now I'm not so sure," Lehman, a retired corporate concierge, said as she walked her shih tzu-bichon puppy outside an Apple store in Summerlin one recent afternoon. "I'm starting to wonder if he's really stable."
Befitting the boom-and-bust economy of Las Vegas, Summerlin, named after the grandmother of aviation mogul Howard Hughes, is a place of explosive population growth.
Just 30 years ago, it was an open slope of desert, bought by Hughes in the 1950s, on the western rim of Las Vegas Valley near Red Rock Canyon. Now, more than 100,000 people live in its strictly planned neighborhoods of homes in shades of peach, tan and beige, many of them in gated communities with golf courses.
Part of what's pushing white-collar suburban voters away from the GOP is Trump's alliance with his party's right wing on abortion, immigration and climate change, said Mark Mellman, a Democratic pollster who worked for former Senate Democratic leader Harry Reid of Nevada.
"The Republicans have become an anti-science, anti-fact, anti-immigrant, anti-cosmopolitan party, and that is just very unappealing to college-educated voters," Mellman said.
Republicans have also positioned themselves, he said, as "anti-diversity" in an era when college-educated whites have largely welcomed civil-rights advances for women, racial minorities and LGBTQ Americans.
"I'm pushed away by the anti-gay, white nationalist side," said Shayna Smith, a 30-year-old nurse who lives in Summerlin. "My generation is a little more open."
A lifelong resident of the Las Vegas area, Smith is a Republican who voted for Trump but plans to back someone else in 2020 "if they have a heartbeat."
The Senate race is shaping up as an epic test of Heller's agility. His GOP primary rival, businessman Danny Tarkanian, is a staunch Trump man pressuring Heller to embrace the president.
But the more Heller appeals to the rural Trump fans who dominate the primary, the more ammunition he provides to the Democrat in November, most likely freshman Rep. Jacky Rosen.
If Heller survives the primary, he will face brutal attacks — focused on his ties to Trump — from the powerful campaign operation built by Reid and the Culinary Workers Union, which represents 57,000 cooks, housekeepers, bellmen and other hospitality workers.
"Heller is damned if he does and damned if he doesn't — every single day," said Jennifer Duffy, an election analyst at the nonpartisan Cook Political Report.
Heller's hand-wringing on Obamacare — at Trump's urging, he ultimately voted to repeal it — captured the senator's quandary. While he opposed Trump in the 2016 primaries, Heller has largely backed the president since he took office.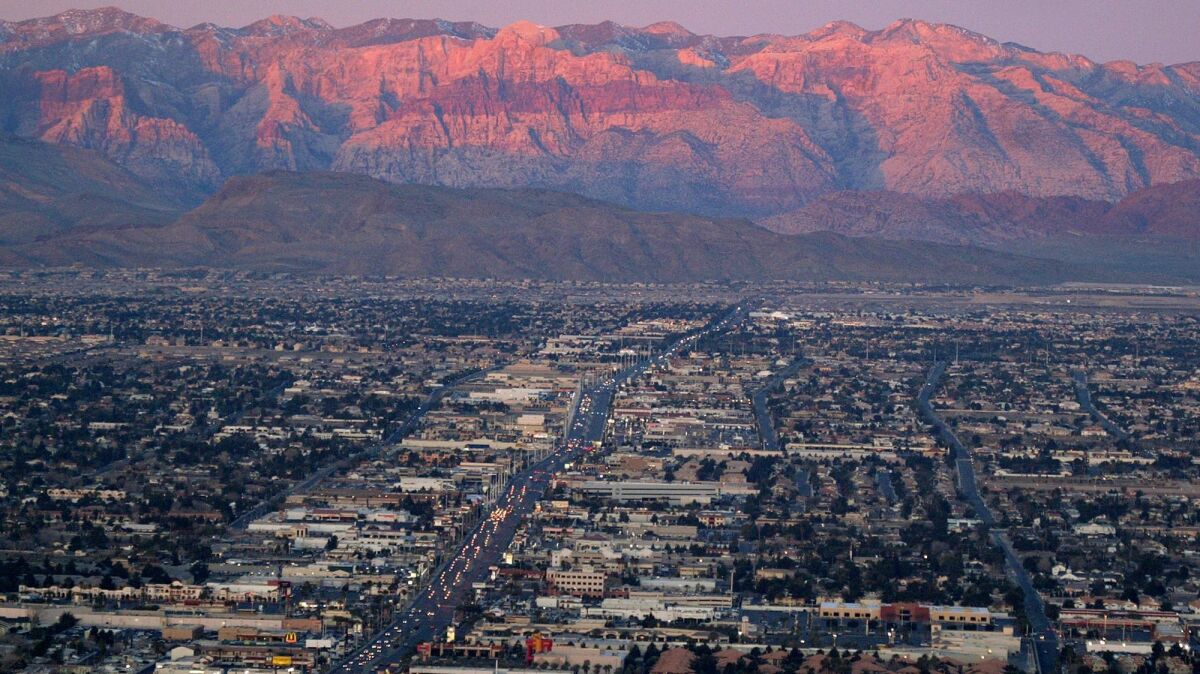 Republicans acknowledge that suburban whites turned off by Trump pose a daunting challenge, especially when women, African Americans, Latinos and other core Democratic groups are highly motivated to vote.
"I think it has more to do with reaction to who's in the White House than anything else," said GOP pollster Glen Bolger, who argues nothing is unusual about a party getting punished after its first two years in power.
Trump's unpopularity — about 38% of Americans approve of his job performance — is a boon to Democrats, but the economy's strength gives him cover.
Despite the growth in minority voting, whites remain the dominant force in presidential elections. In 2016, 71% of the voters were white, 12% black, 11% Latino, 4% Asian, and 3% another race, according to exit polls.
In the decades after World War II, white voters with and without college degrees voted roughly the same way in White House contests.
Since Barack Obama's election as president in 2008, however, whites have split. Those with college degrees have tilted toward Democrats, and those without have leaned Republican.
Trump's electoral college victory was driven by a surge of support from whites with no college degree in Michigan, Wisconsin and Pennsylvania.
The same dynamic played out in Nevada, where whites with no college degree were more supportive of Trump than those with a degree.
Trump does maintain support from at least some white college graduates in the suburbs.
"Build that wall — more money to the Border Patrol," said Democrat Frank Bianca, 67, a retired airline pilot who lives in Henderson, another high-end suburb of Las Vegas.
Bianca wants all immigrants who entered the U.S. illegally to be deported, fears the Black Lives Matter movement will ruin the country, and does not welcome the country's growing diversity.
Still, it's Republicans like Gale and Brenda Fraser, a recently retired Summerlin couple, that Heller and others in the party need to fear.
The Frasers, both 63, wince at the derogatory things Trump says about Muslims, they don't appreciate his call for firing football players who take a knee during the national anthem, and they were turned off by his support for Roy Moore after the Alabama Senate hopeful was accused of sexual assault.
As for the immigrants that some want expelled from the U.S., Brenda Fraser said, "I think they have just as much a right to be here as anybody."
Twitter: @finneganLAT
ALSO:
San Francisco's next mayor will be a political star in California. Who will it be?
A year of chaos, division and disruption in national politics
Roy Moore still won't concede the Alabama Senate race. And those write-in votes? Mickey Mouse got a few
Life is stressful. Our weekly mental wellness newsletter can help.
You may occasionally receive promotional content from the Los Angeles Times.