The Russia investigation shadows Trump's presidency, but few Democrats campaign on it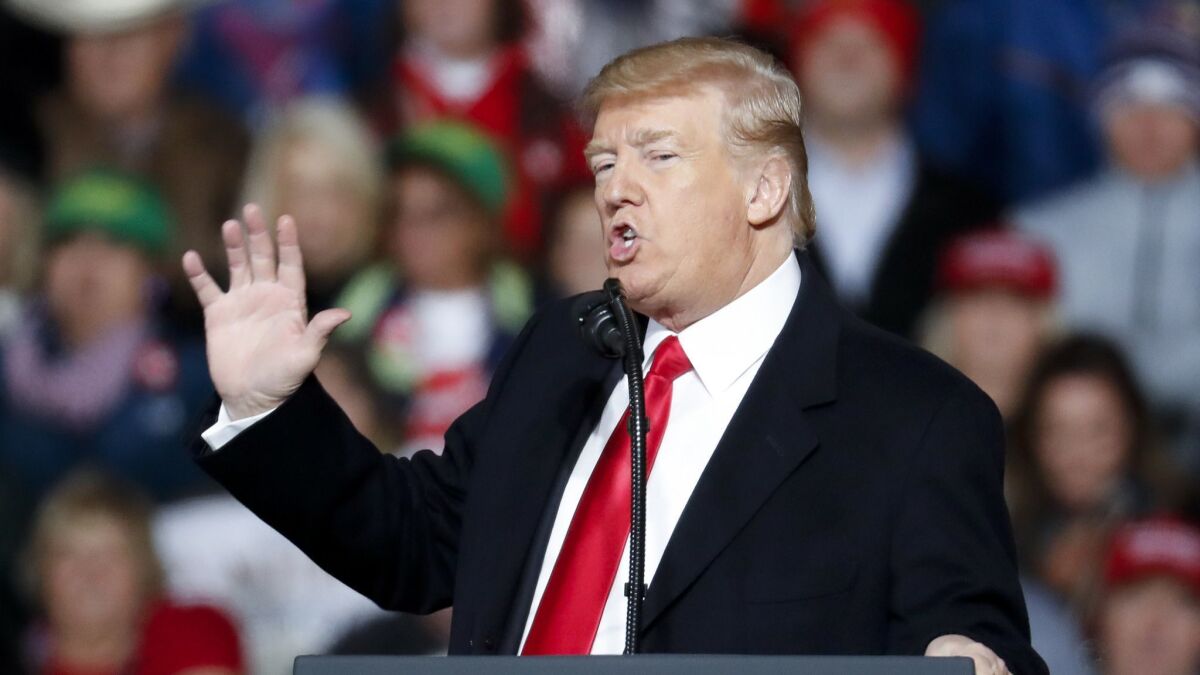 Reporting from Washington —
This summer, with the midterm elections only months away, Democratic pollster Celinda Lake worried that her party was failing to capitalize politically on the investigation of Russian interference in the last presidential election. So she pitched liberal groups on a series of online surveys and focus groups.
The idea went nowhere.
"We couldn't get anyone to fund it," Lake said.
The disinterest is emblematic of how most Democratic campaigns have handled the year's most hotly covered story line: steer clear.
The Russia investigation, which has swept up several of President Trump's former top associates, has been grist for endless news coverage and talk-show speculation, but it's been mostly absent from campaign advertisements, stump speeches and debates. Democrats have occasionally sold themselves as a counterweight to Trump in Washington, but they've talked little about how, if they retake control of the House of Representatives, they could quickly rev up congressional probes that have withered under Republican leadership.
Instead, they've focused on more traditional issues, especially affordable healthcare. Many commentators have compared the Russia investigation to the Watergate scandal, which brought down President Richard Nixon, but most consultants and pollsters don't see it as a deciding factor in the midterms.
"All our research shows is that it is not yet a top-tier concern, even among Democrats," said Jeremy Rosner, managing partner at Greenberg Quinlan Rosner, a Democratic polling firm.
Related: Everything you need to know about who's been charged in the Russia case »
A focus group the firm conducted in August 2017 set the tone when even fiercely partisan Democrats said they weren't ready to make up their minds about the investigation led by special counsel Robert S. Mueller III.
"They would go, 'Wait a minute, we don't know all the facts yet,'" Rosner said.
Much has changed since then:
Trump's former national security advisor, Michael Flynn, pleaded guilty to lying about his conversations with the Russian ambassador during the presidential transition.
More than two dozen Russians have been indicted in the hacking of Democratic emails and spreading misinformation on social media.
Paul Manafort, Trump's former campaign chairman, stood trial for tax evasion and bank fraud, allegations connected to his work for the since-deposed pro-Russian government in Ukraine. He was convicted and later pleaded guilty to conspiracy charges to avoid a second trial.
But even so, the investigation hasn't cracked the campaign-trail conversation.
"By and large, we're not seeing it much at all," said Travis Rideout, co-director of the Wesleyan Media Project, which tracks campaign advertisements. "Where I am seeing a few mentions are in digital advertising."
"And frankly we're not seeing very much in digital either," he added.
There are notable exceptions in a small number of California races.
Andrew Janz, a Fresno County prosecutor, has pummeled Rep. Devin Nunes (R-Tulare), a close Trump ally, over the House Intelligence Committee's response to the Russia investigation. Nunes, who chairs the committee, has been widely blamed by Democrats for prematurely ending the panel's examination and focusing more on probing the Justice Department than Russian malfeasance.
Janz has raised record amounts of money to pursue his campaign against Nunes, but still trails the incumbent in polls of his heavily Republican district.
Another example involves Rep. Dana Rohrabacher (R-Costa Mesa), the rare congressman who has openly expressed affection for Russian President Vladimir Putin. Although Rohrabacher has not been accused of wrongdoing, he's surfaced in the background of the investigation, providing grist for campaign attacks from his Democratic challenger.
"Orange County residents are tired of being represented by a man who favors Russia over our national interests," HarleyRouda said in an August fundraising message that asked supporters to chip in $3 apiece.
But those specific circumstances of Republican incumbents closely tied to the Russia investigation don't reflect the Democrats' larger message.
One reason for the Democratic reticence: Mueller's probe is talked about so much, candidates don't feel a need to bring it up on their own.
"The Russia investigation and the other Trump administration scandals are like the background music for every campaign in the country," said Jesse Ferguson, a Democratic political consultant. "You don't have to run ads to tell people that Trump is under investigation."
In addition, the twists and turns of the Russia investigation are tough to squeeze into a 30-second advertisement or a bumper sticker. Not only has Trump denied colluding with Moscow, Mueller has not accused any Americans of knowingly working with the Russians.
Follow the latest news of the Trump administration on Essential Washington »
"Candidates and campaigns don't want to tell a complicated story, because then you lose voters," said Melissa Michelson, a political science professor at Menlo College in Atherton, Calif., who studies voter mobilization. "It's much easier to focus on messages where it's easy for voters to see the connection to their everyday lives."
The question of whether to capitalize on the Russia investigation during midterm campaigns also highlights a debate about how Democrats can best claw their way back to power in Washington.
Lara Brown, who directs George Washington University's Graduate School of Political Management, said it would be risky for Democrats to focus on the probe when trying to win congressional districts that were carried by Trump just two years ago.
"I don't think it's helpful to have a conversation with a voter where you're essentially speculating about an investigation and reminding them that they have been fooled in the prior election, either by the Russians or the Republican campaign," she said.
By contrast, Tom Steyer, a major Democratic donor who has his own national political organization, has championed a campaign, Need to Impeach, that focuses heavily on the Russia case.
Kevin Mack, the lead strategist for Steyer's campaign, said the call for impeachment is the best way to motivate the liberal base Democrats need.
"The whole party moderates itself to speak to a small number of people," he said. "It's just a losing formula."
Mack said the campaign's numbers show its message is successfully motivating voters, pointing to the high rate at which people who signed Steyer's impeachment petition turned out during two special elections this year.
"We're filling a void," Mack said.
Lake also still believes Democrats should be talking more about the Russia investigation. Part of Trump's appeal is his unabashed nationalism, she said, but his coddling of Putin undercuts that message.
In addition, she believes the midterms will largely hinge on older voters — a much more reliable presence at the polls than their younger counterparts — who have clear memories of duck-and-cover drills when the country feared nuclear war with the Soviet Union.
"Our leaders are supposed to be wary of Russia," she said. "Not friends of Russia."
Twitter: @chrismegerian
Get our Essential Politics newsletter
The latest news, analysis and insights from our politics team.
You may occasionally receive promotional content from the Los Angeles Times.