How the Supreme Court is invoking a 1925 law to restrict workers' rights today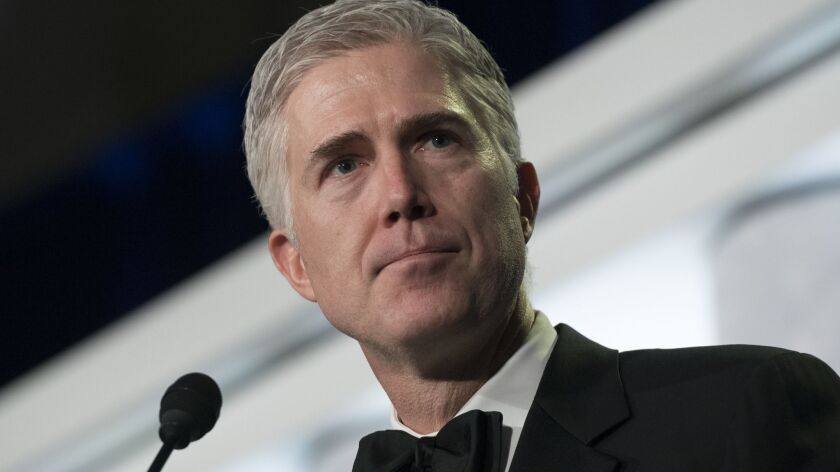 Reporting from Washington —
In 1925, at the behest of New York merchants, Congress passed the Federal Arbitration Act to uphold as "valid, irrevocable and enforceable" the contracts they had negotiated for shipping and delivering goods. They agreed to settle disputes through private arbitration, which was seen as quicker and cheaper than going to court.
When labor interests voiced objection, Commerce Secretary Herbert Hoover proposed an amendment to make clear the law did not involve workers. "Nothing herein contained shall apply to contracts of employment of seamen, railroad employees or any other class of workers engaged in foreign or interstate commerce," it said.
A decade later, in response to the Great Depression, Congress adopted the New Deal-era laws that guaranteed to workers the right to join together for "mutual aid or protection." And in the response to the civil rights movement, Congress adopted laws in the 1960s and '70s which gave employees the right to sue companies for discriminatory workplace policies. In 1991, Congress gave workers a right to a jury trial.
But this week, the Supreme Court reached back to the past and ruled the 1925 pro-arbitration law can override the rights of workers to sue in court or bring joint claims in arbitration. Companies won the right to avoid courts and juries entirely and instead rely on private one-on-one arbitration to settle all disputes with their nonunion workers.
In deciding Epic Systems vs. Lewis, Justice Neil M. Gorsuch cited a series of rulings by his conservative colleagues that had steadily expanded the reach of the 1925 law. Arbitration clauses need not be negotiated between equal parties, the court had said. They can be slipped into the fine print that comes with any product or sent to employees via an email. They need not be fair to both sides. And, most significantly, they may be binding on workers.
"The policy may be debatable but the law is clear," Gorsuch wrote. "Congress has instructed that arbitration agreements like those before us must be enforced."
Scholars who have looked into the 1925 law find it remarkable that an obscure and narrowly focused measure has taken on such importance.
"It was about agreements between two sophisticated business people. They were negotiating contracts for shipments. The original intent was quite narrow," said Imre S. Szalai, a law professor at Loyola University in New Orleans who wrote a history of the 1925 law. "Unfortunately, the Supreme Court since the Reagan era has grossly misinterpreted the statute. It was never intended to apply to workers or to take-it-or-leave it contracts."
The transformation began slowly in the 1980s. The court in 1983 upheld binding arbitration for two businesses which signed contracts promising to arbitrate disputes. In a case involving a North Carolina hospital and an Alabama construction firm, the justices said Congress had adopted "a liberal federal policy favoring arbitration agreements," a phrase that has been regularly quoted since.
By the mid-1990s, however, Justice Sandra Day O'Connor warned the court was going too far by applying the arbitration law to override state laws. "The court has abandoned all pretense of ascertaining congressional intent with respect to the Federal Arbitration Act, building instead, case by case, an edifice of its own creation," she wrote.
Judges in California, both state and federal, resisted the court's pro-arbitration stand, but not for long. The Supreme Court regularly intervened to reverse their rulings and uphold arbitration.
A key decision came in March 2001 when the five justices who formed the majority in the Bush vs. Gore case ruled the 1925 law barred a Circuit City employee in Northern California from suing his employer in state court for illegal discrimination. In a 5-4 decision, Justice Anthony M. Kennedy said the law's exemption for "any other class of workers" referred only to "transportation workers" who were involved "in the free flow of goods."
In dissent, the four liberals said this was an extremely odd reading of the 1925 law. On one hand, the majority read the law broadly to cover all kinds of contracts, including those unrelated to shipping or transportation. But then it read the exemption for workers so narrowly as to apply only to sailors and truckers. "When the court simply ignores the interest of the unrepresented employee, it skews the interpretation with its own policy preferences," wrote Justice John Paul Stevens in dissent in Circuit City vs. Adams.
In response to the court's rulings, more companies imposed mandatory arbitration agreements on their employees. Justice Ruth Bader Ginsburg said 54% of private, nonunionized companies require arbitration today, up from 2% in 1992.
Until this week, however, it remained unclear whether companies could not only bar their employees from suing in court, but also prevent them joining together in arbitration to contest policies on wages, overtime or discrimination. In one case, NLRB vs. Murphy Oil, gas station workers from Alabama said they were required to do after-hours work but were denied overtime pay.
At issue was a conflict between two laws. In 1935, Congress adopted the National Labor Relations Act and said: "Employees shall have the right" to join a union, bargain collectively or "engage in other concerted activities for … mutual aid or protection." During the Obama administration, the National Labor Relations Board, which enforces the labor law, objected to the arbitration clauses that prevented the gas station workers from joining together to sue over their lost wages.
But the Trump administration's lawyers sided with the employers and said the 1925 law calls for enforcing contracts that only allow for one-on-one arbitration for workers.
The justices split 5-4, and both sides accused the other of ignoring the law and relying on their personal preferences. Gorsuch, a newcomer to this dispute, said there is a "mountain of precedent" for reading the 1925 law broadly. "This court is not free to substitute its preferred economic policies for those chosen by the people's representatives," Gorsuch wrote.
In dissent, Ginsburg said the blames lies with the court, not Congress. "The edict that employees with wage and hour claims may seek relief only one-by-one does not come from Congress. It is the result of take-it-or-leave-it labor contracts harking back to the type called 'yellow dog,' and of the readiness of this court to enforce those unbargained for agreements," she wrote.
Business lawyers applauded the ruling as good for employees and employers. It "is a victory for everyone but lawyers," said Washington attorney Andrew Pincus, who represented the U.S. Chamber of Commerce. "Employees and business will continue to have access to a quick, less expensive and fair system for resolving claims. Consumers will benefit from lower prices resulting from companies' lower legal fees."
Lawyers on the left called the ruling a crushing setback for low-wage workers. "This pretty well snuffs out workers' rights under a wide array of employment statutes since the New Deal and the Great Society," said Stanford law professor William B. Gould IV, a former chairman of the NLRB.
More stories from David G. Savage »
Twitter: DavidGSavage
---
Life is stressful. Our weekly mental wellness newsletter can help.
You may occasionally receive promotional content from the Los Angeles Times.