Trump heads to Putin summit with no clear goal — and worries that he'll make concessions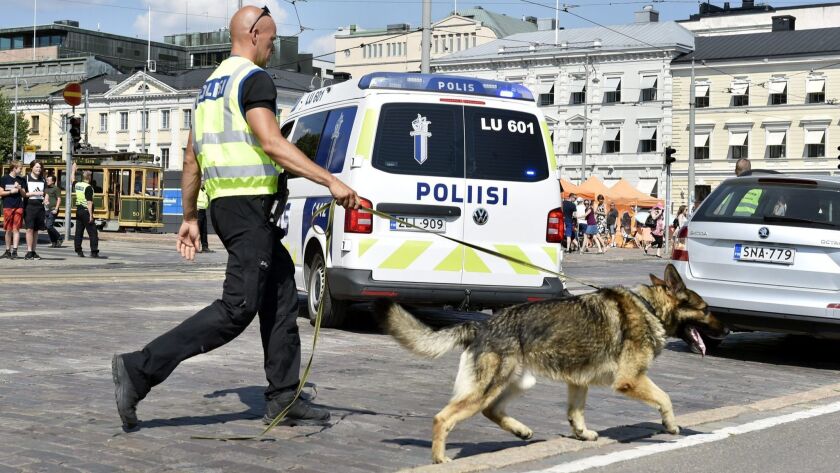 Reporting from Helsinki, Finland —
When President Trump flew to Singapore last month to meet with Kim Jong Un, he had a clear agenda: to try personal diplomacy, rather than insults and threats, in a still unsuccessful effort to persuade North Korea to give up its arsenal of nuclear weapons.
But Trump has no obvious goal and no agreed-upon agenda other than basking in the global spotlight when he meets here Monday with Russian President Vladimir Putin, apparently planning to wing it — much as he did in Singapore — in hopes of charming the former KGB officer.
Although Trump himself proposed the summit in March, only one White House aide, national security advisor John Bolton, has met with senior Russians officials, a stark departure from typical planning. The two sides similarly have set no "deliverables," tangible results that are normally determined long before a high-stakes summit.
Trump has sought to lower expectations of any substantive breakthrough on the critical policy and security divisions between Washington and Moscow, including the Kremlin's interference in the U.S. election in 2016, its seizure of Crimea and invasion of eastern Ukraine, its military role and support for Iranian forces in Syria, and the New START arms control treaty set to expire in 2021.
"We go into that meeting not looking for so much," Trump told reporters Thursday after he had bashed Germany and roiled the NATO summit in Brussels, rifts that Putin is likely to applaud given his antipathy to the military alliance that is the continent's main bulwark against Russian aggression.
Trump exhibited remarkable nonchalance about what he called his "loose meeting" with the Russian leader, whom he has never publicly criticized. "Hopefully, someday, maybe he'll be a friend," he said.
Russia's efforts to subvert the 2016 U.S. elections grew far more clear Friday when the Justice Department announced criminal charges against a dozen Russian military intelligence officers for the alleged systemic hacking of computers used by Hillary Clinton's campaign, the Democratic National Committee, state boards of elections and other entities.
Trump said Friday in Britain that he would bring the issue up with Putin. But he did not condemn the Kremlin-backed operation or suggest he would demand a halt to what has now been laid out in two federal indictments and confirmed by U.S. intelligence agencies and the Senate Intelligence Committee.
"I will absolutely, firmly ask the question, and hopefully we'll have a very good relationship with Russia," he said.
Many foreign policy experts in Washington and in allied capitals fear that Trump may offer to ease sanctions, trim U.S. military operations in Europe, or make other concessions to Putin during a lengthy scheduled private meeting, without aides present, early Monday.
They point to Trump's private meeting with the North Korean dictator on Singapore's Sentosa Island on June 12. Afterward, Trump unexpectedly announced that he had agreed to halt joint U.S. military exercises with South Korea, a concession to Kim that blindsided the Pentagon and allies in Seoul and Tokyo.
Asked on Thursday whether he would consider scrapping military exercises in the Baltic states if Putin asked him to do so, Trump replied, "Perhaps we'll talk about that," raising alarms in the front-line states.
"I don't even dare to speculate," said one official from a NATO member state when asked about his expectations for Helsinki. "It's so unpredictable right now in the current circumstances."
Alexander Vershbow, a former U.S. ambassador to the North Atlantic Treaty Organization and Russia who served as a deputy secretary general of NATO, said the summit "raises apprehensions" in Europe that Trump's "going to become more friendly toward a brutal dictator than he is to his own allies."
Anything Trump says to undercut the NATO declaration that Russia's annexation of Crimea was "illegal and illegitimate" would ease international pressure on Putin and be tantamount to "codifying aggression," Vershbow said.
But Stephen Hadley, who served as President George W. Bush's national security advisor, said Trump's willingness to engage with Putin shouldn't be viewed as a blunder in and of itself.
"Putin is a spoiler all around the world, trying to frustrate the U.S. everywhere," Hadley said. "At some point, we'll need to find a way to get a more constructive relationship with Russia. Trump could be able to do that."
Other analysts view Trump's eagerness to meet Putin, with all the theatrics a summit will entail, as a diplomatic coup for Moscow since it remains under U.S. and international sanctions for its seizure of Crimea in 2014.
The meeting "is Putin's victory. He was waiting for this moment since 2014," said Vladimir Frolov, an independent political analyst in Russia. "The positive atmospherics of the 'historic and monumental summit' will do."
Putin's goal is "to clear the air, ratchet down the tensions and reset the relationship back to normal without yielding any ground on Ukraine and Crimea, Russian meddling and the intervention in Syria," Frolov said.
The Russians "aren't going to expect much in the way of practical points to come out of the meeting," said Mark Galeotti, a senior fellow at the Institute of International Relations in Prague and an expert on European security issues. "This will simply give them an opportunity to really encourage Trump to lob a grenade into Western unity, without the Kremlin really having to do much themselves."
The U.S. "remains the world's only real superpower," he added. "But the capacity of America to be able to leverage that for positive leadership is diminished pretty much every time Trump opens his mouth."
Trump's outreach to Putin is all the more mystifying since it is at odds with his own administration's far more wary stance on Russia. The U.S. ambassadors to Russia and NATO, for example, have expressed more traditionally hawkish views of Russia's intentions and operations.
Even those State Department and Pentagon officials who support his efforts to improve relations with Moscow worry the president is being naive about the danger Putin poses to U.S. interests and allies.
As in other policies, Trump has made it clear that he will rely largely on his instincts over advice from experts. His top Russia advisor, Fiona Hill, won't even be in the meetings with Putin.
"He made a calculation long ago that he doesn't want a more antagonistic relationship with Russia," said Jim Hanson, a Trump ally who is president of the Security Studies Group, a think tank in Washington.
Hanson believes Trump could try to enlist Putin to keep Iran and its affiliated militant groups out of Syria, where they and Russian troops support President Bashar Assad's government in the civil war.
He speculated that the United States and Israel could retain a "hunting license" for Islamic State or other groups, but that Trump might agree to withdraw the 2,000 or so U.S. troops in Syria, something both he and Putin would like.
On July 6, the Kremlin denied Russian news reports that the withdrawal of Iran-backed militias would top the agenda at the summit. Bolton, Trump's national security advisor, said last week that the meeting could produce a "larger negotiation on helping to get Iranian forces out of Syria."
Russia appeared to shoot that down, however. Kremlin spokesman Dmitry Peskov said in a call with reporters last week that "reports that two countries are discussing a third country and are making some decisions for it — that's highly unrealistic."
The summit could produce "some statement on Syria, where Russia would vaguely commit to work towards withdrawal of foreign forces from Syria," said Frolov.
In such a scenario, the U.S. could assume that by "foreign forces," Russia means Iran, while Russia would insist that it means the U.S. troops in Syria. Both sides could then "spin it as a major triumph of diplomacy," although Moscow and Washington would be assuming different things, Frolov continued.
That scenario played out in Singapore when North Korea pledged denuclearization but never defined what it meant, leaving Washington in confusion and any disarmament in limbo.
That "could later lead to disappointment, but will be enough for Trump to declare a win," he added.
Times staff writer Stokols reported from London and special correspondent Ayres from Helsinki. Times staff writers Noah Bierman and Tracy Wilkinson in Washington contributed to this report.
---
Get our Essential Politics newsletter
The latest news, analysis and insights from our politics teams from Sacramento to D.C.
You may occasionally receive promotional content from the Los Angeles Times.