Where's the California love? Trump is first president in decades to skip a visit in initial year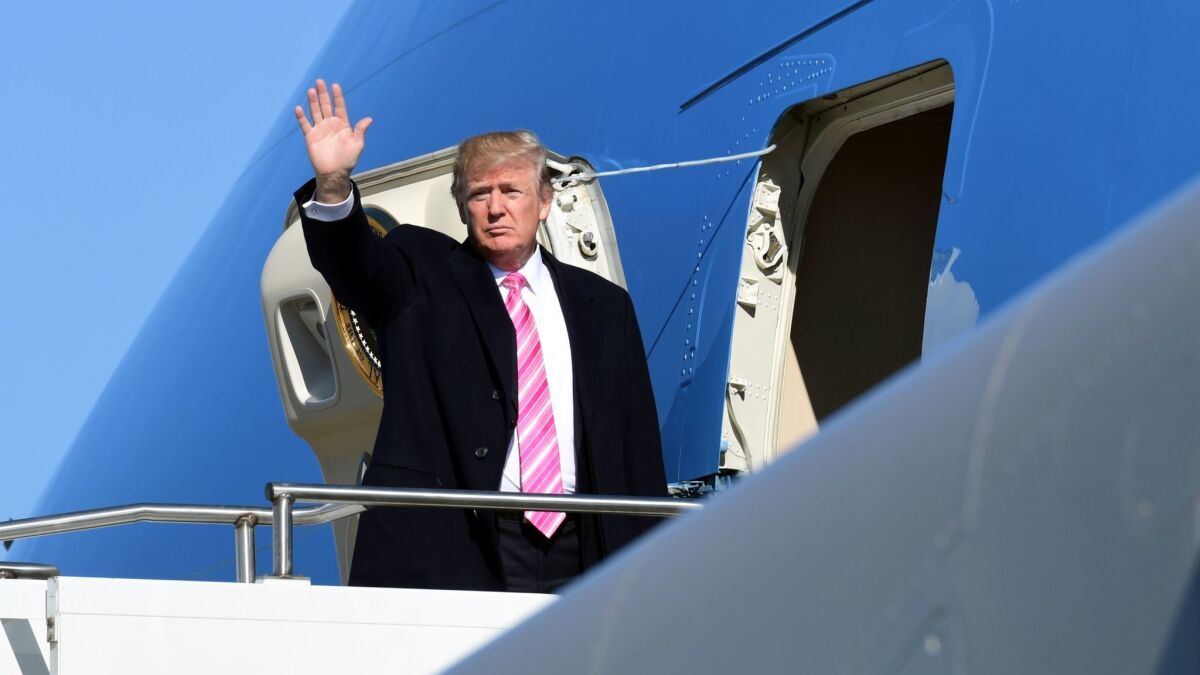 Reporting from Washington —
President Trump's love for all things gold apparently doesn't extend to the Golden State.
Trump is about to become the first president since Dwight D. Eisenhower 64 years ago to skip a visit to California during his first calendar year in office. And he doesn't appear to have any plans to take Air Force One to the country's most populous and economically powerful state before he marks his first full year in office Jan. 20.
Even past presidents who, like Trump, didn't win the state's electoral votes made it a destination, if only for California's allure as the Golden State of campaign cash.
For Trump, it's ground zero for "the resistance."
A president so fixated on the 2016 election results as Trump may not want to be reminded that just 31% of California's voters chose him while 61% decided "I'm with her" — giving Hillary Clinton over 4 million more votes and the state's 55 electoral votes.
A few weeks afterward, President-elect Trump alleged on Twitter that there was "serious voter fraud" in California, as well as in Virginia and New Hampshire, claims for which he never suggested evidence.
Since then, California has been at the forefront of those states and organizations pushing back against Trump's policies to vastly scale back federal healthcare subsidies, environmental protections and safety regulations, and to crack down on legal as well as illegal immigration.
Trump noticed early on. California is "out of control," he told Fox News in February.
"It's hard to imagine an environment less alluring to him right now than deep-blue California," said Dan Schnur, a professor of political communications at USC's Annenberg School of Communications and a former Republican.
"He'll get here eventually, but we probably shouldn't hold our breath that it's coming anytime soon," Schnur added.
Of the 29 states Trump has visited since taking office, just eight are west of the Mississippi River. He's mostly visited friendly red states in the Southeast and the Northern industrial belt that he won, often holding political rallies indistinguishable from his campaign events. Of the 20 states that went to Clinton, Trump has been to eight.
The devastating wildfires that hit the state prompted a few sympathetic messages from Trump, and support for some disaster aid. But Trump did not visit, even as he traveled to Florida, Louisiana, Texas and Puerto Rico following devastating hurricanes this year.
Jim Brulte, chairman of the California Republican Party, said he was fine with Trump not traveling to the state.
"The president has a lot of things he has to do. We Californians are OK. We are used to being on the far end," Brulte said.
"He's the first president that's got significant tax reform and restructured the federal courts in his first year. We'll trade that for a visit to California anytime," he added.
Trump has made four foreign trips this year, but when he is in the United States, he doesn't like staying away from the White House, the presidential retreat of Camp David, or one of his resort properties, typically in New Jersey, Virginia or Palm Beach, Fla.
If and when Trump does visit California, he would have one of his own places to visit. The Trump National Golf Club in Los Angeles, on the bluffs of Palos Verdes overlooking the Pacific Ocean, describes itself as the "ultimate Southern California destination."
So far that attraction has been lost on Trump. Recent history suggests California is unaccustomed to the snub.
While Eisenhower was the last president to skip California during his first year, he arrived during his 13th month, in February 1954, to vacation at Smoke Tree Ranch, the home of Paul Helms, an Eisenhower golfing buddy and owner of the Helms Bakery company, near Palm Springs. (The former Helms Bakery in Culver City is now an entertainment and shopping venue.)
During his stay with Helms, Eisenhower left the ranch for a night — to get a chipped tooth fixed, the White House said. The brief absence spawned decades of conspiracy theories that he had visited Edwards Air Force Base to visit aliens being held there. The same night, the Associated Press incorrectly published a bulletin that Eisenhower had died of a heart attack.
Before Eisenhower, presidents rarely traveled by air, making trips to the West Coast far more difficult.
Franklin D. Roosevelt didn't make it to California as president until Oct. 1, 1935, roughly two and a half years into his first term. He went by train — no president had yet done an official trip by air — for the dedication of Hoover Dam and a visit to Los Angeles.
His successor, Harry Truman, flew to San Francisco within three months of becoming president upon Roosevelt's death, to attend the closing session of the founding conference of the United Nations in June 1945.
Eisenhower's successor, John F. Kennedy, came aboard Air Force One to speak at a fundraising dinner for the California Democratic Party in Los Angeles in November 1961. Collecting campaign cash has been a draw for presidents ever since.
Lyndon B. Johnson flew to California in June 1964 for a two-day swing that included the dedication of the new campus of UC Irvine, as well as a campaign fundraising speech in Los Angeles where seats went for $100 each, far less than current political prices, even accounting for inflation.
At the Los Angeles fundraiser, Johnson claimed credit for passage of the "largest tax cut in American history" — a boast Trump would less accurately assert more than half a century later.
Richard Nixon, a native of the state, often visited what he called his Western White House in San Clemente, making his first visit as president within months, in June 1969. Gerald Ford, Jimmy Carter, George H.W. Bush, Bill Clinton, George W. Bush and Barack Obama all made trips within their first months as president, and, of course, so did Ronald Reagan, the former California governor.
While Trump has been MIA in California, fundraising for California Republicans has continued. Brulte said Vice President Mike Pence visited in October with House Majority Leader Kevin McCarthy and helped raise more than $5 million for legislative races during visits to McCarthy's hometown of Bakersfield, Sacramento and the Beverly Hills home of developer Geoff Palmer.
The Republican Party often taps wealthy supporters in the state to help fund races across the country. Trump made campaign swings through California in April, May and June of 2016. He recently named major California fundraiser Jamie McCourt, the former co-owner of the Dodgers who gave the Trump Victory Fund about $400,000, to one of the most coveted diplomatic jobs he has to offer — U.S. ambassador to France and Monaco.
Trump plainly hasn't always liked his pre-presidential visits to California. In Los Angeles in December 2013, he grumbled about the cold weather, pointing to the chill as evidence for his belief that global warming is "a total, and very expensive, hoax" — comments that were doubly unwelcome to many Californians.
Times staff writer David Lauter in Washington contributed to this report.
Twitter: @ByBrianBennett
---
Life is stressful. Our weekly mental wellness newsletter can help.
You may occasionally receive promotional content from the Los Angeles Times.