Gov. Brown just signed a stack of new gun control laws. Here's what they do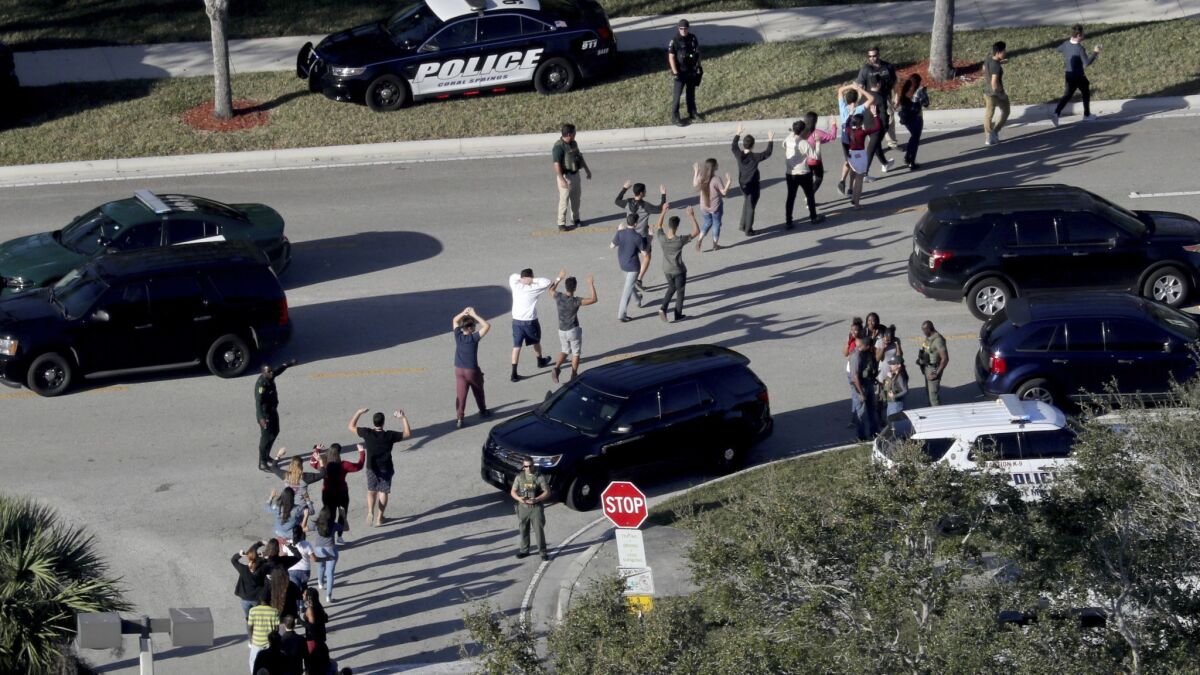 Reporting from Sacramento —
Seven months after a teenage gunman killed 17 people at a Florida high school, California Gov. Jerry Brown signed a stack of gun control bills Friday, including a proposal that raises the minimum age for buying rifles and shotguns from 18 to 21.
The Democratic governor followed the lead of Republican Florida Gov. Rick Scott, who in March signed into law a bill raising the minimum age for buying long guns.
Brown also signed into law Friday measures that impose lifetime firearm bans on people convicted of serious domestic violence charges, as well as those who have been hospitalized more than once in a year for mental health problems.
He also enacted laws that will make it easier for police officers and family members to have guns taken away from people deemed a danger to themselves or others, and to require applicants for concealed gun permits to complete at least eight hours of gun safety training and demonstrate competency with a live-fire exam.
He vetoed a measure Friday that would have limited people to purchasing no more than one rifle or shotgun in any 30-day period.
State Sen. Anthony Portantino (D-La Cañada Flintridge) authored the California version of the law limiting long gun purchases to those 21 and older, which takes effect Jan. 1.
In arguing for the change, Portantino said he was moved by the grief of survivors and family members of victims after the Feb. 14 shooting at Marjory Stoneman Douglas High School in Parkland, Fla., where a 19-year-old is accused of using a semiautomatic rifle to kill students and school employees.
"I was determined to help California respond appropriately to the tragic events our country has recently faced on high school campuses," Portantino said Friday. "No parent should have to worry that a gun gets in the wrong hands and commits a heinous and violent tragedy on our school campuses."
The governor declined to comment.
The National Rifle Assn. fought the proposal to raise the age limit for purchasing guns, which expands a previously approved law limiting handgun purchases to those 21 and older in California.
"We will continue to oppose gun control measures that only serve to punish law abiding citizens," said NRA State Director Daniel Reid in a letter to lawmakers before they sent the measure to the governor.
The NRA filed a lawsuit hours after Florida's law was signed, arguing that it violated the 2nd Amendment right to possess firearms. The NRA did not immediately say whether it plans to challenge the California law in court.
The higher age for buying guns was supported by the cities of Los Angeles, Burbank, Pasadena, La Cañada Flintridge, Duarte, Glendale, Signal Hill, Thousand Oaks, Norwalk and Carson.
The governor also signed two bills by Assemblywoman Blanca Rubio (D-Baldwin Park), including one imposing a lifetime ban on possessing firearms for Californians convicted of serious domestic violence charges. Until now, convictions resulted in a 10-year ban.
A 2004 survey of women in domestic violence shelters in California found that more than one-third have been threatened or harmed with a firearm, according to the California Partnership to End Domestic Violence.
"This bill is about saving lives," Rubio said. "We need to keep deadly weapons out of the hands of domestic abusers."
Rubio's other bill that was signed by Brown on Friday allows family members and police officers seeking gun violence restraining orders to do so verbally when time makes a written request impractical.
A similar bill signed by the governor Friday will waive fees for the restraining orders. Sen. Nancy Skinner (D-Berkeley) said Friday that her proposal "ensures that law enforcement can remove all firearms, including firearm parts, from the persons" subject to a restraining order.
Brown also approved a new law that imposes a lifetime ban on owning firearms for people hospitalized twice in a one-year period for mental health issues that have been deemed to make them a danger to themselves. The measure allows those subject to the law to petition the courts for reinstatement of their right to have a gun.
But earlier in the week, Brown vetoed another high-profile gun control measure that would have expanded the number of people who could petition the courts for a gun violence restraining order to remove firearms from someone thought to be dangerous. The bill rejected by Brown, which was written by Assemblyman Phil Ting (D-San Francisco), would have also allowed teachers, college professors, employers and co-workers to petition for a court order.
Like Portantino, Ting said he proposed the measure in response to the shooting in Parkland, Fla. The legislator noted some school officials had concerns before the shooting about the behavior of the gunman.
But the governor said in a veto message Wednesday that the expansion of the restraining order program is unnecessary.
"All of the persons named in this bill can seek a gun violence restraining order today under existing law by simply working through law enforcement or the immediate family of the concerning individual," Brown wrote. "I think law enforcement professionals and those closest to a family member are best situated to make these especially consequential decisions."
Brown also signed a bill this week that will strengthen a law prohibiting multi-burst trigger devices called bump stocks, used in 2017 by a gunman in Las Vegas who killed 58 people and injured hundreds more. Another measure signed by the governor establishes procedures for handling ammunition that has been seized by law enforcement.
Brown vetoed a bill to require the state Department of Justice to study creating a system that would allow gun owners to voluntarily surrender their guns for life. Brown said the mandate is unnecessary in order to look at the idea.
The governor's actions signing several bills were praised Friday by Peggy McCrum, president of the California Chapters of the Brady Campaign to Prevent Gun Violence, who said California continues to lead the country in gun safety legislation. The bills, she added, "will have a positive effect in continuing to ensure that California works to reduce gun violence."
Coverage of California politics »
Twitter: @mcgreevy99
Life is stressful. Our weekly mental wellness newsletter can help.
You may occasionally receive promotional content from the Los Angeles Times.