A landmark 2016 law praised as an 'unbelievably powerful tool' against gun violence remains scarcely used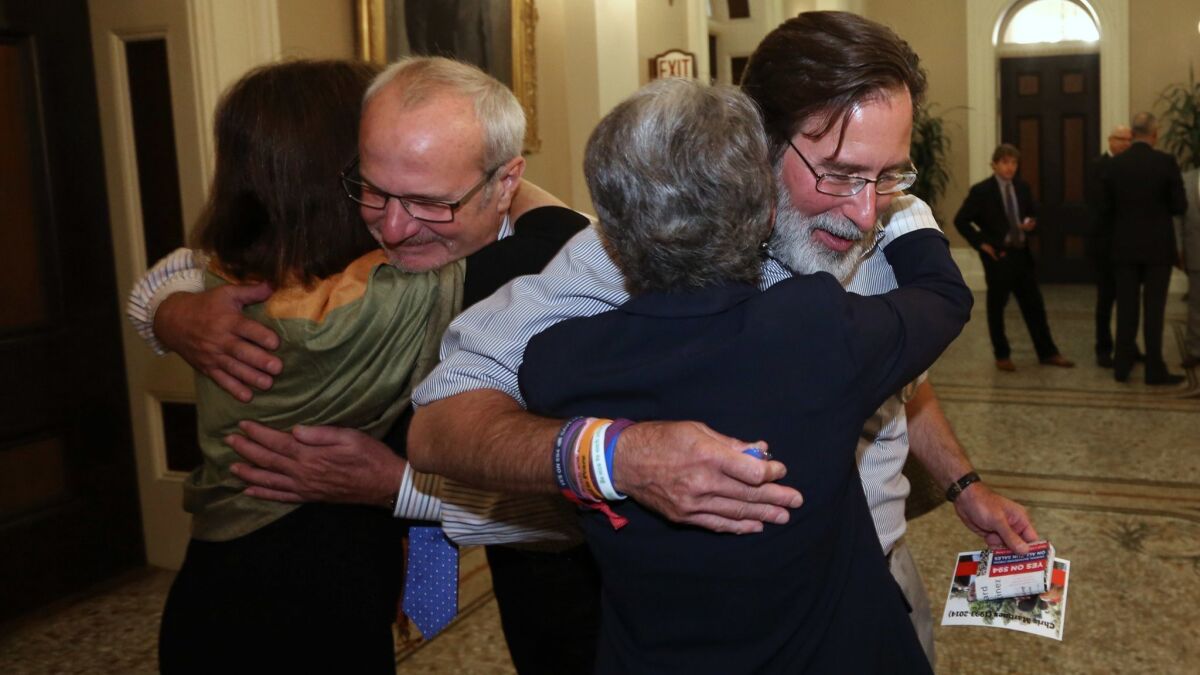 Two weeks after a gunman in Parkland, Fla., zigzagged from one classroom to another in his former high school, killing 17 people, a Beverly Hills High employee dialed 911 to report a stranger mumbling to himself and following her as she left campus.
Police confiscated a loaded handgun in the man's glove box and arrested him. But they felt compelled to do more. What if he was a copycat killer inspired by the Parkland shooting and obtained another gun after posting bail? Beverly Hills officers decided to try something they'd never done before and persuaded a judge to temporarily bar the man from having guns.
It was a successful use of a legal tool that proponents believe will help reduce gun violence as more members of the public and law enforcement learn about it.
In 2016, California became the first state in the nation to allow family members, roommates and police officers to ask a judge to block individuals believed to be dangerous from having firearms for up to a year. The legislation followed a 2014 mass shooting in Isla Vista, near UC Santa Barbara. Relatives of the gunman, Elliot Rodger, had previously alerted authorities to his potential danger.
But so far, the gun violence restraining orders have been rarely used. Fewer than 200 were issued across the state during the law's first two years on the books, according to the state Department of Justice. With 32, Los Angeles County had the most, but some smaller counties, such as Santa Barbara and San Diego, had higher rates for their size with 21 and 18, respectively. Several counties had none.
Gun rights advocates say there are other ways to flag unstable individuals to the police and argue the law violates the 2nd Amendment and due process rights.
As it stands, with so few orders issued, supporters recognize an urgency to better promote the law if it is to have a wide-scale effect.
Los Angeles City Atty. Mike Feuer, who held a news conference in 2016 touting the measure as a life-saving tool and vowing to fight for its success, acknowledged the low numbers.
"The paucity of (orders) here in Los Angeles leads me to believe additional training will be very helpful," he said. His office has led two educational sessions about the tool and helped with a website that offers instructions on how to obtain a restraining order. He also recently contacted Los Angeles Police Chief Michel Moore and Los Angeles School Police Chief Steve Zipperman about doing in-person training sessions with officers.
CALIFORNIA POLITICS: The latest news »
Awareness is key, agreed Santa Clara County Supervising Deputy Dist. Atty. Marisa McKeown, one of the state's leading experts on the restraining orders.
"It's underutilized," she said.
While big money goes into passing legislation, there's often less capital put toward educating the public once it becomes law, McKeown said.
Even members of law enforcement struggle to keep up with the state's evolving gun laws. McKeown learned about the gun restraining orders by chance in 2016, after receiving an urgent call from a police investigator in Campbell, a city southwest of San Jose. Authorities there had received a tip about a man with a truck full of guns who was driving toward his job at an auto shop. Police had reviewed text messages the man sent soon after a sniper killed five Dallas police officers. In one message, the man said to "watch the news," adding that he planned to do "worse" with his guns.
"I want to do a gun restraining order thing," the officer told McKeown.
"I don't know what you're talking about," she responded.
"Google it," the officer said.
The prosecutor hung up and began to research. There was a new law, she realized, and this seemed the perfect opportunity to use it.
After the man was arrested on suspicion of driving under the influence and his eight guns, including an AR-15-style rifle, were seized using a restraining order, McKeown become a crusader, leading informational sessions for police agencies across Santa Clara County.
In the first two years, state records show, 11 restraining orders were issued in Santa Clara County. McKeown said the number has jumped this year, but couldn't provide an official count.
"This is an unbelievably powerful tool that fills a previous gap" when dealing with a potential active-shooter situation or threat of suicide, she said. "Before you had to wait for them to do something."
Since the Parkland shooting, a wave of states, including Florida, have enacted similar legislation, known as "red flag" laws, said William Rosen, managing director of state policy and government affairs of the nonprofit gun control group Everytown for Gun Safety. Thirteen states have such laws on the books, he said, and several others have considered similar legislation.
A nationwide study by the group found that in 42% of mass shootings, the suspect showed warning signs before the attack. In California, which like many other states doesn't require all firearms to be registered, more than 3,100 people died from gunshot wounds in 2016, according to the most recent data from the Centers for Disease Control and Prevention.
With no comprehensive studies of California's law, Rosen said, it's hard to assess its true impact.
Members of law enforcement can request a gun-violence restraining order anytime from an on-duty judge by providing evidence someone is an "immediate and present danger" to themselves or others. If granted, the person's name is added to a state database and would pop up during a background check before buying a gun.
Relatives or roommates of someone thought to be dangerous must file a request during business hours at a local courthouse. A judge will consider evidence, such as recent threats or acts of violence, violations of protective orders, or a reckless use of a gun, and must rule by the following business day whether there's substantial likelihood the person possesses a significant danger to themselves or others in the near future. If the initial order, which lasts 21 days, is granted, the individual has to surrender, sell or store the firearms with a licensed gun dealer within 24 hours.
In both cases, guns can be confiscated only if "less restrictive alternatives" are inadequate.
Many of its backers view the gun law as a powerful tool ripe for expansion: Last month, state legislators sent a bill to the governor that would broaden the law, allowing teachers, employers and co-workers to request the restraining orders.
Craig DeLuz of the Firearms Policy Coalition, a group that advocates for gun owners, criticized the current law, saying it encroaches on people's 2nd Amendment rights. While an individual has the right to testify at a hearing before a judge can revoke the guns for a full year, the temporary takeaway order can be granted without the person's knowledge, DeLuz said.
"Due process that happens after you've lost a fundamental right is not due process," DeLuz said, adding that he thinks it's problematic that the law relies on judges, not mental health professionals with proper training to determine if someone poses a threat.
The American Civil Liberties Union of California opposes the proposed expansion — stating that the law strikes the proper balance between preventing gun violence and protecting civil liberties, but broadening it "upsets that balance and creates significant potential for civil rights violations."
Beverly Hills police Sgt. Max Subin said it's critical that gun violence restraining orders are used judiciously.
"We don't want to get overzealous," he said, adding that in the right cases — such as the Beverly Hills High School case — it's an ideal tool.
At a court hearing in April, after listening to testimony from Subin and the man who had followed the school employee off campus, a commissioner extended the temporary order, barring the man from having guns for a year.
A review of court records in Los Angeles County found that the 21-day restraining orders typically are granted whether sought by a law enforcement agency or a relative. The successful requests to bar someone from owning a gun for a full year, however, almost always come from police.
In the spring of 2016, records show, a Hacienda Heights woman requested an order against her husband — whom she referred to as "unstable" and "dangerous" — declaring that he owned many firearms and constantly called her job to check on her whereabouts. "He may go to my workplace to hurt people," she wrote, adding that her employer had changed the locks as a precaution.
A Superior Court commissioner granted the request temporarily, but denied the yearlong order after hearing testimony from the husband and the wife.
Among the restraining orders sought by law enforcement in L.A. County, many followed the same trajectory: A person contacted authorities about an unrelated issue and subsequently had their guns taken away.
In early 2016, a man called the Arcadia Police Department to report that his mother was withholding his psychiatric medications, court records show. He told an officer who arrived at the family home that he'd spent the day downing shots and beers at a bar. His brother told the officer he'd become concerned about his sibling's ever-growing arsenal, adding that his brother had recently paced around the home with a pistol pressed to his temple, threatening to commit suicide.
The responding officer contacted a court commissioner, who issued an emergency order to remove the caller's guns — two pistols, a pump shotgun and a semiautomatic rifle — as well as several boxes of ammunition. At a hearing several weeks later, a judge made a more permanent order, according to court records: The man couldn't have guns for a year.
In another case, a man called the state's Bureau of Firearms line and left several strange voicemails in which he switched between a whisper, a deep voice and laughter, according to the petition filed by a special agent. In one message, records show, he mentioned then-Atty. Gen. Kamala Harris.
"You better watch your backside," the caller warned.
A special agent ran the man's name through a state database, which revealed that he owned at least three guns, records show. A few days later, after a judge granted a temporary order, agents showed up at the man's Westchester home and seized more than 25 guns and dozens of high-capacity magazines, records show. The man ultimately reached a plea deal with the Department of Justice and agreed to sell his firearms, attend weekly Alcoholics Anonymous meetings and not have guns for three years, court records show.
In another case, a detective sought an order against Lisa Simpson, whose 18-year-old son, Richard Risher, was shot and killed by Los Angeles police in Watts in the summer of 2016.
The request came after Simpson spoke at a Police Commission meeting, telling then-Police Chief Charlie Beck of her pain and frustration that she hadn't received more updates about the case.
"I have nothing to live for," Simpson said. "When I leave here today, if I kill one of these officers, is it fair to me? Is it fair? Because they killed mine with no fairness. So I want to kill a few of y'all with no fairness."
After the 21-day order was approved, Simpson filed court papers arguing that she didn't own guns and that her statements were taken out of context. She chided the police commissioners and Beck, accusing them of violating her 1st and 2nd Amendment rights.
A judge ultimately ruled that there was insufficient evidence to grant a longer restraining order, records show. It was the only instance during the law's first two years that a yearlong order sought by a police agency in Los Angeles County was rejected.
For more news from the Los Angeles County courts, follow me on Twitter: @marisagerber
The stories shaping California
Get up to speed with our Essential California newsletter, sent six days a week.
You may occasionally receive promotional content from the Los Angeles Times.