Newsletter: Essential Politics: California challenges 'Outlaw Pruitt' over rules on vehicle emissions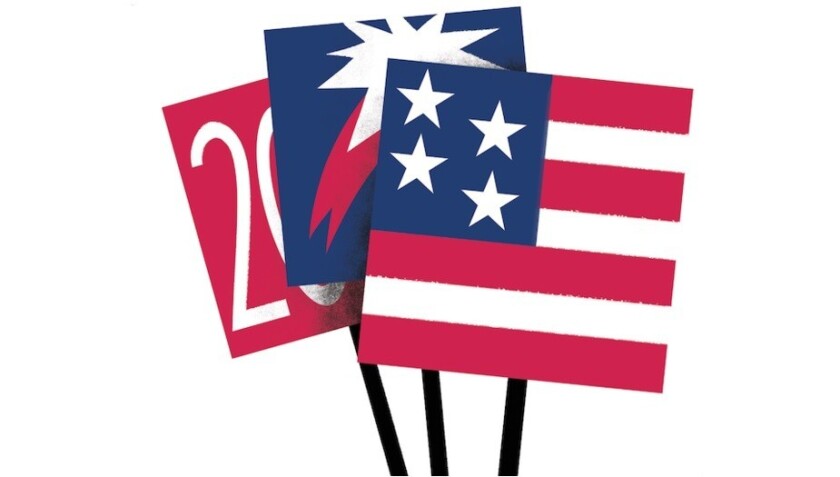 President Trump may be the most prolific name-caller in politics these days, but Gov. Jerry Brown offered a new sobriquet on Tuesday for a key member of the president's Cabinet, EPA Administrator Scott Pruitt.
"States representing 140 million Americans are joining together to sue 'Outlaw Pruitt,' " Brown told reporters in Sacramento. "He's breaking the law. He's flouting the Clean Air Act and the legitimate needs and well-being of the American people."
Now, the tally of lawsuits brought by California against the Trump administration stands at 32.
Sign up for the Essential Politics newsletter »
CALIFORNIA FIGHTS TO KEEP ITS VEHICLE RULES
The lawsuit seeks to reinstate California's ability to force higher auto mileage standards and reduce greenhouse gases. Last month, Pruitt rolled back a key 2012 effort by the state and federal governments on the issue — one that took two years to put in place.
On Tuesday, Brown and state Atty. Gen. Xavier Becerra fired back.
"You can't just like some tin-horn dictator say, 'I'm tearing up a rule that is based on a two-year-determination process,' " the governor said.
SPEAKING OF PRUITT...
It's worth noting that Brown also offered a drive-by jab at the controversy surrounding Pruitt and ethics investigations: a controversy leading two of his top aides to resign. The governor called the EPA chief "this character in Washington, with his expensive travel tastes and his funny little redecorating plans that cost the American people all sorts of money."
Pruitt's troubles may have deepened on Tuesday, with a report that a trip he took to Morocco last December was partly arranged by a longtime friend and lobbyist.
'OPEN BORDER POLITICAL ACTIVISTS,' SAYS PENCE IN CALEXICO
California's governor declined to comment on Tuesday about what happened the day before some 600 miles to the south, as Vice President Mike Pence toured a border construction site and lashed out at those who oppose the administration's efforts.
In particular, Pence said the caravan of migrants that has made its way to the border near San Ysidro is "being exploited by open-border political activists and an agenda-driven media."
Over the past two days, a small number of the Central American migrants have been given a chance to formally seek asylum. The news was cheered in Tijuana by the group, which numbers around 200 people.
QUIET HELP FOR LOCALS WHO WANT TO FIGHT CALIFORNIA'S 'SANCTUARY' LAW
The guest list for a quiet meeting scheduled for next Monday night in Fresno remains a mystery, though they're expected to be officials from local governments across the state.
And they'll be getting some free advice — hidden away from their constituents — about how to challenge California's "sanctuary" law.
An email inviting city and county leaders to the meeting was obtained by The Times and raises the question of whether local communities challenging the new state law are part of an organic movement or an orchestrated campaign.
THOSE QUESTIONS FROM MUELLER
The president lashed out Tuesday on Twitter about the list of questions reportedly from the team of the special counsel, Robert S. Mueller III.
Trump's tweet called the list "so disgraceful." He added, "you have a made up, phony crime, Collusion, that never existed, and an investigation begun with illegally leaked classified information. Nice!"
Later, the Washington Post reported that Mueller had raised the possibility of a presidential subpoena in a meeting with Trump's legal team in early March.
NATIONAL POLITICS LIGHTNING ROUND
-- Criticism of the president by his chief of staff, John Kelly? "He always knows where I stand and he and I both know this story is total BS," Kelly fired back on Monday at a news report of him calling Trump an "idiot."
-- Secretary of State Mike Pompeo introduced himself to hundreds of U.S. diplomats and staffers who packed the State Department lobby Tuesday, vowing to return "swagger" to a staff that has been demoralized by budget cuts and unfilled vacancies.
-- Trump mused on Tuesday about a new favorite topic, an idea that would add a sixth branch of the United States military: a "space force."
-- Thousands of Puerto Ricans marched on Tuesday to protest pension cuts, school closures and slow hurricane recovery efforts as anger grows across the U.S. territory over looming austerity measures.
HOUSING BILL'S PROBLEM: ANTI-POVERTY ADVOCATES
Last month, a major housing bill championed in Sacramento by state Sen. Scott Wiener (D-San Francisco) — one that would have allowed four- to five-story buildings built near transit lines — failed to advance.
Much of the opposition to the bill was predictable. But a divide emerged between Wiener and his allies, who argued the legislation would have benefited low-income communities of color and many advocates from those communities who believed the opposite.
The dispute remains a key hurdle as Wiener plans to try again with a new version of the legislation next year, Liam Dillon reports.
An interesting epilogue: Brown said this week he would have been inclined to support the legislation, calling it "not a bad idea."
TODAY'S ESSENTIALS
-- Fired up and shifting her position: Sen. Dianne Feinstein now says she supports a federal hands-off policy for states that have legalized marijuana.
-- Tuesday was May Day, also known as International Workers' Day and long a key event in Los Angeles for a protest mashup of political causes — notably workers' and immigrants' rights.
-- Austin Beutner, a philanthropist and a former publisher of The Times, has been named the new superintendent of the Los Angeles Unified School District, America's second-largest school system.
-- Any Californian would be able to serve on a state board or commission — even residents who are in the U.S. illegally — under a new bill in the Legislature.
-- Former state Sen. Tony Mendoza's fundraising efforts for winning back his seat have dried up following his resignation in the wake of a harassment investigation.
-- Another Democrat drops out of the race to unseat Orange County Rep. Dana Rohrabacher, but this one isn't endorsing anyone else.
LOGISTICS
Essential Politics is published Monday, Wednesday and Friday.
You can keep up with breaking news on our politics page throughout the day. And are you following us on Twitter at @latimespolitics?
Miss Monday's newsletter? Here you go.
Please send thoughts, concerns and news tips to politics@latimes.com.
Did someone forward you this? Sign up here to get Essential Politics in your inbox.
---
Get our Essential Politics newsletter
The latest news, analysis and insights from our bureau chiefs in Sacramento and D.C.
You may occasionally receive promotional content from the Los Angeles Times.