Mueller still mulling Trump campaign collusion with Russians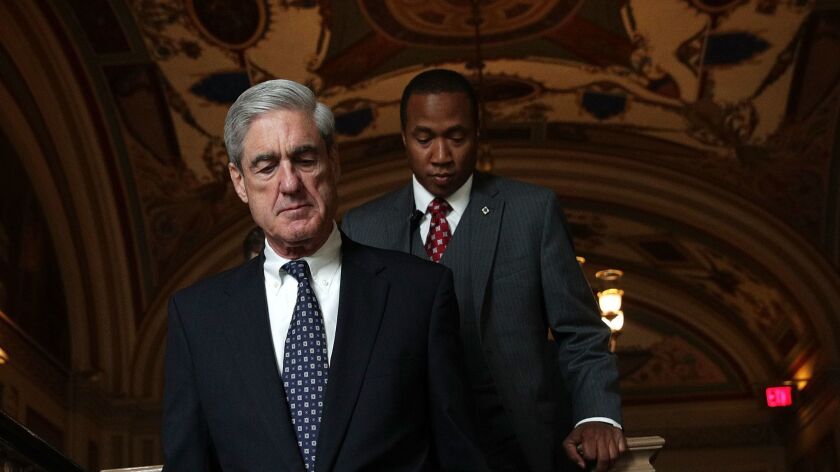 Reporting from Washington —
President Trump angrily insisted again Tuesday that there was no collusion between his presidential campaign and Russians in the 2016 election, but special counsel Robert S. Mueller III apparently isn't convinced.
After speaking with prosecutors on Mueller's team, Trump's lawyers prepared a list of nearly four dozen questions that could be posed during a potential interview with the president, according to sources with knowledge of the process who declined to speak publicly.
Roughly one in four questions focused on what the president knew about Russia's efforts to interfere in the campaign.
"During the campaign, what did you know about Russian hacking, use of social media or other acts aimed at the campaign?" reads one inquiry on the list.
The New York Times first disclosed the list and a source confirmed its authenticity to the Los Angeles Times. It's unclear if Mueller has changed or expanded his areas of inquiry, which were detailed more than a month ago.
Since then, Trump's longtime personal lawyer, Michael Cohen, was the target of raids by FBI agents pursuing a separate criminal investigation in Manhattan.
It's not known if Trump is still open to sitting down for an interview with the special counsel's office, something he previously pledged to do.
Trump last month hired Rudolph Giuliani, a longtime political ally and former mayor of New York City, to help negotiate with Mueller. The president also ramped up his criticism of the Russia investigation.
Trump blasted the disclosure of the questions in a tweet Tuesday morning, calling it "so disgraceful."
He added, "you have a made up, phony crime, Collusion, that never existed, and an investigation begun with illegally leaked classified information. Nice!"
Trump also falsely claimed the list contained "no questions on Collusion" even though a number of inquiries probed issues related to connections between Trump or his aides and Russians.
Generally the questions referred to episodes that have been public knowledge for months. The list contained no new allegations of meetings, conversations or contacts.
One question — "When did you become aware of the Trump Tower meeting?" — references the June 2016 gathering that Donald Trump Jr., the president's eldest son, hosted with a Kremlin-linked lawyer who was said to have incriminating information on Democratic rival Hillary Clinton.
Paul Manafort, Trump's campaign chairman, and Jared Kushner, Trump's son-in-law and advisor, also attended the meeting, which was revealed last year. Trump Jr. later claimed no incriminating information was provided.
Democrats on the House Intelligence Committee suggested Friday that the president may know more about the meeting than he has let on. As Trump Jr. was setting up the meeting, he conducted a call with a blocked number, according to phone records.
Democrats said they tried to determine whether the caller was Trump himself, but Republicans were "unwilling to pursue the matter."
Another question focuses on the president's unsuccessful attempts to build a hotel complex in Moscow and other potential business dealings there after he visited the Russian capital in 2013. "What communication did you have with Michael D. Cohen, Felix Sater and others, including foreign nationals, about Russian real estate developments during the campaign?" it asks.
Cohen has said he and Sater, a Russian-born businessman in New York who previously worked with the Trump Organization, pitched a luxury building in Moscow during the campaign, but the idea was abandoned in January 2016.
Prosecutors may have hinted there's more evidence against Manafort, who already is fighting nearly two dozen charges of money laundering, tax evasion and bank fraud in two federal indictments.
"What knowledge did you have of any outreach by your campaign, including by Paul Manafort, to Russia about potential assistance to the campaign?" the question asks.
Manafort is not charged with any crimes related to his work on the Trump campaign although prosecutors have suggested in court filings that he has ties to Russian intelligence. He has denied any such ties or any conspiracy with Russia.
A memo previously disclosed by the special counsel's office said Mueller was authorized to examine allegations that Manafort "committed a crime or crimes by colluding with Russian government officials" in connection with the U.S. election.
In a court filing Monday, Manafort's lawyers said the special counsel's office has not turned over any "tapes, notes, transcripts or any other material evidencing surveillance or intercepts of communications between Mr. Manafort and Russian intelligence officials, Russian government officials (or any other foreign officials)."
Negotiations between prosecutors and Trump's lawyers about a potential interview with the president is not an unusual step when an investigation requires access to the Oval Office, said Solomon Wisenberg, a lawyer who worked with the Office of Independent Counsel in the investigation that led to President Clinton's impeachment by the House for perjury and obstruction of justice.
"They want to show that they've gone out of their way to try to accommodate the president," Wisenberg said. "They want a record that they made every effort to talk to him."
Ken Starr, the independent counsel, agreed to limit Clinton's 1998 deposition to four hours and conduct it at the White House. Wisenberg said there were no stipulations about what questions could be covered.
The newly-disclosed list of questions also contained multiple queries related to whether Trump obstructed justice by trying to influence the Russia investigation. Several sought to establish Trump's mind-set when he made certain decisions, such as when he fired James B. Comey as FBI director last May.
"What did you mean when you told Russian diplomats on May 10, 2017, that firing Mr. Comey had taken the pressure off?" was one question.
Trump's allies argue that the firing was proper because, as president, Trump has full control over the executive branch, which includes the Department of Justice.
But Jonathan Turley, a George Washington University law professor, said Trump could still face legal jeopardy.
"The president has been building an obstruction case against himself, tweet by tweet," he said.
Jay Sekulow, a lawyer for Trump, declined to comment Tuesday. Joshua Stueve, a spokesman for the special counsel's office, also declined to comment.
Follow the latest news of the Trump administration on Essential Washington »
Twitter: @chrismegerian
---
For reporting and exclusive analysis from bureau chief John Myers, get our California Politics newsletter.
You may occasionally receive promotional content from the Los Angeles Times.