Q&A: Tom Steyer on impeachment and 2020: 'If we don't win on Nov. 6, 2018, we're screwed'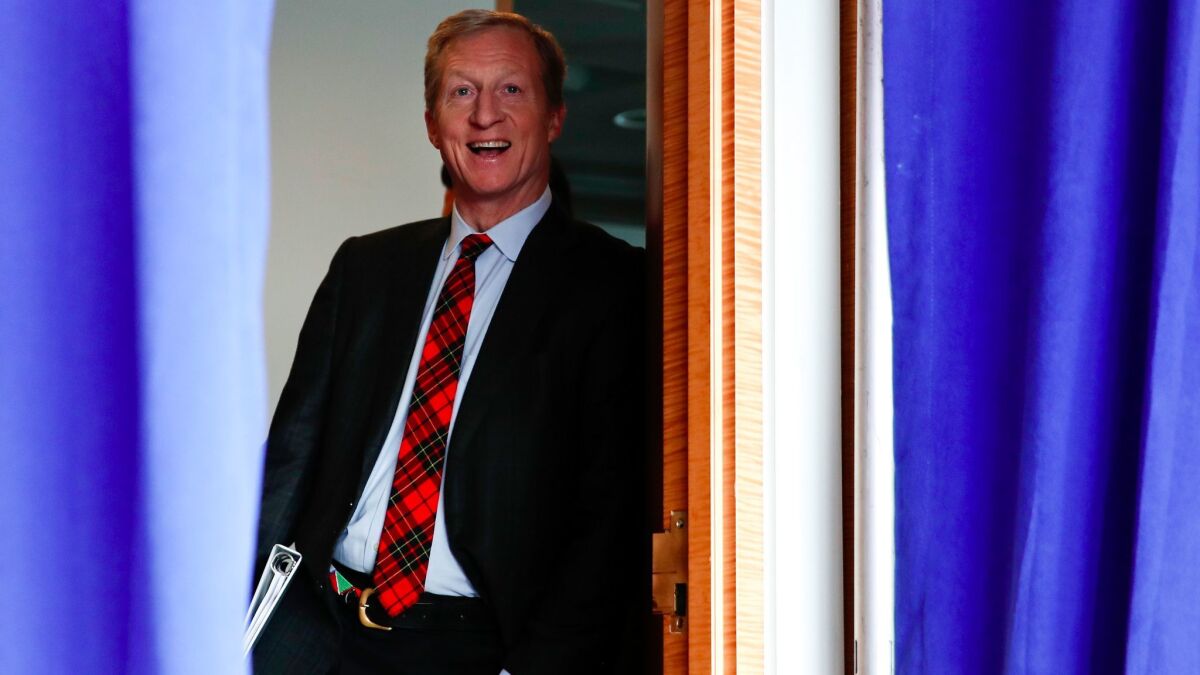 Billionaire Democratic donor and activist Tom Steyer will not run for political office this year. Instead he'll pour $30 million into efforts to register young people to vote, and continue to push Congress to impeach President Trump.
Steyer sat down with the Los Angeles Times to talk about his future, his impeachment campaign, "Need to Impeach," and the Senate race between incumbent Sen. Dianne Feinstein and state Senate leader Kevin de León. Steyer's comments have been edited for length and clarity.
You've seriously considered running for office a few times now. Do you think you'll ever run?
Damned if I know. Seriously, from my standpoint I really do particularly feel like we're a country in crisis. My attitude is to look if I can make a contribution. When the country is in crisis the question is, "What can you do to contribute?" That's the question I ask. I think that is a traditional American question to ask. I think if you don't ask it and don't answer it in a positive way then you are going to regret it. I would certainly regret it.
What did you weigh in deciding not to run this year?
I think people didn't believe me. But I was telling the truth, which was I was saying, "What is the biggest differential positive impact I can have?" If you listen to the things that we are doing, there's no one who is going to run this millennial program if we don't; there's no one who's going to run "Need to Impeach," or try to build that whole online structure if we don't.
There are reputable, competent, decent Democrats running for every seat in California. And if you [think] that the biggest issue, which I do, for the United States is the dysfunction and danger of this administration, then [what I'm doing is] the biggest differential impact. Not the best thing for my résumé, but probably the biggest, the most important thing I can do.
You have a relationship with both of the major Senate candidates. Will you endorse a candidate this year?
I haven't really thought about it. I won't even think about it until the filing [deadline in March], until I know who's running in all the different races. Obviously, I'm from California, I care a lot about California, truly, but until we know who is running there is no point worrying about it.
Billionaire Democrat Tom Steyer says he won't run for office this year: 'That's not where I can make the biggest difference' »
Were you surprised millions of people signed the impeachment petition?
You say you want to help those who signed the 'Need to Impeach' petition engage more with Congress. What does that actually look like?
If you go out and talk to people in America, they are always asking, "What can we do?" They really are.
So far it has been all about impeachment, but I think this is a very specific group of people and I think that it could easily branch. We can basically say to people, "Do you care about this?"
Some have speculated that you could turn 4 million petition signers into a political base for a presidential run. Is that something you've thought about?
We are really and truly going to focus up until Nov. 6, 2018, because we don't know what will happen on Nov. 6 and it totally controls what will happen after. We never expected what would happen on Nov. 8, 2016, and it's completely changed what we do.
I don't want to spend one second worrying about after that. If I'm spending time worrying about that then I'm not spending time worrying about this. If we don't win on Nov. 6, 2018, we're screwed. Just screwed. We can let the future take care of itself if we take care of the present.
Should Oprah Winfrey run for president?
I watched her [Golden Globes] speech. I thought it was very good. I also read that she's actively considering running for president.
I want you to send me the list of Americans who aren't actively considering running for president, because I have to save time by having the shorter list, really.
Please consider subscribing today to support stories like this one. Get full access to our signature journalism for just 99 cents for the first four weeks. Already a subscriber? Your support makes our work possible. Thank you.
Follow @sarahdwire on Twitter
Read more about the 55 members of California's delegation at latimes.com/politics
ALSO
Billionaire Democrat Tom Steyer says he won't run for office this year: 'That's not where I can make the biggest difference'
---
Life is stressful. Our weekly mental wellness newsletter can help.
You may occasionally receive promotional content from the Los Angeles Times.