Why California may not see statewide rules on the use of drones anytime soon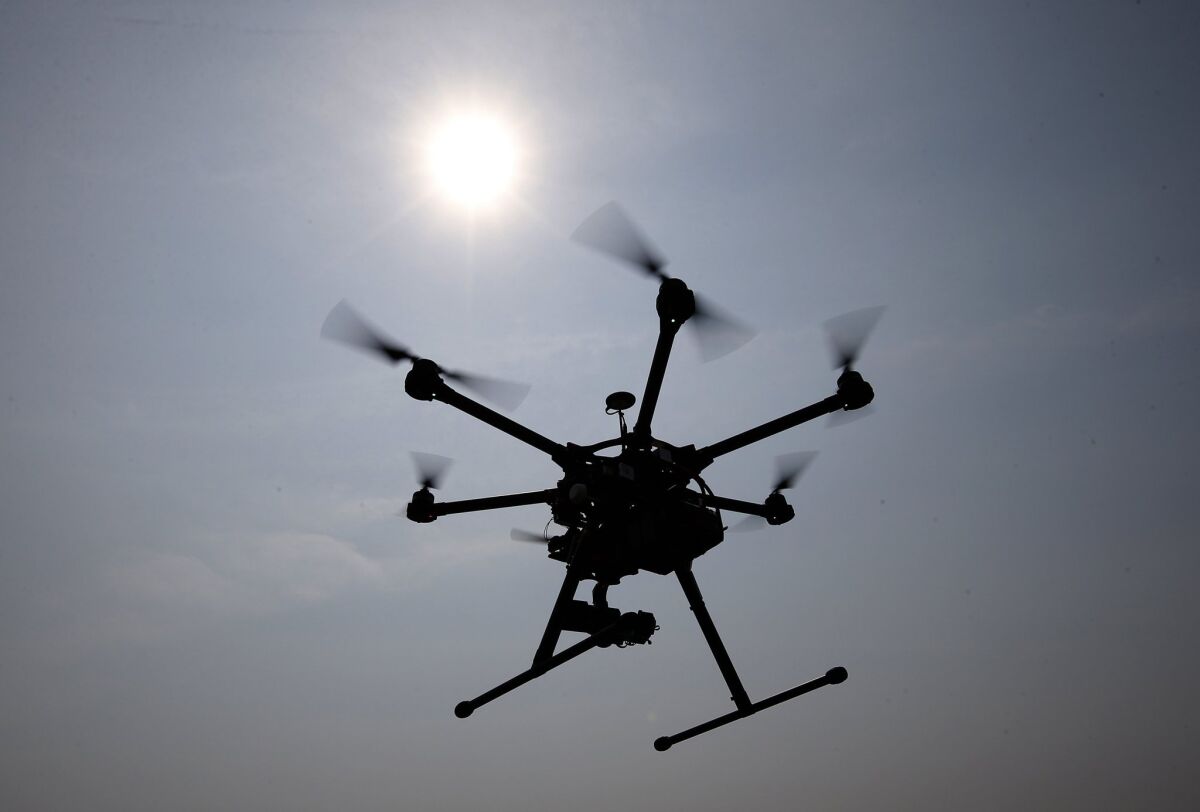 Reporting from Sacramento —
The last time state lawmakers tried to place limits on drones in the skies above California, they were met with the veto of Gov. Jerry Brown, who said he did not want to create new crimes to enforce bans on the use of such devices.
This year, the pushback to new rules is coming not from the governor but through the lobbying efforts of a budding industry that hopes to influence policy at the state Capitol and nationwide.
As drones multiply in number and category, cities and states want to set boundaries. But drone manufacturers and associations this legislative session boosted their politicking, successfully beating back several bills they said would create a patchwork of laws that vary by state and hinder innovation.
"We want to solve problems and address concerns, but to do it in a way that is constantly clear across the country," said Brendan Schulman, vice president of policy and legal affairs for DJI Technology Co., the world's largest drone maker. "Otherwise, it will be too confusing for commercial users and consumers to understand what the rules are when they travel from place to place."
The Consumer Technology Assn. expects 2.4 million drones to be sold nationwide this year, up from 1.1 million in 2015.
California has been home to some of the most innovative uses of the technology and is now also a central battleground over industry policy as it has become more commercialized.
Farmers are employing unmanned machines to spray pesticides over vineyards, first responders are using them to train for chemical spills, and Realtors are sending them into the air to capture aerial photos of homes and businesses.
But cities are seeking to pass their own rules and ordinances to prevent hobbyists from wreaking havoc. Just this month, a Placer County man was arrested on suspicion of flying a drone into a firefighting effort northeast of Sacramento.
Brown last year signed a bill prohibiting the use of drones to record audio or video on private property. But he stopped short of signing bills that would have made it illegal to use drones over wildfires, schools, prisons and jails.
Industry opposition this year has helped block two sweeping pieces of California legislation: One would have outlined drone regulations for law enforcement and another sought to drastically reduce the space in which the devices can be flown near power lines and critical infrastructure, private property and parklands and wildlife refuges.
Sen. Hannah-Beth Jackson, a Santa Barbara Democrat who authored the latter bill, said she had spent months working on an approach that would balance the need to protect privacy, public safety and parkland with promoting the benefits of the technology.
But she said tech industry leaders "had not been willing to come to the table."
"The rules should be clear," she said. "The rules should be fair. The rules should be a coordinated effort by all the stakeholders, but until we get the tech industry to sit down and participate, we are going to have to go at it alone."
Opponents of the bill contended it would have required drone operators to obtain insurance, though there is no data that accurately reflects the danger the drones pose. And they said it created "inconsistencies and contradictions" that undermined federal law regarding aircraft operations.
Sign up for our daily Essential Politics newsletter »
Debate has raged in recent years over just where federal authority begins and ends. Lawyers with the Federal Aviation Administration have said their agency has jurisdiction over any airspace above a blade of grass, though it has typically only regulated spaces at least 500 feet above the ground. The agency has also been slow to release regulations, revealing its latest set of rules for commercial users only late last month.
In Washington, major firms with an eye toward drone delivery services, among the most aggressive of which has been Amazon, have poured millions of dollars into lobbying Congress as a way of pushing the FAA along. Major drone manufacturers have even created their own industry advocacy group, the Drone Manufacturers Alliance, focused on the consumer market.
But industry experts say the battles with the highest stakes could play out at the state level, where lawmakers are trying to balance the needs of cities with those of drone operators.
In California, DJI Technology Co. and GoPro, a body-wearable camera maker working on its own drone, doled out more than $125,000 for the first time this session to hire lobbying firms. And even Google and Amazon have added the unmanned machines to their lobbying priorities in Sacramento.
The opposition helped stall another bill by Assemblyman Bill Quirk (D-Hayward) that would have required law enforcement to issue policies and obtain a search warrant before using drones. It has remained on the Senate floor since last year but is expected to be withdrawn.
Of the five remaining proposals in the Legislature, criticized by some as piecemeal solutions, two of the most significant bills would ban the use of drones in state parks without permission and would hold that emergency responders and volunteers who damage a drone are not subject to liability.
Another would mandate that the devices must be sold with a copy of FAA rules and that those with GPS technology must turn off near airports, sensitive infrastructure or fires.
Jackson, whose drone legislation was vetoed by the governor last year, said she will try to pass statewide regulations for the third time next session. Cities are already moving forward, she said — with or without the state.
Follow @jazmineulloa on Twitter
After drone crashes into power lines, West Hollywood cracks down
With strong message against creating new crimes, Gov. Brown vetoes drone bills
Get our Essential Politics newsletter
The latest news, analysis and insights from our politics team.
You may occasionally receive promotional content from the Los Angeles Times.