Legislature approves minimum wage increase, sending historic measure to Gov. Jerry Brown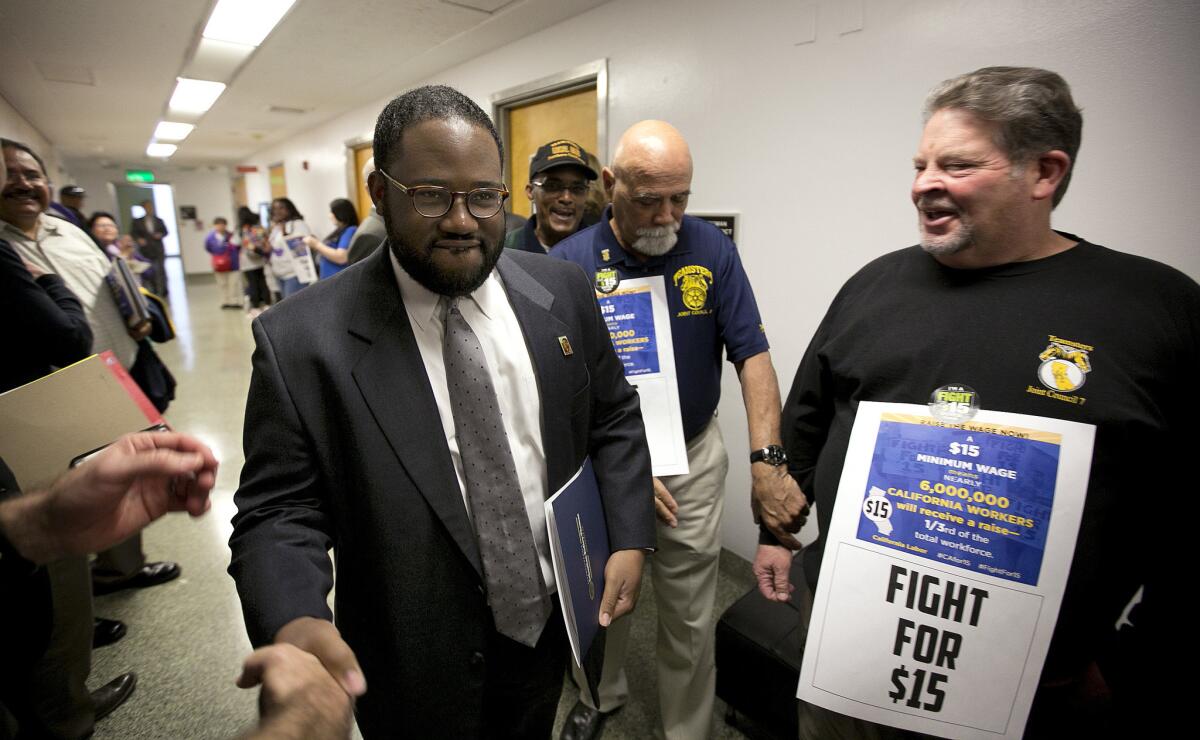 Reporting from Sacramento —
In a move that puts California at the forefront of efforts to raise wages for low-income workers across the country, the Legislature approved a sweeping plan Thursday to raise the minimum wage to $15 an hour over the next six years, boosting the future paychecks of millions of the state's workers.
The Senate voted 26 to 12 — with loud cheers of "Si se puede" from the gallery above — to give final approval and send the measure to Gov. Jerry Brown's desk less than one week after a legislative compromise. Brown will sign the wage hike into law in Los Angeles on Monday.
"At its core, this proposal is about fairness," Senate President Pro Tem Kevin de León (D-Los Angeles) said just before the vote.
"This is historic, and today I am proud to be a Californian."
Under the plan, the state's hourly minimum wage would increase from the current $10 to $10.50 on Jan. 1, 2017, then to $11 the following year, and increase by $1 annually until 2022.
Businesses with fewer than 26 employees would get an additional year to comply, and Brown and his successors could delay the increases by one year in the case of an economic downturn. Assuming no pauses, the minimum wage would increase each year based on inflation starting in 2024.
All but two Democrats — Assembly members Tom Daly of Anaheim and Adam Gray of Merced — voted for the increase, and not a single Republican in either chamber voted for the measure. Both raised concerns about the automatic cost-of-living increases that would raise the wage higher than $15 an hour as soon as 2024.
The plan passed the state Assembly earlier Thursday, 48 to 26, after opponents complained it was rushed and did not include a wide group at the negotiating table during what at times was an emotional debate in both houses of the Legislature.
Democratic lawmakers exhorted their colleagues to think of the difficulties of working families in a state with large income inequality and high housing costs.
"This is an argument about economic justice," Assemblyman Sebastian Ridley-Thomas (D-Los Angeles) said during floor debate. "Justice is not something that can be negotiated or compromised."
Republicans countered that a too-high minimum wage would limit opportunity particularly for those just entering the workforce.
"Our job in this building is to help people climb the economic ladder, not cut off the bottom rungs," said Sen. Ted Gaines (R-Rocklin), calling it a "death sentence" for struggling businesses in his district. "That is exactly what will happen if we shove this unprecedented cost increase on businesses."
Economists have estimated the measure would increase the pay of 5.6 million workers across the state — nearly 1 in 3. No state has a minimum wage higher than California's $10 an hour, and this deal will put California on a path to remain the highest in the country.
Republicans and business groups, including the California Chamber of Commerce, California Restaurant Assn., warned that the pay hike was too much too fast and that it didn't take into account the broad differences between California's rich and poor regions.
The decision, they said, would cause layoffs and quicker automation of low-wage jobs.
Gray said in an interview after the vote that the effect on the state budget and automatic cost-of-living increases were deal-breakers for him.
He said his Central Valley district was very different from the wealthier coastal areas of California.
"We have systemic, decades-long double-digit unemployment," Gray said. "While $15 an hour probably isn't even high enough for areas like San Francisco and parts of Los Angeles and our other urban centers, it's too high for some small businesses and some communities."
Thursday's action came after a whirlwind week in the Capitol, with Brown formally outlining the plan on Monday.
The package is less aggressive than two labor-sponsored ballot measures that would have increased the minimum wage to $15 an hour more quickly.
The leverage created by the ballot measures spurred Brown, who previously had been hostile to raising the wage beyond its current levels, to make a deal.
Brown's decision, followed by swift legislative approval, marks the biggest success yet for a national movement backed by labor unions to increase minimum wages to $15 an hour.
Though major cities, including Los Angeles, have increased their minimum wage to that level, no state had done the same until Thursday, though New York is considering a similar measure.
Earlier in the week, both Democratic presidential candidates, former Secretary of State Hillary Clinton and Sen. Bernie Sanders of Vermont, expressed their support for California's decision.
During debate, Sen. Mark Leno (D-San Francisco) told his colleagues that his bill would lift many hard-working Californians out of poverty.
"Workers are struggling," Leno said. "Two point two million Californians are currently earning minimum wage, and they are struggling in poverty because it is a sub-poverty wage."
But Republican Sen. Jim Nielsen said increasing the minimum wage will hurt new workers and lead to mechanization of jobs, saying: "You will go to the hamburger store, and you won't have a young person or elderly person to wait on you."
Hundreds of supporters of the measure rallied outside the Capitol on Thursday and packed the Assembly before the vote.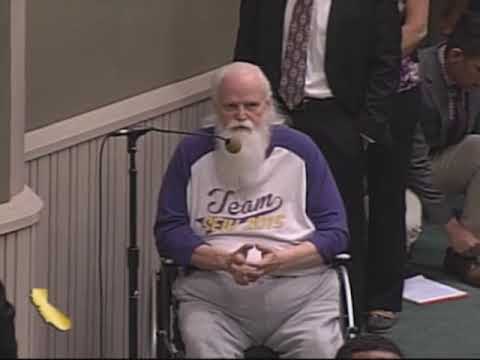 California's minimum-wage increase to $15 an hour over the next six years passed its most critical legislative test Thursday morning, with the state Assembly approving the deal.
Once the decision was official, cheers came down from the gallery and Assembly Speaker Anthony Rendon (D-Paramount) and de León shared a long hug on the Assembly floor.
Guadalupe Salazar, 40, a fast-food worker from Oakland who attended the Capitol rally, said the vote Thursday was the culmination of a years-long effort to boost the wage and improve the quality of a life for her family, including her daughter, who makes minimum wage as a thrift store clerk in Orange County.
"They finally opened their ears to what we need," Salazar said.
Aside from affecting low-wage workers, the deal will have broad consequences on all sectors of the economy and the state budget.
The state Department of Finance has estimated that the wage increase would cost the state $3.6 billion annually by 2023, primarily from a pay boost for in-home healthcare workers in the public sector.
Beyond that, the wage hike also will increase the pay of workers whose salaries are tied to the minimum wage.
For instance, teachers and other workers who are exempt from state overtime rules must be paid at least double the minimum wage or receive overtime.
Twitter: @dillonliam @mcgreevy99
ALSO:
Minimum wage measure passes Appropriations Committee, heads to Legislature
Gov. Brown hails deal to raise minimum wage to $15 as 'matter of economic justice'
Timeline of minimum wage increases in California
Who wins with a $15 minimum wage?
Your voices: How would a minimum wage impact you?
Get our Essential Politics newsletter
The latest news, analysis and insights from our politics team.
You may occasionally receive promotional content from the Los Angeles Times.