From the shove to the orb, no single Trump moment from trip abroad stands out. There are too many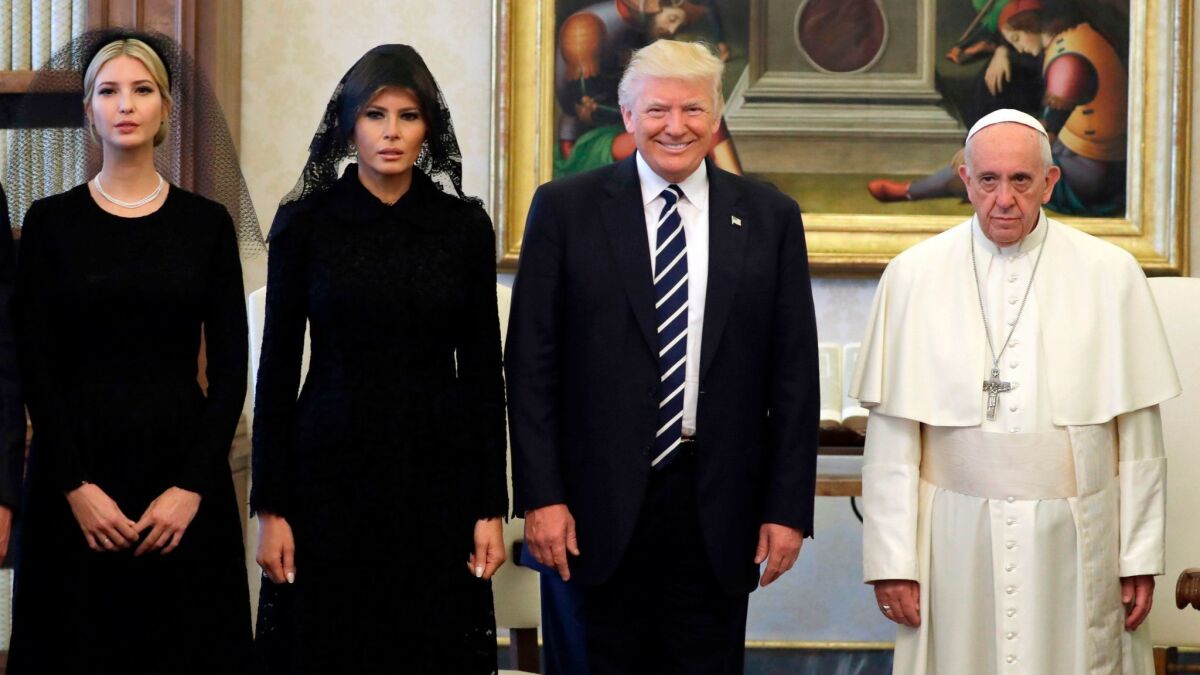 Many presidential trips, both within the U.S. and abroad, have provided standout moments.
Sometimes they've been of historic significance: John F. Kennedy and Ronald Reagan at the Berlin Wall, Richard M. Nixon at China's Great Wall.
Occasionally they've been embarrassing: George H.W. Bush getting sick at a banquet in Japan. Gerald Ford falling down the steps of Air Force One in Austria.
Donald Trump, of course, has made no secret that he believes in going big. And his first trip abroad has not disappointed, inspiring a stream of memes and late-night punchlines.
Some exchanges were merely awkward. In other cases, there's more than meets the eye.
See for yourself.
First lady swats away her husband's hand
Thanks to the magic of slow-motion, eagle-eyed tweeters noticed what many perceived as First Lady Melania Trump swatting away her husband's hand when he reached for hers. They were walking with non-hand-holders Prime Minister Benjamin Netanyahu and his wife, Sara, in Tel Aviv. When the first couple landed in Rome, she seemed to reject her husband's hand again, going for a sweep of her hair instead.
Later in the trip, the Trumps were photographed lacing fingers while viewing a 16th century Michelangelo fresco in Rome.
Damage control or unguarded affection? You decide.
The Trumps meet a 'grimacing' pope
Trump's critics were quick to point out Pope Francis' downtrodden face during his meeting with Ivanka, Melania and President Trump. But was he truly grimacing?
Not necessarily. As some noted, that was just his "resting pope face" – an expression that we saw during his meeting with President Obama in 2014.
Regardless, Francis wasn't all grimaces. See below for some smiling proof.
The bigger buzz out of the visit with Francis might have been about who was left out. White House Press Secretary Sean Spicer, a Catholic, was told there was no room for him to meet the pontiff. Many interpreted it as a slight, and Spicer reportedly fumed to colleagues.
Trump and Macron's long handshake
Remember when Trump and Japanese Prime Minister Shinzo Abe shook hands for 19 seconds? Well, Trump's meeting with new French President Emmanuel Macron came close to breaking that white-knuckled record. The two shook hands for the cameras, and looked to be playing a game of handshake chicken.
Trump wasn't always a fan of those tight grips. Once upon a time, he hated handshakes, calling them "barbaic." In his 1997 book, "The Art of the Comeback," he wrote about wanting to take out a newspaper ad calling for the end of handshakes.
Trump puts his hands on a glowing orb
When Trump, Egypt's Abdel Fattah Sisi and Saudi Arabia's King Salman placed their hands on a glowing orb for a photo-op in the Saudi capital, the scene sparked a myriad of online jokes invoking "Lord of the Rings" and "Hocus Pocus."
Why did the theatrical moment take place? The reasoning behind the orb's appearance was more serious than the jokes it sparked. It was there in celebration of the opening of Saudi Arabia's Global Center for Combating Extremist Ideology.
Trump criticizes NATO while NATO leaders listen
This is the definition of an awkward situation. Trump, who during the campaign had called NATO "obsolete," once again criticized alliance members for not spending enough on defense. This time, leaders of member nations were standing right behind him. As they quietly listened, their faces morphed from contentment to confusion.
Trump shoves aside the prime minister of Montenegro
As Trump and his fellow NATO leaders walked to a photo op, Trump reached across with his right arm to move Montenegro's Prime Minister Dusko Markovic out of the way. Then he walked past Markovic, straightened his own blazer and stood at the front of the pack.
But all was well. Markovic afterward called it "an inoffensive situation." And video showed him continuing to smile and carry on a conversation.
That didn't stop others from noticing Trump's "America First" ways and chiding the president for what looked like bad manners.
Trump partakes in a sword dance
In the words of Confucius (really, he said it), "Never give a sword to a man who can't dance."
Trump seemed to enjoy the traditional sword dance alongside Saudi men in Riyadh. We'll leave it to you to decide how his performance fared.
Questions? Comments? Email colleen.shalby@latimes.com or tweet @cshalby.
ALSO:
As Trump wavers over Paris climate accord, European leaders give him an earful
Trump favors personal connections in his foreign policy
A glowing orb and a not-so-glowing review of the GOP healthcare bill: Trump's week was filled with events he didn't control
Life is stressful. Our weekly mental wellness newsletter can help.
You may occasionally receive promotional content from the Los Angeles Times.