Europe's reaction to the Trump style ranges from envy to 'you tiny, tiny, tiny little man'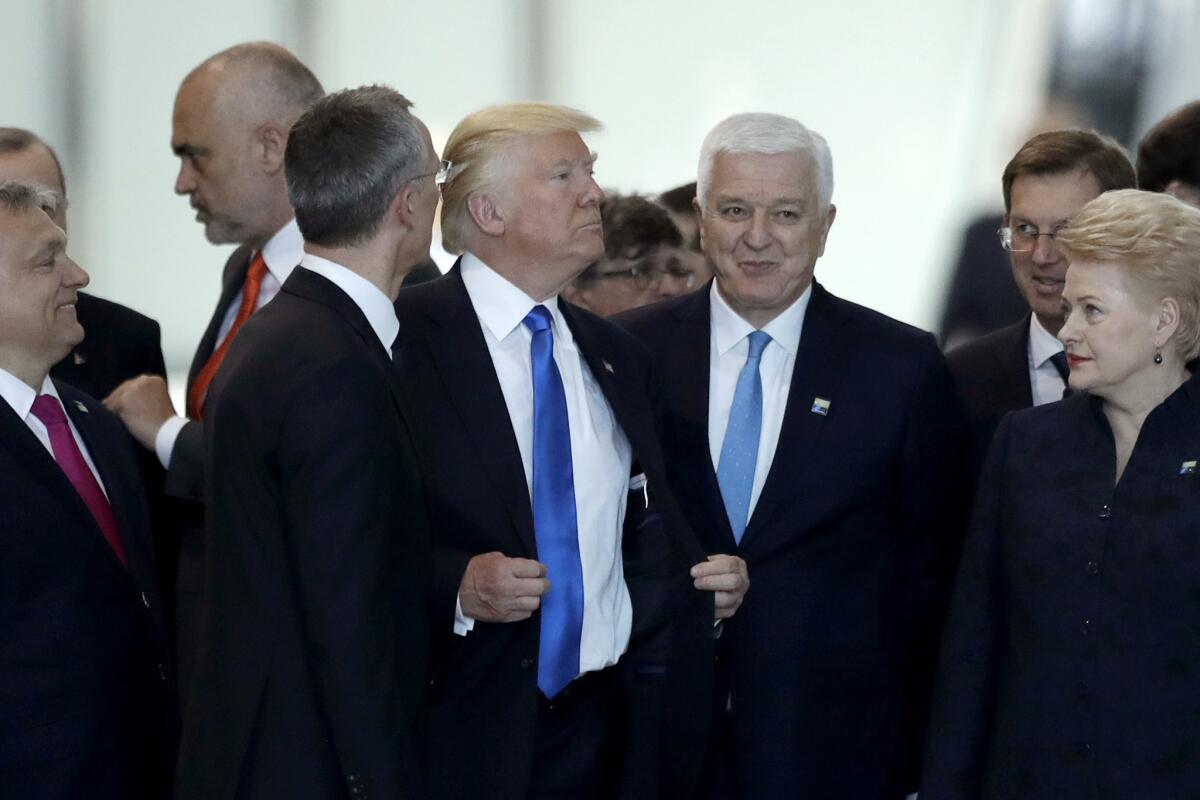 Reporting from BERLIN —
When Donald Trump was seen brushing his way past Montenegrin Prime Minister Dusko Markovic for a group photo at a NATO summit in Brussels this week, many Europeans came to the same conclusion: The American president came off looking like a bully.
Markovic later said he felt it was an "inoffensive" gesture. "It is natural that the president of the United States is in the front row," he said. But the incident drew almost as much attention as Trump's failure to mention and endorse NATO's Article 5 — the core NATO principle that an attack on one member is viewed as an attack on all.
Across Europe, the reaction to Trump's trip, and especially to the NATO photo op, was less than charitable. Scotland's J.K. Rowling, the author of the "Harry Potter" books and a frequent Trump critic, posted a clip of the Trump-Markovic incident on Twitter with her own scathing comment: "You tiny, tiny, tiny little man."
German comedian Jan Boehmermann also turned to Twitter to compare Trump to a hungry man barging his way past others to get to the front of the line for an all-you-can-eat buffet.
Tension caused by Trump and his "America first" rhetoric has been running high across the continent since his election in November. This week's meetings with leaders of NATO and the Group of 7 leading industrialized countries did little to ease it.
A number of Europeans shared their impressions on The Times' Facebook page.
"As someone who enjoys visiting the U.S., I am always impressed by the politeness and good manners of most Americans that I meet. Sadly, your president is a rude ignoramus," said Londoner Howard Allman.
An American, Richard J. Martinez, said he has encountered widespread negativity while traveling in Europe this month. "Anytime someone hears we are from the States, a negative conversation ensues and instant judgment begins," he said. "If you're traveling, try not to bring his name up."
But Marina Stefanelli noted: "Lots of people in Italy wish he was our president."
Then there was Marija Masenka Yesenin: "Montenegro calling, I am so happy that you finally know where we are!" she wrote. "Thanks a lot, Trump!"
The media were hardly more forgiving.
In Belgium, the newspaper Le Soir said Trump had raised doubts about his commitment to NATO's Article 5 by not mentioning it. "There is nothing in his words to suggest that Europe and America under his leadership still share a common world view or even basic values," it said.
Germany's bestselling Bild daily wrote: "Rowdy behavior and bluster — Trump's first visit to NATO causes consternation among observers and NATO leaders alike."
Thomas Jaeger, a political scientist at Cologne University, said polls show that Trump was already the most unpopular postwar U.S. president to set foot in Europe. He said Trump is especially disliked for his tough-talking rhetoric in Germany, a country with a phobia of war after its belligerent 20th century past.
"Trump is seen as the epitome of the 'ugly American,' " Jaeger said. "He's loud, uncouth, ignorant, disgustingly and flamboyantly rich."
"President Trump is just not capable of leading the Western alliance," Norbert Roettgen, a senior leader in Parliament from German Chancellor Angela Merkel's conservative party, told the magazine Der Spiegel. "He is not at all interested in that at the moment. The situation is far more grave as even those who are most surprised by all this could imagine."
Some of this week's criticism was directed not at Trump, but at the media reporting on Trump. German publications were called to task for a dubious translation of Trump's comments about Germany's large trade surpluses with the United States.
The newspaper Sueddeutsche Zeitung and Der Spiegel reported that Trump had said: "The Germans are evil, very evil" because of the high trade surpluses. "Evil," or boese, is one translation for the term "bad," but not the most accurate in the context of what Trump said — that Germany is "very bad" on trade.
European Commission President Jean-Claude Juncker weighed in to defend Trump: "The record has to be set straight. It's not true that the president took an aggressive approach when it came to the German trade surplus. He said, like others have, that [the United States] has a problem with the German surplus. So he was not aggressive at all."
Trump's image as an outsider continued in Italy on Friday at the G-7 meeting in Taormina, Italy, where the distance between Trump and the others was as much physical as it was political. The presidents, chancellor and prime ministers of France, Germany, Italy, Japan, Canada and the United Kingdom walked the streets of Taormina.
Trump followed in a golf cart.
Kirschbaum is a special correspondent. Special correspondents Tom Kington in Taormina, Italy, and Catherine Stupp in Brussels contributed to this report.
ALSO
Trump finds a new ally in his war on leaks: Britain
As Trump wavers over Paris climate accord, European leaders give him an earful
Sign up for Essential California for the L.A. Times biggest news, features and recommendations in your inbox six days a week.
You may occasionally receive promotional content from the Los Angeles Times.