Tyler Skaggs latest to try Tommy John surgery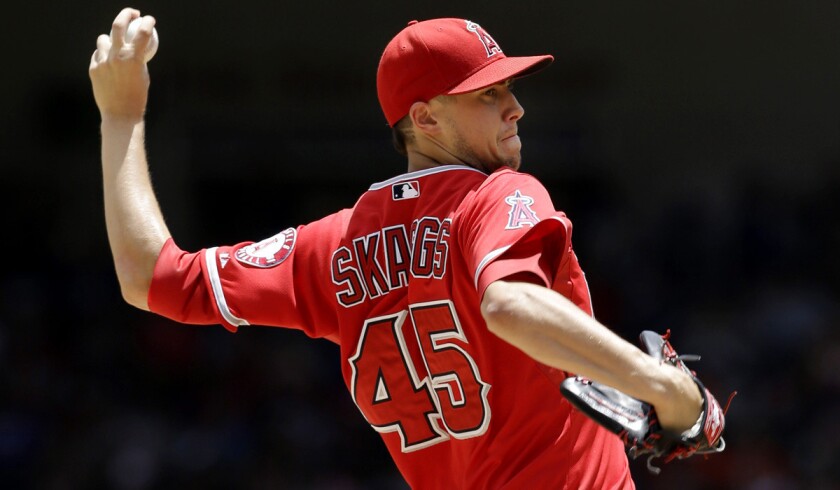 Tyler Skaggs has joined the long parade of pitchers to succumb to Tommy John surgery. The promising young Angels left-hander was diagnosed with an ulnar collateral ligament tear in his elbow and will undergo the procedure on Wednesday, sidelining him for the rest of this season and all of 2015.
"I want to fix this as soon as possible so I can come back in 2016 and start fresh and ready to go," Skaggs, 23, said before the Angels' 3-1 loss to the Boston Red Sox on Sunday. "It was a really tough decision, but I feel like I made the right choice for my career and for the team, honestly."
Skaggs, who went 5-5 with a 4.30 earned run average in 18 starts, suffered what was initially diagnosed as a flexor tendon strain in a July 31 game at Baltimore, and there was some hope he might return this season.
But there was too much inflammation for an initial MRI test, performed last weekend in Tampa Bay, to reveal the tear. A pair of contrast MRIs performed Monday and Wednesday in Los Angeles confirmed what Skaggs called a "high-grade" tear, but not a complete tear, of the ligament.
The Angels gave Skaggs the choice of surgery or rehabilitation, a process that would have included a platelet-rich plasma injection to accelerate healing.
"That works for two out of 10 guys," Skaggs said. "Could I have been two of 10? Yes, maybe. But I don't want to go off 20%."
Skaggs consulted current and former teammates such as Jarrod Parker (Oakland) and Patrick Corbin (Arizona), who have had the surgery, before making his final decision Friday.
Dr. Neal ElAttrache, the Dodgers team physician, will perform the surgery, which requires 12 to 18 months of recovery. According to reports, some 45 pitchers have undergone the procedure this year.
"I don't want to go out there at 75% for this team, especially going into the playoffs," Skaggs said. "It would be tough pitching with a torn UCL. I could rehab it, but the doctors said it didn't have a great chance of holding up.
"I felt in my heart, in my gut, that I needed to get this done so I could be 100% out there and not look back over my shoulder and think, 'Should I let this one go or lob it up there and see how it feels?' The rehab process is mentally draining, but I have to deal with it."
The success rate of Tommy John surgery is 85-90%. Skaggs' age and the fact he had no prior arm injuries make him an ideal candidate.
"Forty years ago, this injury was a career-ender — Tommy John surgery is a career-saver," Manager Mike Scioscia said. "Of all the surgeries a pitcher could have, Tommy John, I think, is the most reliable with the most predictable outcome."
General Manager Jerry Dipoto will continue to scour the waiver wire for rotation depth — the Dodgers added two starters, Roberto Hernandez and Kevin Correia, after the July 31 nonwaiver trade deadline — but the chances of acquiring an impact starter this month are slim.
The loss of Skaggs until 2016 will intensify Dipoto's winter pursuit of pitching, but it won't push the team into the market for free-agent aces such as Jon Lester or Max Scherzer. Current starters Jered Weaver, C.J. Wilson, Garrett Richards, Matt Shoemaker and Hector Santiago are under club control for 2015.
"We feel like we have front men, middle men and back-of-the-rotation starters," Dipoto said. "We'll try to create as much depth as we can. I don't know too many circumstances where your young starter gets hurt and you're compelled to go chase the top of the market. We'll stay focused on the model we set up."
Skaggs, acquired from Arizona last winter in the Mark Trumbo trade, figures to team with Richards, 26, as the foundation of the Angels rotation for years to come.
In fact, Skaggs was throwing a no-hitter against the Orioles when he injured his arm throwing a fifth-inning changeup to Delmon Young and came out of the game two batters later.
"I'm still kind of dumbfounded as to how it happened," Skaggs said. "It's hard to go from throwing 95 mph and thinking it's turning into something special to all of a sudden you throw one pitch and you can't feel your hand."
Twitter: @MikeDiGiovanna
---
Get the latest on L.A.'s teams in the daily Sports Report newsletter.
You may occasionally receive promotional content from the Los Angeles Times.