Angels pitcher Nick Tropeano's experience in Cape Cod League taught him that change is good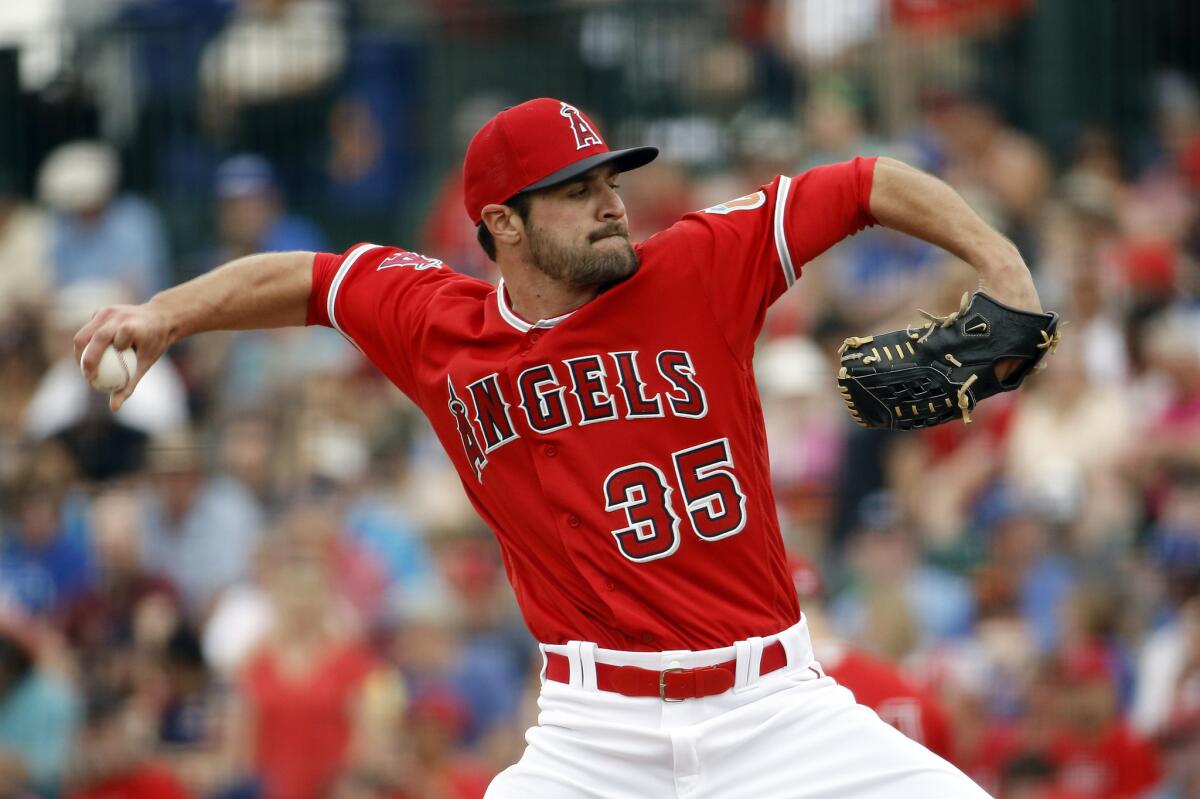 REPORTING FROM SCOTTSDALE, Ariz. —
It was late in the summer of 2010 on Cape Cod, and Angels right-hander Nick Tropeano was pitching the biggest game of his life for the Cotuit Kettleers.
Then 19 and well past his career high in innings thrown, he had logged 87 pitches in five innings of a tied playoff game. While he waited to head back out for the sixth, his manager, Mike Roberts, stopped him and said he wanted to save him for another day. A mostly quiet but occasionally ferocious Long Island native, Tropeano seethed.
"I thought he was going to hit me in the dugout," Roberts recalled. "I'm telling you, that's true. I'm hillbilly tough, but he's Long Island tough. I didn't know if he had a wrench in his pocket or what he was going to pull out on me."
Four days later, in the championship game, Roberts was forced to remove a struggling starting pitcher in the third inning. In came Tropeano, who pitched 6 2/3 no-hit innings to lead Cotuit to the championship, firing mostly darting changeups to the confused opposition.
That performance propelled him to be a fifth-round selection in the major league draft. After he debuted for Houston in 2014, the Astros sent him to the Angels in a trade for catcher Hank Conger. In seven big league spot starts last season, Tropeano proved capable. He struck out 38 in 37 2/3 innings, walked just 10, and recorded a 3.82 earned-run average.
This season, he could sneak into the Angels' opening-day rotation because of injuries to left-handers C.J. Wilson and Tyler Skaggs.
The country's best college players convene every summer in the 10-team Cape Cod League, where, for the last 12 seasons, Roberts has led Cotuit after a decades-long career coaching North Carolina and UNC-Wilmington. In that time, his pitching particulars have become storied enough that an assignment to Cotuit is known as a visit to changeup camp.
Most days, Roberts asks the Kettleers to play catch using their changeup grips. He proselytizes about Pete Maravich's habit of holding a basketball in his hands all day long. He stresses the importance of staying behind the delivery of the changeup to make it look like a fastball for as long as possible.
When Tropeano arrived on the peninsula after his sophomore season at Stony Brook University, he already possessed a predilection for off-speed pitches. His fastball topped out at about 88 mph, so he understood he needed a changeup to succeed. He had been experimenting with two distinct grips, one playing off a four-seam fastball and one off a two-seam fastball.
And, at a lanky 6 feet 4, he had the potential for more.
"He has such beautiful, long fingers," Roberts said by phone this week. "I can see them now."
Roberts and Tropeano worked on it every day for 10 weeks. By the end of the summer, Roberts said, Tropeano owned the best right-handed changeup he'd ever seen from a college pitcher. The next school year, Tropeano emailed Roberts pictures of his grip, which the coach still displays to college kids each summer.
"That was his best pitch then and it's his best pitch now," said Angels first baseman C.J. Cron, a teammate that summer. "Not many college pitchers have good changeups. I remember he'd throw his in 2-1 counts. Any hitter's count, he wasn't afraid to throw it in there. At that level, that sticks out."
Three players from that Cotuit championship team were in the Angels' organization in 2015. They added a fourth in the off-season: nonroster reliever A.J. Achter, who said Roberts helped him improve his changeup in a fashion similar to Tropeano.
"That summer, we kind of pitched the same way," Achter said. "We still kind of pitch the same way."
Tropeano later scrapped the four-seam changeup grip and focused on the two-seamer. It is essentially a slower sinker, and he uses it in tandem with a sinker often and to great effect. He has never developed great velocity and his delivery requires much effort, but the combination of the two pitches gives him an edge.
"I feel like I get a little more movement with it, with the two-seam grip," Tropeano said. "I get a lot of swings and misses."
Short hops
Right-hander Josh Roenicke, recently signed by the Angels to a minor league deal, has converted to a sidearm delivery, his uncle, Angels third base coach Ron Roenicke, said Tuesday. He is in minor league camp. . . . Closer Huston Street again threw to minor league hitters Tuesday and plans to pitch in his first Cactus League game Thursday. . . . The Angels reassigned right-handed pitching prospect Kyle McGowin to minor league camp, reducing their camp roster to 54 men.
Follow Pedro Moura on Twitter @pedromoura
Get the latest on L.A.'s teams in the daily Sports Report newsletter.
You may occasionally receive promotional content from the Los Angeles Times.