After years of toil, the Angels' Parker Bridwell is seeing things break his way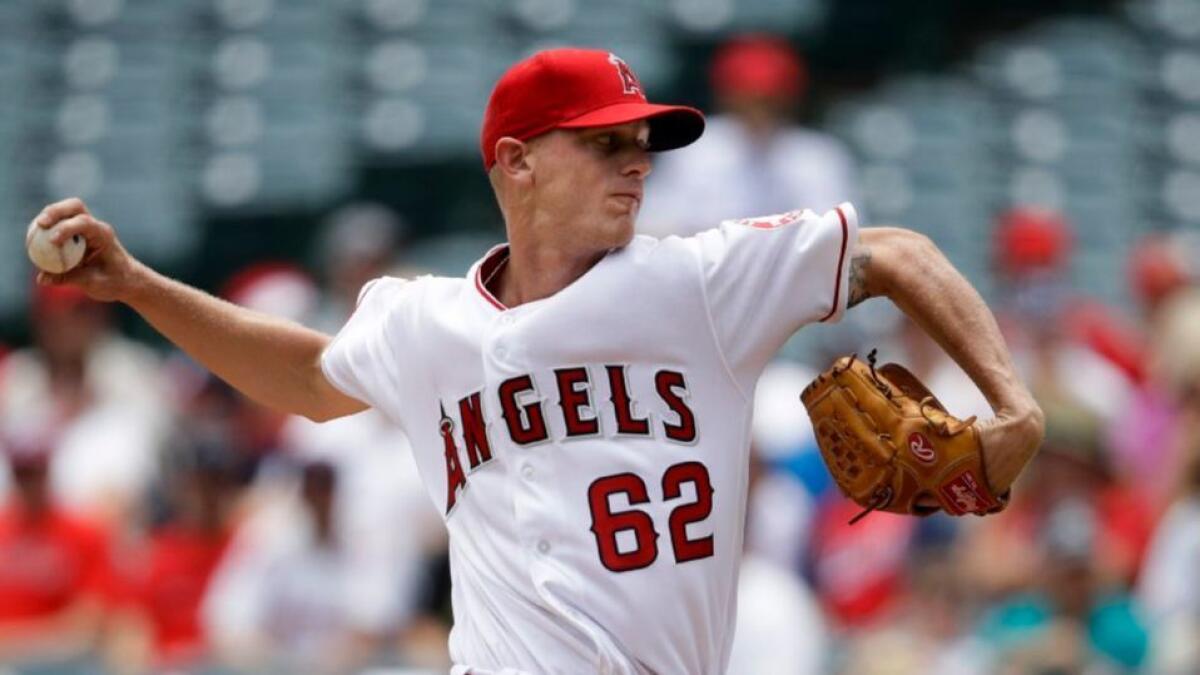 In his tiny hometown in West Texas, the Angels' Parker Bridwell was a three-sport star for the remarkably named Hereford Whitefaces, so called because of the cattle breed from which the town took its name.
In the fall, he played football. It was his first love and the town's focus, and he quickly became the star quarterback, a three-star recruit with interest from colleges across the country. In the winter, he played basketball, because he was athletic enough to be good at it. And in the spring, he started to play baseball, because otherwise he'd be bored.
"I honestly did it to just consume time," Bridwell said, "and not have to be home when all my friends were out."
He turned out to be pretty good, with easy velocity and development to dream on, and soon his motivations changed. In the summer before his senior year, his high school coach earned him a last-minute invitation to tryouts for the Texas Rangers' Area Code Games. Bridwell threw hard before a bevy of college and professional scouts, and soon he was garnering more interest in baseball than football.
He committed to Texas Tech, the closest university participating in Division I sports, and planned to play football and baseball. Only in the weeks before the 2010 MLB draft did Bridwell understand how much money he could make. The Red Raiders' coach issued his standard recommendation: Sign if a major league team offers you more than $500,000.
The Baltimore Orioles selected Bridwell in the ninth round, in which the recommended slot figure is far less than that. But on the advice of an MLB agent, his father, Keith Bridwell, asked for $750,000. Soon after the draft, he said, the Orioles' then-scouting director agreed to that figure in person.
Come the deadline, the Bridwells were told the commissioner's office would not clear the bonus. A new, smaller offer was made. Talking as he drove along a Texas highway and angry to have a handshake deal reneged upon, Keith told the team his son would be going to college and hung up before Parker teared up in the passenger seat of the pickup truck.
"Dad, my dream was to play professional baseball, not college baseball," Parker said. "I want to do that."
Keith called back. Parker signed for $625,000 and flew to Florida to begin his minor league toil.
::
Six years later, Bridwell made it to the major leagues last August, pitching out of Baltimore's bullpen. In his second game, he served up a grand slam to Washington's Daniel Murphy. The next day, he was demoted to triple A. MLB rosters expanded one week later, but the Orioles never brought him back up, though they still sent him a playoff share.
His status within the organization continued to decline, and in April, Baltimore sold him to the depth-deprived Angels for cash. After a month of building up stamina as a starter, he was in the majors. The Angels showed him a series of cut-up videos indicating the location of his pitches that the opposition had been hitting, and presented evidence that he would be better off throwing fewer fastballs.
That was a shock. For years, the Orioles had harped on the importance of establishing and locating four-seam fastballs. This season, he has halved his four-seam usage in favor of a cutter, slider and sinker, and six of his seven outings as an Angel have been successful.
"On one hand you'd like to think he deserves it, and he does deserve it, because he works really hard," Keith Bridwell said. "But there's also an element of things breaking in his favor."
Now 25, the younger Parker owns a 3.18 earned-run average over 39 2/3 innings and a seemingly steady spot in the team's rotation. In addition to his results, his outlook has impressed his new team. He is a jovial individual, eager to learn from his more veteran teammates.
Eight years his senior and similarly seasoned in the minors, right-hander Jesse Chavez reminds him of what he believes is the most difficult challenge for young players: Never get comfortable within the clubhouse, yet always act comfortable outside it.
"Out there is who you are, where you get to show who you are as a person, as a player," Chavez said. "That little circle is yours. Everybody is looking at you, seeing you, and you, you give them what they want.
"You're a character. Let it out."
::
As reported in the Baltimore Sun last year, Bridwell called his father at the 2012 or 2013 All-Star break to tell him he was thinking of quitting and finding a college football team that would still take him. Stuck in eastern Maryland, still pitching in Class A, he picked up a football and felt a longing for putting on pads and taking a hit.
"I was thinking next week I was gonna be on a football field," Bridwell said.
On the phone, he said he was no longer having fun at the field, that his stress level lessened only when he was away from the ballpark.
His father said he still believed his son had the necessary tools to succeed. And he mentioned the conversation from years before in the pickup truck, when he told his son he'd never make his decisions for him. So he would not be an impediment.
But, Keith Bridwell sought to make clear, he had never taught him how to quit.
"Right when he said that," Parker Bridwell said, "I made my mind up. It would've been disrespectful to him."
He has been more positive ever since, though he noted that it became easier the higher up the ranks he climbed. When he first reached the majors, Bridwell thanked his father for subtly talking him out of the decision. Again on May 29, when he received word the Angels were promoting him, he called his father to express his appreciation.
"He knows now that he's capable," Keith Bridwell said.
Twitter: @pedromoura
Get the latest on L.A.'s teams in the daily Sports Report newsletter.
You may occasionally receive promotional content from the Los Angeles Times.