Mike Scioscia won't return as Angels manager in 2019
Mike Scioscia, a fixture in the Angels dugout for nearly two decades and the manager who led the franchise to its only World Series championship in 2002, announced on Sunday that he is stepping down, ending his 19-year run as the team's field boss.
"I am not returning to manage the Angels next year," Scioscia said in an emotional postgame address to the media. "In speaking with [Scioscia's wife] Anne and our family, there's no doubt it's the right move for me. And I think it's the right move for the organization. I've had an incredible 19 years. It's been just awesome.
"I want to thank Bill Stoneman. Bill, you took a chance with me in 1999. I guess the jury's out if that worked out or not, but thank you for that opportunity. You let us do our thing. We appreciated it. Thanks for giving me that opportunity. I want to thank obviously Arte and Carole Moreno. I can't tell you how much they supported us and our family. I think they made our family part of this Angel family. That is something that I'll never forget. Getting the opportunity to stay here for 19 seasons just doesn't happen."
Scioscia, who turns 60 in November, built a Hall-of-Fame-worthy resume in Anaheim. He led the Angels to six division titles—five in a six-year span from 2004 to 2009—and the American League championship series in 2005 and 2009.
The former Dodgers catcher, in the final year of the 10-year, $50-million contract he signed before 2009, is baseball's longest-tenured manager. He entered Sunday's game with a 1,649-1,428 record and will finish his Angels career ranked 18th on the game's all-time managerial win list.
Only four men have managed more games with one franchise—Connie Mack (7,466 games with the Philadelphia Athletics), John McGraw (4,424 games with the New York Giants), Bobby Cox (3,860 games with the Atlanta Braves) and Walter Alston (3,658 games with the Brooklyn and Los Angeles Dodgers).
"He's been synonymous with Angels baseball," said Colorado Rockies manager Bud Black, who served as Scioscia's pitching coach from 2000 to 2006. "It's going to be weird to not see him in that dugout, and to see somebody else there."
The list of potential replacements for Scioscia is expected to include at least three in-house candidates hired by general manager Billy Eppler in the past three years—Eric Chavez and Brad Ausmus, who are special assistants to the GM, and current bench coach Josh Paul.
Chavez, 40, is a former third baseman who played 17 big-league seasons before becoming a special assignment scout for the New York Yankees in 2015. He was one of Eppler's first hires in October of 2015, joining the Angels in a hybrid on-field coaching and scouting role.
During the same early-August weekend in which reports first surfaced that Scioscia was expected to resign after this season, Chavez was sent to Salt Lake City to manage the Angels' triple-A team. The Bees went 10-14 under Chavez.
Ausmus, 49, joined the Angels this season after spending the past three years as the manager in Detroit, where he guided the Tigers to a 314-332 mark and an AL Central title in 2014.
A former catcher who played 18 big-league seasons from 1993 to 2010, Ausmus transitioned from the playing field to the front office with a three-year stint (2011-2013) as a San Diego Padres special assistant.
Paul, 43, spent three years (2015-2017) as the New York Yankees' minor league catching coordinator, four years (2011-2014) as a Yankees scout, and he managed their Class-A Staten Island team to a 34-40 record in 2010. The former catcher played nine big-league seasons, two with the Angels in 2004-2005. Among the other possible candidates to replace Scioscia are former Yankees manager Joe Girardi, Boston Red Sox bench coach Ron Roenicke and Angels third-base coach Dino Ebel.
Scioscia was 41 with only one year of triple-A managing experience when he was hired by first-year Angels GM Bill Stoneman to replace Terry Collins in November of 1999.
Scioscia quickly transformed the Angels into an AL power with a National League style of play that featured aggressive base-running, clutch hitting, situational hitting, sound defense, solid-to-superb starting pitching and stout relief.
Six of Scioscia's first 10 teams won 92 games or more, with the 2002 club notching 99 victories and the 2008 team winning a franchise-record 100 games.
The lineups in that first decade under Scioscia featured hard-nosed players such as David Eckstein, Darin Erstad, Erick Aybar, Bengie Molina, Orlando Cabrera and Torii Hunter, the speedy Chone Figgins, the power-hitting Tim Salmon, Troy Glaus, Garret Anderson and Mike Napoli, and future Hall of Famer Vladimir Guerrero.
"For 19 years, we've had guys that just put it all on the line," Scioscia said. "Whether we were going good or going bad. And that's what I'm gonna take away. That was so inspiring to me on a personal level to see these guys just go out there and just play the way you should play the game.
"I'll take away the grit of Darin Erstad, the athleticism of Garret Anderson, the presence of Tim Salmon, the heart and soul of Bengie Molina, Eckstein and [Adam] Kennedy. The competitive of Jarrod Washburn, Jered Weaver, who was the ultimate competitor, and John Lackey. These guys were tremendous, just tremendous on the mound. The fearlessness of Chone Figgins and Erick Aybar. The talent of Howie Kendrick. These guys were special. The phenomenon of Torii Hunter, that's the only way I can explain it is a phenomenon. You had to be around Torii. So much fun to watch him play. He was incredible.
"And you move forward now to so many guys now that we have that are so important to us. The talent of Justin Upton and Andrelton Simmons, the hard-nosed play of Kole Calhoun. And now you look at guys like Mike Trout, Albert Pujols and Vlad Guerrero, who will be Hall of Famers with an Angel cap on. Can't tell you how much of a privilege it was to be around them."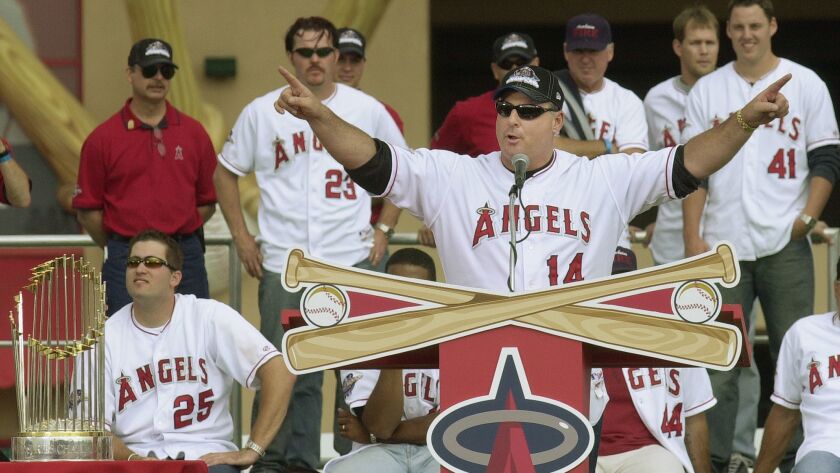 The 2002 World Series team had a deep and dominant bullpen headed by Troy Percival, Francisco Rodriguez and Brendan Donnelly, and division-winning teams over the next seven years featured Percival, Rodriguez and reliable relievers such as Scot Shields and Darren Oliver.
"When Sosh came in, he was one of the first to start limiting times through the lineup for starting pitchers," Salmon said. "I don't think it was verbalized that way, but he was a big proponent of shortening the game with the bullpen and defense.
"It was a National League style of baseball that he brought over. All of those things he was doing were precursors to what we're seeing today, but for some reason, he doesn't get credit for that. It's almost like it's old-school now."
Tigers manager Ron Gardenhire was a rookie manager in Minnesota in 2002 when the Angels beat the Twins in a five-game AL Championship Series that left a lasting impression on Gardenhire, who spent 13 years with the Twins.
"We always tried to mirror what the Angels did," Gardenhire said. "They played fundamental baseball and seemed to do all of the little things right."
Unpredictable in the eyes of opposing managers, Scioscia was a constant in the Angels dugout and clubhouse, his even-keeled nature and one-day-at-a-time approach setting the tone in a game filled with so many emotional highs and lows.
"There were times when I didn't agree with something during a game when I was pitching, and after the game we'd argue and yell and scream at each other," said left-hander Washburn, the ace of the 2002 staff.
"The next day, you'd show up, and it would be, 'Hey, Wash,' and it was, 'Hey Sosh, how's it going?' It was like nothing ever happened, and we're good buddies again. You turned the page and you worried about today."
The Angels were nowhere near as successful in the past nine years under Scioscia as they were in the first 10. The team reached the postseason only once, getting swept in the first round by Kansas City after winning the AL West in 2014.
There were four winning seasons and four losing seasons from 2010 to 2017, and the Angels have been out of playoff contention this season since mid-August.
Despite having Mike Trout, baseball's best all-around player and a two-time AL most valuable player, since 2012, the Angels have not won a playoff game with the star center fielder.
The high-priced acquisitions of one-dimensional sluggers such as Vernon Wells, Josh Hamilton and Albert Pujols, who has three years left on a 10-year, $240-million deal, put a drag on the team's payroll and, too often, the offense.
Hamilton, who signed a five-year, $125-million deal before 2013, was a total bust. Pitcher C.J. Wilson was hurt for half of the five-year, $77.5-million deal he signed before 2012. Injuries have ravaged the pitching staff the last three years.
"I know they're trying to get the best players and to spend money in free agency, but it seems like the money they spent was not on the types of players that fit Scioscia's managing style," Washburn said. "I don't know if that kind of handcuffed him on being able to play the style of baseball he wanted to play."
His Angels career may be ending on a bit of sour note, but a few losing seasons with do little to tarnish Scioscia's legacy.
"From the other side, when you play the Angels, you knew they were going to be well-managed, well-coached, and they were going to play hard," said Black, in his 11th season as an NL manager. "I always thought there was a presence to any Angels team, and I think Mike set that tone.
"I know the results haven't been great for the past seven or eight years, but the sense in our game is that they're a good team … even when they're not."
Twitter: @MikeDiGiovanna
---
Get the latest on L.A.'s teams in the daily Sports Report newsletter.
You may occasionally receive promotional content from the Los Angeles Times.