Angels are impressed with Shohei Ohtani's first bullpen session, but Ohtani wants to be better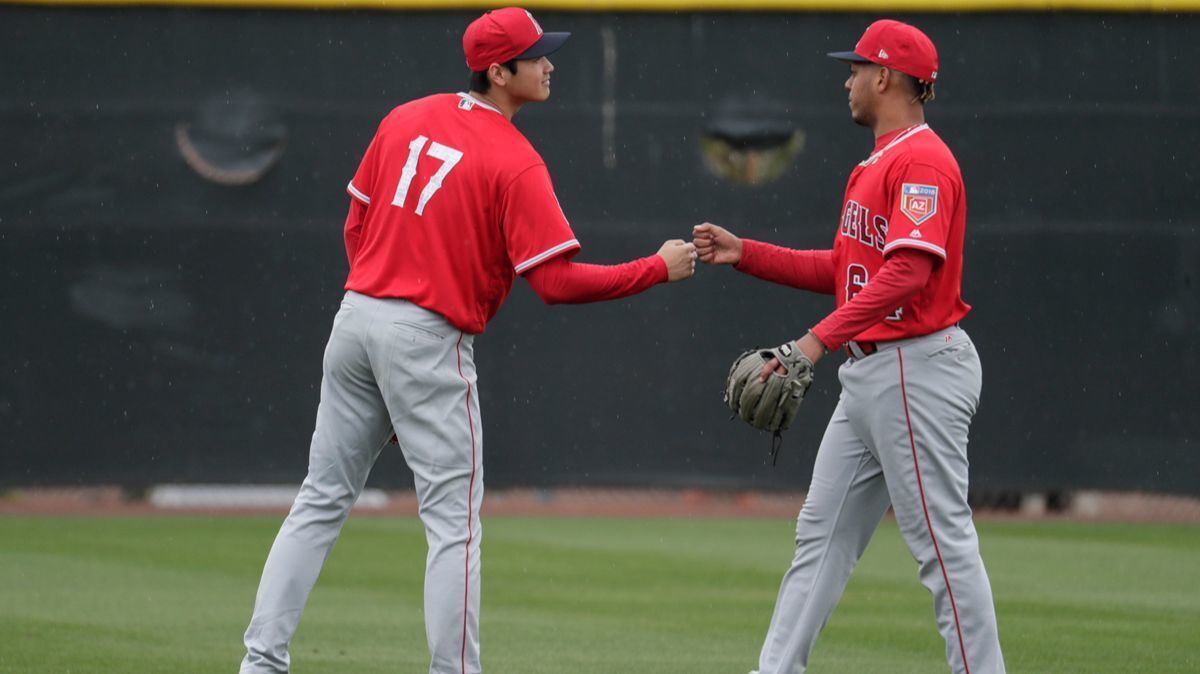 Reporting from Tempe, Ariz. —
His intensity and effort levels were modest, at best. He did not approach maximum velocity with his fastball, which sits in the 98-mph range and has touched 102 mph. A few of his breaking balls bounced in the dirt and past the catcher.
"I wasn't satisfied," Angels pitcher Shohei Ohtani, speaking through a translator, said Thursday after throwing his first formal bullpen session with his new team. "It's still early in spring training, so obviously I'm not at my peak performance yet."
No matter. The 23-year-old right-hander still impressed the Angels, throwing 35 pitches over two simulated innings before the watchful eyes of owner Arte Moreno, general manager Billy Eppler, manager Mike Scioscia, pitching coach Charles Nagy and guest instructor Chuck Finley.
"It's his first bullpen, and you can't judge much from it," catcher Martin Maldonado said, "but the way the ball came out of his hand, the backspin he got on the ball, was impressive. He was commanding the baseball. He got good break on his curve, slider and split-finger fastball. He was throwing strikes with late life."
Some pitchers who move from Japan to the U.S. struggle with the grip and release of major league baseballs, which tend to feel a little more slippery than those used in Japan. Ohtani is still in the early stages of that transition.
"The adjustment between the balls is not going to be easy," he said. "I can't tell you too much until I actually pitch in a game against live hitters."
After recovering from his bullpen workout, Ohtani showed off his powerful left-handed stroke during a batting-practice session in which he hit several balls far over the right-field wall and several line drives to left-center. He is attempting to become the first impact two-say player since Babe Ruth a century ago.
"It's good to see his opposite-field stroke in BP," Scioscia said. "Any hitter who can drive the ball to the opposite field is a much tougher out, so the ability to do that will make him tough to pitch to. He's shown it in practice. We knew he had it. I've seen countless hours of video of him. He has that talent."
Eppler said the Angels will keep track of every swing Ohtani takes throughout the season in an effort to manage his workload. Ohtani will not take batting practice on the days he starts on the mound.
"Every morning there is an assessment, subjective and objective, and that's going to drive what he does that particular day," Eppler said. "His comfort is important, so we're trying to weigh what he wants and also kind of understanding the entire workload."
Eppler also said that the team's starting pitching plans remain fluid despite Scioscia's announcement Tuesday that the Angels would use a six-man rotation to keep Ohtani on the once-a-week pitching schedule he was used to in Japan.
Some pitchers, Eppler said, could remain on a normal five-day schedule during spring training and the regular season. Some could get extra rest. An injury to a starter could force an adjustment.
"We're shaping things in the direction [of a six-man rotation], but circumstances and personnel will ultimately drive what we do," Eppler said. "The flexibility aspect of this is really, really important, as is the communication between the pitchers, the performance staff and the coaches."
Follow Mike DiGiovanna on Twitter @MikeDiGiovanna
---
Get the latest on L.A.'s teams in the daily Sports Report newsletter.
You may occasionally receive promotional content from the Los Angeles Times.