Chargers might have positive attitude but haven't lost their touch on negative results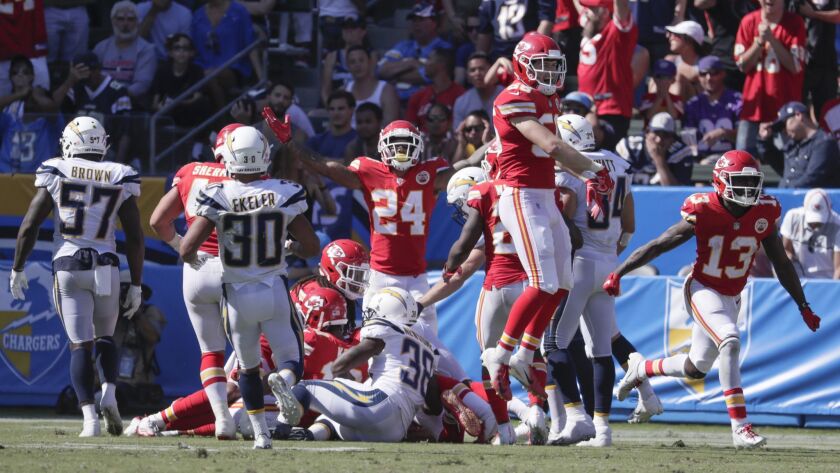 So this is what San Diego warned us about.
About how many times the Chargers made the city believe in them; about how many times the Chargers crushed the city's dreams.
The Chargers are now Los Angeles' disappointment.
Instead of complaining about how its underachieving franchise was stolen, San Diego should be sending thank-you cards by the busloads to Los Angeles for inheriting this incessant tease. Or maybe I'm-sorry cards would be more appropriate.
The Chargers were 38-28 losers to the Kansas City Chiefs in their season opener Sunday at StubHub Center because, well, of course they were.
This after raising expectations over the offseason. They were in a weak division and a wide-open conference and retained the foundation of a team that won nine of its final 12 games last season. They looked as if they could reach the Super Bowl.
They still could.
Sunday was only one of 16 games and the Chargers visit the comically inept Buffalo Bills next week. But what the Week 1 defeat revealed was that the Chargers won't make anything easy on themselves. They never have, after all.
"We couldn't have asked for a better opponent to start out with, our division champs to come in here the first week just to tell us exactly where we're at," coach Anthony Lynn said. "A team like that, you can't give them anything. You have to take everything and we didn't do that. We gave them too much and they outplayed us."
New city, same franchise.
The Chargers dropped passes in the end zone. They allowed a punt to be returned for a touchdown. They fumbled a punt return, leading to another touchdown for the visitors.
Philip Rivers passed for 424 yards, but acknowledged, "Really, today, we should have thrown for 600."
Would've, could've, should've.
The Chargers might as well make that their motto.
The majority of the 25,351 in attendance learned that painfully. The makeup of the crowd was evidence of the heightened expectations.
The Chargers were like visitors in their home when they hosted the Chiefs in Week 3 of last season. There were still plenty of the red shirts in the stands but on the whole, this was a pro-Chargers crowd. The Chargers finally had home-field advantage.
But as the Chargers' mistakes piled and the Chiefs' lead widened, the fans reacted the way Los Angeles crowds do in these situations — they booed. Fans were frustrated by their team's errors, no question. But they also had to be upset with themselves for buying into the fantasy that these Chargers could separate themselves from their history of futility.
What was especially problematic about the game was how winnable it was.
Chargers receiver Keenan Allen can't reach the ball, but, running back Austin Ekeler does, for a long first quarter gain against the Kansas City Chiefs at StubHub Center.
(Robert Gauthier / Los Angeles Times)
Kansas City Chiefs defensive backs Orlando Scandrick (22) and Kendall Fuller (23) prevent Chargers receiver Keenan Allen from catching a fourth quarter pass from Philip Rivers at StubHub Center.
(Robert Gauthier / Los Angeles Times)
Chargers running back Melvin Gordon slips past Kansas City Chiefs defenders during a fourth quarter drive at StubHub Center.
(Robert Gauthier / Los Angeles Times)
Kansas City Chiefs quarterback Patrick Mahomes slips the tackle of Chargers cornerback Desmond King during fourth quarter action at StubHub Center.
(Robert Gauthier / Los Angeles Times)
Chargers quarterback Philip Rivers slips past Kansas City Chiefs rushers, Allen Bailey, left, and Justin Houston, right, for a small fourth quarter gain at StubHub Center.
(Robert Gauthier / Los Angeles Times)
Kansas City Chiefs receiver Tyreek Hill streaks past Chargers defenders for a 58-yard touchdown catch and run from quarterback Patrick Mahomes in the first quarter at StubHub Center.
(Robert Gauthier / Los Angeles Times)
Kansas City Chiefs receiver De'Anthony Thomas is lifted up by a teammate after catching a thrid quarter, one-yard touchdown pass from quarterback Patrick Mahomes at StubHub Center.
(Robert Gauthier / Los Angeles Times)
Chargers receiver Mike Williams fails to catch a touchdown pass from Philip Rivers in the fourth quarter against the Chiefs at StubHub Center.
(Robert Gauthier / Los Angeles Times)
Chargers receiver Keenan Allen can't pull in a pass from Philip Rivers as Chiefs corneback Stephen Nelson knocks it away during the second quarter.
(Robert Gauthier / Los Angeles Times)
"We definitely can beat these guys," running back Melvin Gordon said. "We just made more mistakes today. We didn't make our plays and we paid for it."
Chiefs quarterback Patrick Mahomes was making only the second start of his career. Standout cornerback Marcus Peters was traded to the Rams in the offseason. If there was ever a golden opportunity for the Chargers to end their losing streak against the Chiefs at seven games, this was it.
But the Chargers went three and out on their first possession and permitted Tyreek Hill to return the ensuing punt for a 91-yard touchdown. With 6 minutes 39 seconds remaining in the first quarter, the Chargers allowed Hill to break free again, this time for a 58-yard touchdown reception. They were down 14-3.
The Chargers trailed 17-12 at halftime. Victory was within reach — until it wasn't.
Hear from Chargers fans -- some returning to StubHub Center, some there for the first time -- about their thoughts on the team's second year in Los Angeles, whether they will be back, opposing fans and more.
With the deficit at 24-12, the Chargers were marching into Chiefs territory when Rivers forced a pass to Keenan Allen that was intercepted by safety Ron Parker. The Chiefs scored on the resulting possession and the Chargers fell behind 31-12.
Their last gasp came in the fourth quarter, when they forced the Chiefs to punt with less than 11 minutes remaining and the margin narrowed to 31-20. JJ Jones, an undrafted rookie from West Georgia, fumbled the punt. The Chiefs recovered at the Chargers' two-yard line. Mahomes connected with Hill for another score to end any illusion of a comeback.
To reiterate, the Chargers won't necessarily be defined by this defeat. The Chiefs are a good team. The Chargers don't have to win all of their games like this, but if they intend to make this a special season they have to win at least some of them.
"This would have done a lot for our football team to win this game against these guys," Lynn said.
Lynn continued by pointing out the Chargers have another 15 games to play.
The 15 games will prove they left their bumbling ways in San Diego or confirm they are still the same old Chargers.
---
Get the latest on L.A.'s teams in the daily Sports Report newsletter.
You may occasionally receive promotional content from the Los Angeles Times.