Patrick Beverley excited to be a Clipper and he's ready to help recruit Blake Griffin to stay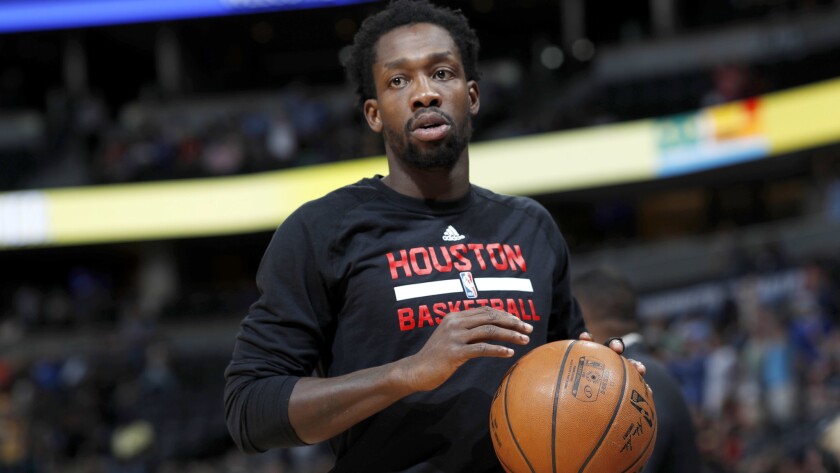 There was much excitement in Patrick Beverley's voice when he talked about being a part of the trade that sent him to the Clippers from Houston along with six other players in exchange for Chris Paul.
And there was his trademark toughness during his interview Thursday with The Times.
"I'm coming to beat some [butt] and win," an excited Beverley said. "That's all I know. It's going to be fun. I'm going to bring a different culture to the table."
When the traded was completed Wednesday to send him along with Sam Dekker, Lou Williams, Montrezl Harrell, Darrun Hilliard, DeAndre Liggins and Kyle Wiltjer to the Clippers, Beverley said he started calling the Clippers. Hilliard was waived by the Clippers Thursday, according to an NBA official who was not authorized to speak publicly on the matter.
Beverley spoke with coach Doc Rivers, owner Steve Ballmer, executive vice president of basketball operations Lawrence Frank and new teammates DeAndre Jordan, Blake Griffin, Jamal Crawford, Austin Rivers and Wesley Johnson.
Beverley said he planned on arriving in Los Angeles later Thursday night and that he planned on helping to recruit Griffin to re-sign with the Clippers when the free-agency period opens Friday at 9:01 p.m. PDT.
"We got to get him to try and stay," Beverley said. "We get him and we're going to be dangerous. I'm all in for that recruitment stuff to try to get him to stay. I talked to him. He seems excited. It's a process. I told him no matter what to enjoy the process because he deserves it."
Beverley was named to the NBA All-Defensive first team. In his five seasons with the Rockets, he averaged 9.3 points, 4.1 rebounds, 3.4 assists and 1.26 steals.
He also got to play alongside James Harden in the process.
"I just wanted to see what I can do away from him with some good pieces," Beverley said. "I'm pretty excited. I'm able to go into a situation where I can lead. I've been in the playoffs since I've been in the NBA and I don't expect that to stop. It's going to be fun."
Twitter: @BA_Turner
---
Get the latest on L.A.'s teams in the daily Sports Report newsletter.
You may occasionally receive promotional content from the Los Angeles Times.