Reporting from Houston —
Inside the jubilant Clippers locker room, there was no argument with them calling their spirited 128-118 win over the Houston Rockets the most impressive of their trying season.
The Clippers had just defeated a Rockets team that entered with the best record in the NBA, on their own Toyota Center floor, and they did it by surviving another monstrous 51-point outburst from James Harden.
The Clippers shocked the Rockets on Friday night in a game that had been billed as a showdown between L.A. and Chris Paul, who had forced them to trade him last summer. But he didn't play because of a groin injury.
He saw the same thing the national TV audience saw — the short-handed Clippers won with a team effort, handing the Rockets a second straight loss two nights after the Lakers ended their 14-game win streak in another 51-point effort by Harden.
Those watching saw Austin Rivers score 30 of his career-high 36 points in the second half, 14 in the fourth quarter. They saw Lou Williams drop in a career-high seven three-pointers on his way to 32 points against a Rockets team that traded him in the Paul deal.
They saw rookie Jawun Evans tie his career high in points (15) and take on the toughest defensive assignment in the NBA in the dominant Harden and live to tell about it.
They saw DeAndre Jordan produced his league-leading seventh 20-rebound game of the season, four coming in the past six games. They saw Sam Dekker tie his season high with 12 points against his old team and they saw the Clippers score 76 points in the second half, their high for a half this season.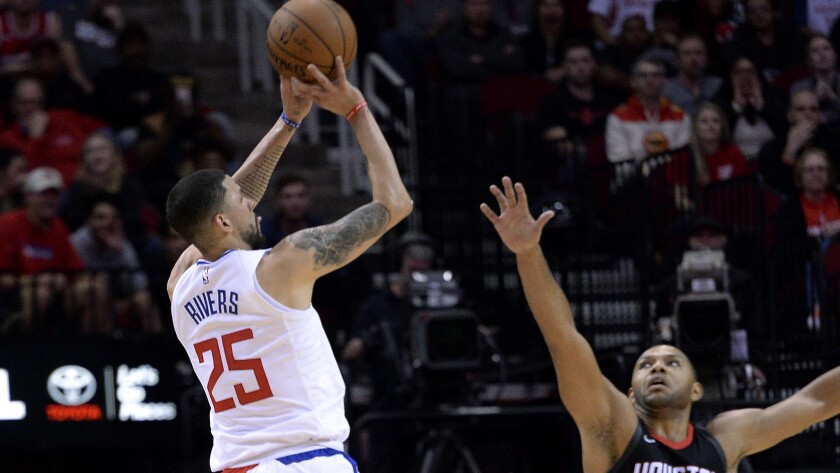 "They are an elite team," said Rivers, who also had seven assists. "So for us just to beat them on the road, with all the guys that we have out, that's got to be the biggest win of the year, right?"
The Clippers did it without Milos Teodosic, who didn't play because of a minutes restriction and rest. They did it with Patrick Beverley (season-ending knee surgery) sitting on the bench and cheering his new teammates against his old team. They did it with injured Blake Griffin, Danilo Gallinari and Wesley Johnson all back in L.A.
They did it by starting a makeshift lineup of Montrezl Harrell at power forward, Jamil Wilson at small forward, Rivers at point guard, C.J. Williams at shooting guard and Jordan at center, and they still found a way to win their second consecutive game.
"With all the adversity we're going through with injuries and things, to come in here and beat this team, in their house, that was a pretty big win for us," said Lou Williams, who also had seven assists.
Even going down 15 points in the third quarter didn't deter the determined Clippers.
Even Jordan enduring the Hack-a-DJ twice late in the fourth quarter didn't stop the composed Clippers. Jordan just stepped up and went four for four from the line to cap his 15-point night.
"That was a big team effort, man," Rivers said. "Everybody was just doing their part."
And even with the diminutive 5-11 Evans chasing the 6-5 Harden all over the court, the Clippers refused to give in to the challenge. Evans took two clutch charges against Harden in less than a minute, the first with 2:20 left and the Clippers leading by six. Harden was ejected in the final minute after fouling out and arguing.
"I respect him. But at the end of the day, I've got to do my job too," Evans said. "We all did our job."
Twitter: @BA_Turner
---