Arbitration deadline to force Dodgers' decision on A.J. Ellis' return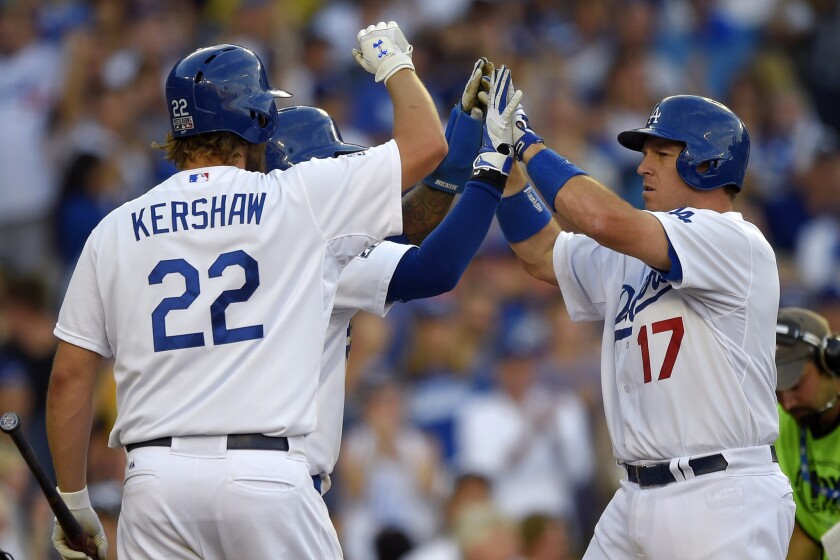 Things should get busy for the Dodgers, and other teams, the next two days. And in some cases, more interesting.
Tomorrow is the deadline for clubs to tender contracts to arbitration eligible players, and the Dodgers have seven such players.
Most are slam dunks – Kenley Jansen, Dee Gordon, Juan Nicasio, Justin Turner – to be tendered. A couple are iffy – Drew Butera, Darwin Barney. And one is the center of great interest -- A.J. Ellis.
For the third consecutive season, Ellis was the Dodgers' primary catcher. Strong behind the plate, respected in the clubhouse, admired for his preparation and adored by the staff, particularly his close friend Clayton Kershaw.
Only Ellis' numbers collapsed in an injury-riddled 2014 that included knee surgery. He turns 34 in April and now becomes the Dodgers' new management team's first major decision.
If the Dodgers don't trade or sign for another catcher by Tuesday's 9 p.m. arbitration deadline, it would seem they would have to tender Ellis. Somebody has to be the starting catcher.
Ellis made $3.55 million last season, and despite his offensive struggles -- .191 batting average, three homers, 25 RBI and .323 on-base and .254 slugging percentages in 347 plate appearances – he would still likely be in line for a raise to approximately $4 million.
That's not much for a starting catcher, but it is if he's only hitting .191. The Dodgers have to determine if healthy, what to reasonably expect from Ellis and at what price.
Kershaw, of course, lobbied hard for Ellis' return when the season ended, telling The Times' Dylan Hernandez:
"I don't know what I'm going to do if he's not back. I think we'd be losing a lot if we let him go. I know A.J. will land on his feet, but we need him here a lot."
New President of Baseball Operations Andrew Friedman smartly spoke to Kershaw shortly after joining the Dodgers, so it's not like the views of the team's best player will go unnoticed.
The Dodgers can either reach a contract agreement with Ellis before the Tuesday deadline, officially tender him a contract to initiate the arbitration process or allow him to become a free agent.
Jansen figures to nearly double his $4.3 million from last season and Gordon should more than quadruple his $515,000 salary. Turner proved a steal at $1 million and should at least earn double that in 2015. Nicasio may get a slight raise over the $2.025 million he earned with the Rockies.
Barney made $2.3 million last season and may be non-tendered. Butera's fate could depend on what happens with Ellis, though he wouldn't cost much more than the $700,000 he earned in 2014.
Players that enter the arbitration process have until Jan. 16 to exchange salary figures with teams. If they still have not come to an agreement, the arbitration hearings would being Feb. 1.
For what it's worth, in Friedman's nine years as the Tampa Bay Rays general manager, they went to five hearings and won all five.
---
Get our Dodgers Dugout newsletter for insights, news and much more.
You may occasionally receive promotional content from the Los Angeles Times.