Clayton Kershaw hopes Dodgers' plans include bringing back A.J. Ellis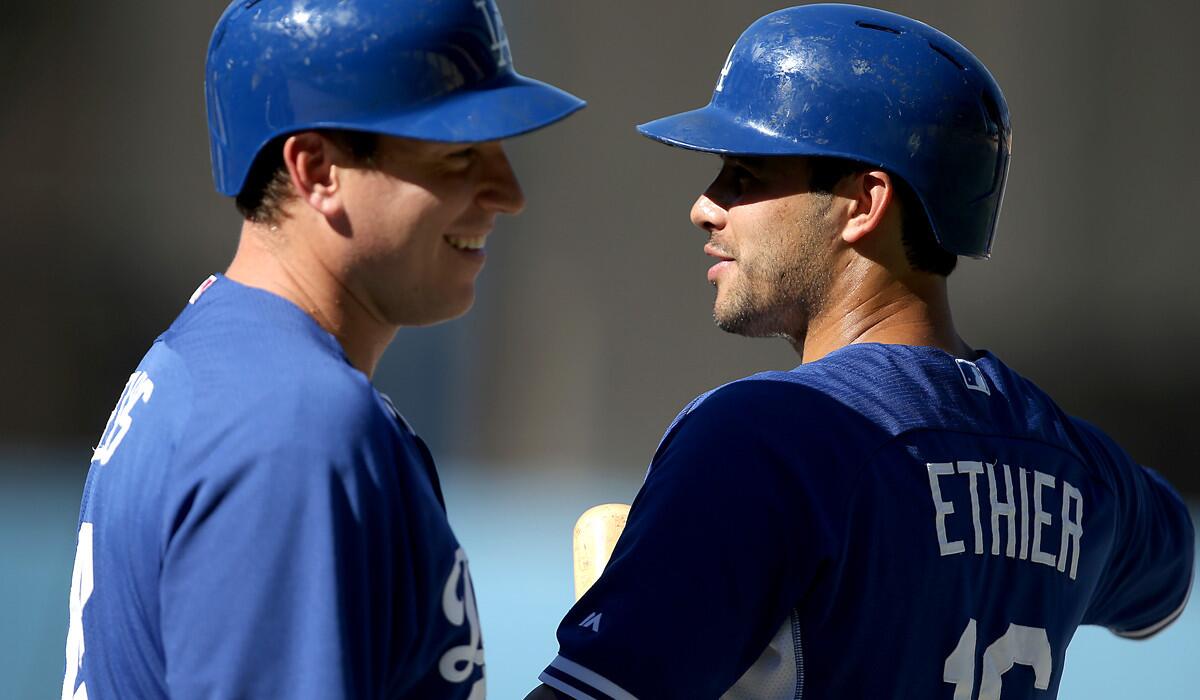 Reporting from St. Louis —
Shortly after the Dodgers' season ended, Clayton Kershaw imagined a future without his longtime catcher. As Kershaw started talking about the possibility, his voice cracked.
"I don't know what I'm going to do if he's not back," Kershaw said.
A.J. Ellis is under the Dodgers' control for two more seasons. But Ellis was paid $3.55 million this year and is in line to receive a significant raise in arbitration. Rather than pay him a higher salary, the Dodgers could part ways with him.
"I think we'd be losing a lot if we let him go," Kershaw said. "I know A.J. will land on his feet, but we need him here a lot."
Determining whether to retain Ellis is one of several personnel decisions the Dodgers face this off-season.
The roster won't require major renovations. A significant part of the lineup is under contract or club control, including Adrian Gonzalez, Matt Kemp, Yasiel Puig, Carl Crawford, Juan Uribe and Dee Gordon.
One notable exception is Hanley Ramirez, who will be a free agent. The Dodgers don't have an obvious in-house replacement for Ramirez at shortstop, but they are also reluctant to make a long-term commitment to a player with his defensive shortcomings and medical history.
The Dodgers probably wouldn't re-sign Ramirez to be their third baseman, considering that's the position played by up-and-coming Corey Seager, regarded as one of the top prospects in baseball.
The Dodgers can extend Ramirez a qualifying offer, which is essentially a one-year deal worth around $15 million. If Ramirez, 30, accepts it, they would have him for another season. If he doesn't and signs with another team, they would receive a compensatory draft pick.
The overcrowded outfield will be more congested next season; top prospect Joc Pederson is on the 40-man roster. Kemp, Puig, Crawford, Andre Ethier and Scott Van Slyke are also on the roster.
The Dodgers are expected to trade one or more of them.
The team would probably most want to move Ethier, a two-time All-Star who was relegated to a bench role. But Ethier is owed $73.5 million over the next four seasons and a potential trade partner is likely to demand the Dodgers pay a significant part of that.
Their starting rotation should be among the best again next season, with Kershaw, Zack Greinke and Hyun-Jin Ryu under contract. Dan Haren, the No. 4 starter, is expected to exercise his $10-million player option, so the only additions to the rotation will be on the back end. Josh Beckett, who would have been a free agent, announced his retirement.
The team's expensive and ineffective bullpen will also have several holdovers, some more desirable than others.
Closer Kenley Jansen is eligible for salary arbitration and left-hander J.P. Howell is under contract, assuring the Dodgers will retain two of their most dependable late-inning options.
But Brandon League is under contract for $7.5 million and Brian Wilson will exercise his $10-million player option, so the Dodgers will be paying closer-level salaries to two relievers in whom Manager Don Mattingly showed little confidence. With the Dodgers' free-spending days behind them, the regrettable investments in League and Wilson may limit the team's ability to rebuild the bullpen in free agency.
As for Ellis, his status could be compromised by his regular-season statistics. He was limited to 93 games in an injury-riddled season that included a knee operation in April. Ellis batted only .191 with three home runs and 25 runs batted in.
Russell Martin was in a similar situation after the 2010 season. The Dodgers didn't tender him a contract, so he became a free agent and signed with the New York Yankees.
Kershaw defended Ellis by pointing to his performance in the playoffs. In four National League division series games against the St. Louis Cardinals, Ellis batted .538.
"You saw what he could do in this series once he's right," Kershaw said.
Plus, Kershaw argued, Ellis' greatest value is as a catcher. Kershaw said Ellis was a significant reason why he pitched as well as he did this season.
"Just the tireless work that he does, it's so selfless," Kershaw said. "It's invaluable to know that what he's putting down, there's so much thought, so much work behind it. It gives me confidence to throw it."
Get our Dodgers Dugout newsletter for insights, news and much more.
You may occasionally receive promotional content from the Los Angeles Times.