Is there something alarming about the Dodgers' recent play?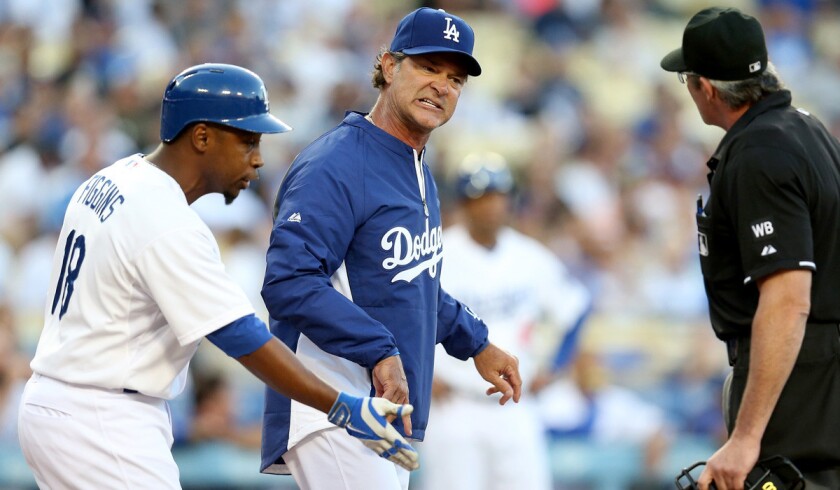 Don Mattingly has been around the media since ESPN got excited about broadcasting tractor pulls. Since before Adrian Gonzalez was born.
He gets it, and understands how it works.
"It's certain people's job to sound the alarm," Mattingly said.
And he's not talking polite wind-up alarm, but a five-alarm, civil-defense-siren, panic-in-the-streets alarm. And, come on, we are good at it.
So June calls and the talent-laden Dodgers go into Saturday 7½ games behind the Giants in the National League West.
If Mattingly is not interested in sounding any alarms himself -- that job is taken -- he is nonetheless hardly in an accommodating mood over the team's 29-28 play.
"What I don't want to do is just accept where we're at," he said. "I like the thought of maybe making sure we're playing with a sense of urgency. That's important to me that we're playing with a sense of urgency, that each game is a game that we need to win and it's not like, `Oh, we'll wait for the second half and then we'll go on a run.' "
Meanwhile, as he waits for that spark, he has to look at the newspaper every day and see the Dodgers slipping further behind San Francisco.
"I don't like it, but at this point I don't think we worry about the Giants, we worry about us," he said. "If we don't start taking care of ourselves and winning the games we're capable of winning. It doesn't matter what everybody else does."
Actually, of course, it does. The Dodgers could go on a tear, but if the Giants are playing almost equally well, they won't be caught.
The Dodgers try to take comfort in knowing four months in the season remains, while not psychologically counting on it. That would warrant genuine alarm.
---
Get our Dodgers Dugout newsletter for insights, news and much more.
You may occasionally receive promotional content from the Los Angeles Times.