Hanley Ramirez gets a $15.3-million qualifying offer from Dodgers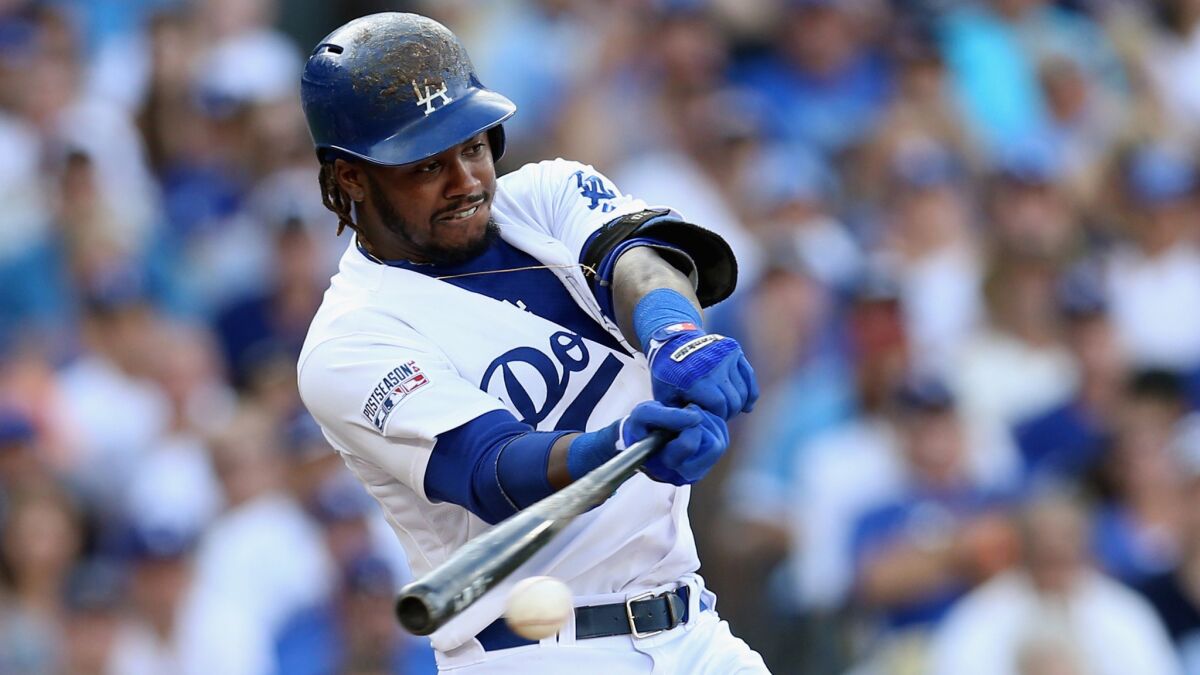 Hanley Ramirez received a qualifying offer from the Dodgers on Monday, the first stage of a free-agent process that is likely to end with the three-time All-Star signing with a different team.
Ramirez is expected to reject the proposal, which is essentially for a one-year deal worth $15.3 million, the average of the top 125 player salaries this year. That would mark a pay cut for Ramirez, who was paid $16 million this year.
The shortstop has seven days to accept the offer, and if he does it would mark a first. Twenty-two qualifying offers were made by major league teams over the last two off-seasons and all of them were declined.
Ramirez could still re-sign with the Dodgers if he turns down the qualifying offer, but that probably won't happen.
The Dodgers would welcome Ramirez's offensive contributions for another season, but a long-term deal might not make sense for them. The team already has 10 players with contracts that are guaranteed through at least 2017.
But if the Dodgers don't offer Ramirez a multiple-year contract, another team probably will. Ramirez is largely considered the No. 1 hitter in a free-agent class with few other premium offensive players.
Ramirez's agent, Adam Katz, declined to comment on the shortstop's plans.
If Ramirez rejects the qualifying offer and signs with another team before the start of next season, the Dodgers would receive a supplemental selection between the first and second rounds of the draft next year.
However, Ramirez's departure would create an opening at shortstop. The top in-house candidates would be the light-hitting Miguel Rojas and the inexperienced Erisbel Arruebarrena. Top prospect Corey Seager started at shortstop last week in the Arizona Fall League's All-Star game, but he is only 20.
The Dodgers were reluctant to offer Ramirez a long-term deal because of concerns over his medical history and ability to continue playing shortstop.
Ramirez turns 31 next month and is viewed by some teams as a future third baseman because his defensive range has diminished in recent years. He might also be a better fit in the American League, where he could become a designated hitter.
Ramirez sat out a combined 110 games over the last two seasons, and he has played through back and shoulder issues in recent years.
When healthy, Ramirez was one of the best hitters in baseball in 2013 — he batted .345 with 20 home runs and 57 runs batted in in only 86 games — but his performance declined this year. Ramirez batted .283 with 13 home runs and 71 RBIs, enough to be counted among the top offensive infielders in the game but considerably below his standards.
Players who reject qualifying offers don't always end up with better deals. Their market value is already compromised because if they sign with a new team, that team has to forfeit a first-round pick in the upcoming draft.
Last off-season, Stephen Drew and Kendrys Morales turned down qualifying offers, which were worth $14.1 million. Drew re-signed with the Boston Red Sox in May for $10 million, the prorated amount of the $14.1-million salary he had rejected. Morales remained a free agent until June, when he signed with the Minnesota Twins for less than $8 million.
Short hops
Brian Wilson exercised a player option for next season that could be worth as much as $10 million. Wilson, 32, had a 4.66 earned-run average in 61 appearances as a setup man. … Left-hander Scott Elbert elected to become a free agent rather than accept a minor eague assignment. Elbert, 29, came back from three elbow operations over the last two years. … The Dodgers claimed infielder Ryan Jackson off waivers from the San Diego Padres. Jackson, 24, has played in 20 major league games. He is a .268 hitter over six minor league seasons.
---
Get our Dodgers Dugout newsletter for insights, news and much more.
You may occasionally receive promotional content from the Los Angeles Times.