Q&A: Dodgers' Dave Roberts and Andrew Friedman answer off-season questions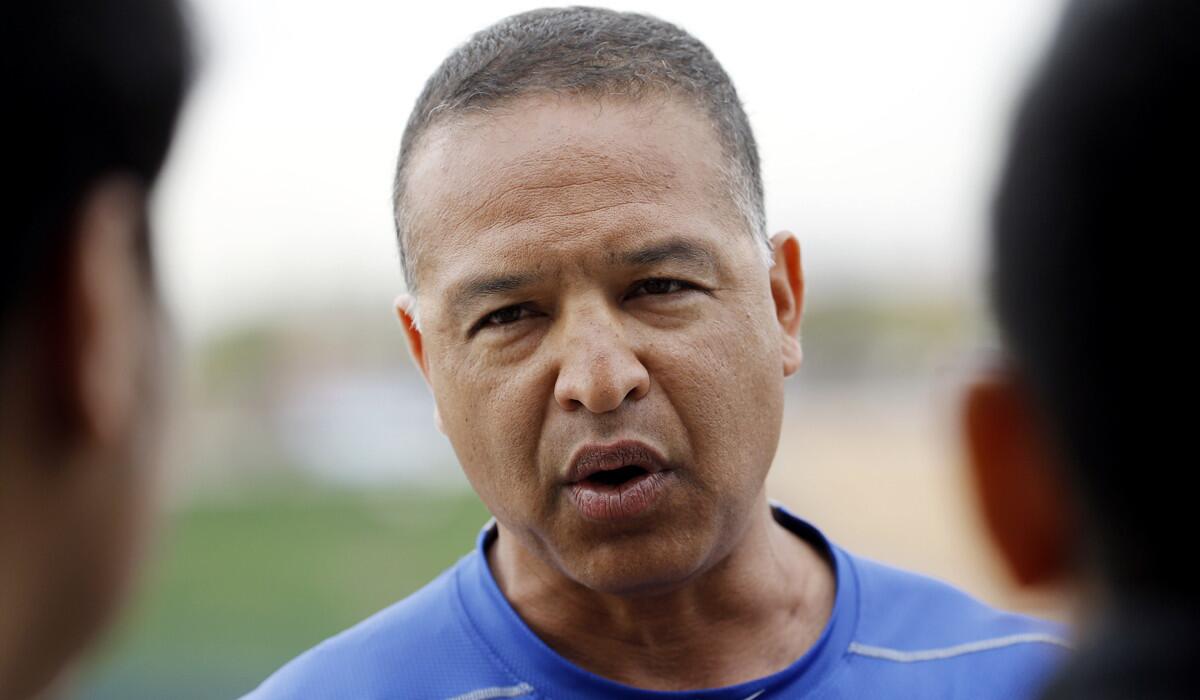 Reporting From PHOENIX —
The arrival of Aroldis Chapman at Yankees camp on Thursday prompted a flurry of recrimination toward the franchise and an extended inquiry of General Manager Brian Cashman, Manager Joe Girardi and Chapman himself. On his first day as a Yankee, Chapman dominated the conversation not because of his 103-mph fastball, but because of his role as the subject into an MLB investigation into allegations of domestic violence.
A day later at Camelback Ranch in Arizona, more than 2,000 miles away from the tumult in Florida, the pitchers and catchers of the Dodgers reported to camp. Both Manager Dave Roberts and Andrew Friedman, president of baseball operations, settled onto a couch outside the team's clubhouse and prepared for a low-stress session with reporters.
Join the conversation on Facebook >>
The Dodgers pursued a trade for Chapman during the winter, but negotiations with Cincinnati in December fell apart after Yahoo Sports reported on an incident in which Chapman is accused of firing eight gunshots in the garage of his Miami-area home. According to the police report, Chapman's girlfriend told officers that Chapman choked her and pushed her against a wall.
The Dodgers moved on from Chapman, and the Yankees traded for him later in the winter. The addition of Chapman would have created an uncomfortable situation on more than one level: His arrival could have removed Kenley Jansen from the closer's role.
Yet Friedman emphasized the maneuver did not upset Jansen, who has said likewise. The team communicated with Jansen when the trade looked possible and later, after it collapsed. Friedman insisted that the organization had not decided who, exactly, would be the team's closer. One of the relievers could have operated in a multi-inning role.
"The point was Kenley's one of the best relief pitchers in all of baseball," Friedman said. "Chapman is one of the best relief pitchers in all of baseball. There's a way to do it to where it just makes our team significantly better. And I think talking to Kenley through that, we've talked to him together, we've had follow-up conversations, Kenley wants to win. So that helped make the conversation better."
Here is the rest of what Friedman and Roberts had to say during a 30-minute conversation with reporters.
Everybody healthy?
Friedman: "I think so. There were no surprises, at least so far, that I've heard about. Everything looks to be in good order."
Is Yasmani Grandal working under any restrictions during the spring as he returns from shoulder surgery?
Roberts: "No. Talking to him yesterday, he feels good. And doing a lot of catching work and swinging the bat, he feels great. He's kind of where he would expect to be at this time of year."
Have you thought about the lineup?
Roberts: "I've thought about it, but sharing it with you guys? No. We've talked about it a little bit, but it's kind of a fun exercise, I think, for any manager, to project. But we're so early in the game."
Will the lineup have a lot of variations?
Roberts: "That's definitely a thought. I think the one thing that us, as a group, every day is a new day, and whatever gives us the best chance to win that day, that's the way we're going to about things."
So it could have a lot of guys moved around?
Roberts: "Sure. That's a possibility. Sure."
Who are the candidates to lead off?
Friedman: "You mean aside from Dave?"
Roberts: "I think there's any number of guys. You look at the roster and where we're at on April 4. We hope to be healthy. There's any number of guys. For sure, a handful of guys, with respect to whatever pitcher is going that night."
Is that the biggest question in your mind about the lineup?
Roberts: "That's fair."
And you don't think it has to be one guy?
Roberts: "In talking to Andrew and the guys, the way that the game's evolved – I think that even as a player, everyone talks about consistency. There's definitely something to be said for consistency. But again, with the information and the data, I think that players are really starting to understand their strengths, their weaknesses. Which we encourage. I think that information is great. Whatever puts us in the best position to win that day, whoever is hitting at the top ....
"I think that nowadays, it's just another spot in the order. Whereas a typical leadoff hitter doesn't have to be Brett Butler, hitting every day at the top."
You signed Louis Coleman after not adding to the bullpen most of the winter. Did you feel like improving the bullpen was a high priority?
Friedman: "I think from our standpoint, when we started the winter, the first thing you do is assess the guys that you have at various spots, bullpen, position players, starters, etc. And we felt good about our young relievers: Petey [Pedro Baez], Yimi [Garcia], Hatch [Chris Hatcher], a number of guys that got very meaningful experience last year, in terms of the body of work. They had very good seasons.
"They went through the ups and downs that young guys go through. And I think that experience for them, coupled with the experience of the playoffs, being around that, I think it's going to serve them really well. So a lot of it was we're big believers in the guys that we have, with [Luis] Avilan and J.P. [Howell] on the left side.
"So it allowed us to be opportunistic. And obviously we explored things on a number of different fronts in the bullpen. But we had a certain threshold in terms of if we were going to bring someone in, we weren't just going to bring someone in just to do so. We feel good about the guys we have."
You've got about maybe 15 relievers who fit into the mix. At the same time, the regulars look set. How do you see that?
Friedman: "I don't know. I think we're going into this spring really open-minded in terms of, we've got a number of really talented pitchers that more than likely will open the year in Triple-A. But we're going to stay open-minded and get through this spring.
"There are guys that are starter candidates. Guys that are more strictly pen guys. Some guys that you could potentially, like [Frankie] Montas is an example of that – obviously, we're going to have to wait a little bit – but an example of someone we're going to stretch out to start. [Yaisel] Sierra, if we're able to get him here soon, is another guy like that. Jharel Cotton. I mean, we have a number of guys that we'll stretch out, but have the ability to shorten up and add depth to our bullpen."
Where do things stand with Yaisel Sierra?
Friedman: "Hoping to know more today. I mean, I would have said the same thing yesterday. But hoping to know more today."
Is it MLB paperwork? A visa issue?
Friedman: "It's just the visa process. My guess is it's going to be at least a few days until he's here."
Frankie Montas had a rib removed, similar to Josh Beckett's injury years ago. Is this related to thoracic outlet syndrome?
Friedman: "Definitely less severe. There wasn't a vascular issue. So it's less severe."
He just suffered a stress reaction in his ribcage?
Friedman: "Exactly. They debated, in terms of how to treat it. And ultimately came to the conclusion that they should remove it, similar to how you do in a thoracic outlet. The difference obviously being that there wasn't a vascular issue. There aren't a ton of examples in terms of looking at what you expect the prognosis to be or in terms of how long he'll be out.
"Guys that have had the vascular issues, it's pretty defined, and you have a better sense. But it was meaningful enough that it's going to take a couple of months. And then you have to ramp him back up, and get his arm back in shape. But all in all, not anything that we feel like will limit him much beyond when we think we'll get him back."
Was that a new injury, or did he have it last year?
Friedman: "He said that he felt it when he was working out this winter, and didn't think much of it, and kept working out, expecting it to go away. It just kept nagging at him. And finally, in January, he brought it up to our trainers in the Dominican [Republic], and we had him checked out. It took a little bit of time to figure out the exact right treatment for it."
Does that require a call to the White Sox to ask about the situation?
Friedman: "No. I mean, had he said 'I felt it all last year . . .' but that wasn't the case."
Where does Hyun-Jin Ryu stand right now?
Roberts: "Well, he's not 100%. I saw him throw a pen yesterday. It was probably about 35 pitches. It was coming out easy. The effort was low intensity. My thought was how would he respond today, and he was pretty optimistic, pretty happy about yesterday and how he feels today. Just a normal, soreness kind of thing. But pain free.
"We don't want to put a timeline on anything. We just want him to continue to progress and pass the markers, which he is doing."
So do you expect him to pitch during spring training?
Roberts: "Yeah. But at what point in a game, we don't know. And that's the thing . . . We do. We do expect him to pitch in a spring training game."
Friedman: "We're going to take the long view, in terms of doing this the right way and in terms of building him up, and putting him in the best position, once we get him back, to stay back. What that means exactly, we don't know yet. We're just going to keep going with the throwing progression. Get him off the mound and then get him into games, and see where he's built up to. But we don't have any clear answers at this point."
So you don't know if he'll pitch in a game in the first week of March or the last week of March.
Friedman: "No. It will fall out of the progression. I would say it will definitely be in March.... I just don't know, exactly, a date."
Do you have to be careful about him pushing himself too hard to make opening day?
Friedman: "I mean, look, emotionally, we all want him to be ready opening day. He does. We do. It's just, it's important for us to do it the right way, and do it in a way that when he comes back, he's back for good. And so, it's just appreciating the bigger picture, and sitting down and explaining that to him: 'Look, we want you back. But also, we have designs of hopefully playing through October. You've got a lot more years to pitch.' So just taking it slow on the front end right now, and putting him in the best position to come back and stay back."
So the markers that you talked about, Dave, they have a wide margin.
Roberts: "Absolutely. And our training staff, they've got guidelines on what they want in the schedule forecast. But it goes to 'Is there a little soreness where we might one to take an extra day here, or an extra two days . . .' whatever it might be. Not necessarily a setback.
"We have the luxury that we have depth. We want him to be right. So there's really no reason. So that's why we're gray with the schedule. There's really no set return date."
So the possibility is low that he'll be in the rotation at the beginning of the season?
Friedman: "We just don't know yet. Now if he pitches in a game in the beginning of March, the odds are much higher. If he doesn't get into a game until the end of March, much lower."
How similar is the approach with Justin Turner, coming back from his surgery?
Friedman: "I mean, it's at least a little easier with a position player. But I think we're of the mind to watch the workload in the beginning of spring and just let it play out from there. But obviously much different with a position player instead of a starting pitcher."
Roberts: "Because he feels great, and the training staff is pretty optimistic, but we can always get him the at-bats to get him ready for the season, whether it be on the major-league side or on the minor-league side. To what Andrew's point was, it's a little different. The No. 1 thing that we're excited about is that he feels really good where he's at right now."
How has the running progressed?
Friedman: "Good."
Roberts: "Yeah. The running, the taking ground balls, the lateral movement, the recovery after a heavier work day. All those boxes have been checked, up to this point."
Friedman: "Every check point has gone really, really well."
How hard is it to project a player's performance when he returns from injury?
Friedman: "I think, A, it depends on the type of injury. And, B, it really gets back to the specific guy. And the guys that we had that had surgery at the end of the year, I think we've all been incredibly impressed, not surprised, but impressed, by the way that they attacked the rehab process, and did everything they could to put themselves in the position that they are right now.
"It's now taking these six weeks to build them up appropriately. And I expect them to be them."
Does that include Turner on opening day?
Friedman: "That's our expectation. Again, we'll play it out and monitor the workload and figure it out, but that's fair to say."
Roberts: "That's fair. And I think if you look at what he did and how he performed, even with the injury last year, the clarity that you have if you're healthy. You feel strong, which if we get from him or Yasmani [Grandal] or [Brandon] McCarthy where he's at right now, in his progress, that's exciting for us."
Dave, have you talked to Kenta Maeda yet?
Roberts: "Yes. I asked him how his swing was. How many home runs? I talked to Kenta yesterday. He was excited to be here. He's excited to be on the similar program as major-league pitchers. So he's doing great."
Is he the No. 2 starter? A No. 3?
Roberts: "We haven't talked too much about where each guy is going to be in the rotation. We know who's going to be No. 1."
Friedman: "Are you ready to announce that?"
Roberts: "We're going to hold out. But I think as far as the other guys, we're not there yet."
Do you have any concerns about Maeda?
Friedman: "No, he feels great. Obviously, it's well-documented what happened at the time of the physical. But he has maintained from then to now that he feels great. So he's going to have a very normal spring training. And we're going to do everything he can to put him in a position to be ready when opening day comes around. Talking to him gives us confidence in how he feels."
How will he deal with the adjustment from the Japanese schedule to the MLB schedule?
Friedman: "It's certainly something that every pitcher that's come over has had to deal with. We've looked into it, had different conversations. I know Rick Honeycutt and Kenta are starting that dialogue. Kenta, to his credit, wants to do things very similarly to how guys do it here. But it may be a little bit of a transition process, in terms of obviously, the time between starts is very different. And what you do the day after will change some.
"So it's just helping educate him a little bit more as far as what some of our guys do, just so he can adopt his own program, which I think will take some time to figure out."
Is there an added challenge being a rookie manager on a team with the highest payroll in baseball?
Roberts: "No, I really don't. I think Andrew and I talk about it all the time. There's a goal that we have as an organization, the fans and an expectation which we all get. Just a focus on the day to day, not to get too far ahead of ourselves. That's something that as a player and as a coach that I really understand and had a grasp on. And it really alleviates the other anxieties or stresses or pressures.
"That's something that we're going to reiterate to the players, as well."
Do you prefer that you can jump into a team with high expectations?
Roberts: "Absolutely. It's fun, in a certain sense, when you get a young team that you can cultivate and mold. But to have very good players – you're only as good as your players are, and we've got very good players in that clubhouse. For me to be a first-time manager and have very good coaches around me and have very good players, we're in a pretty good spot."
Do you expect any visa issues?
Friedman: "Sierra. But everyone else should be here."
Any update on Chase Utley's situation with the suspension?
Friedman: "No. Haven't heard."
And Yasiel Puig is still being investigated?
Friedman: "I think so."
You don't comment on ongoing negotiations, but do you have interest in a long-term extension with Kenley Jansen?
Friedman: "You answered your own question in the question. Obviously, it's tough to comment about contract negotiations, per se. But I think it's well-documented how strongly we feel about Kenley, just in terms of who he is, what he does on the field. He's been a big part of our past success. And we're hopeful that he'll be a big part of our future success."
How do you like your team's depth at starting pitcher?
Friedman: "I mean, I don't think there's such a thing as too much starting pitching depth. Last year, even when I took over in October, I think that was the thing that concerned me the most going into the 2015 season, just our starting pitching depth. And it's hard to accumulate starting pitching depth if you don't have good young pitchers coming up. Because it's hard to sign a sixth or seventh starter and say 'Hey, you're going to pitch in the bullpen,' or 'We're going to send you to Triple-A.'
"It doesn't really work that well. But as we got into the '15 season, it got really clear how strong it was going to be going into 2016 with [Jose] De Leon and [Julio] Urias and Cotton and Zach Lee. A number of guys who had really, really good years, who you could look ahead and see would most likely start the year in OKC. [Ross] Stripling coming back from injury. There were so many guys that give us a great comfort level.
"And then you look at the depth that we added this winter, and we feel like it's going to be a real strength of ours, in terms of being able to withstand a 162-game season, and have quality guys starting basically each and every game for us."
Twitter: @McCulloughTimes
MORE DODGERS NEWS
Dodgers add another bullpen arm in Louis Coleman
These 23 things are guaranteed to happen during Dodgers spring training
Adjusting to Greinke's departure and Roberts' arrival among main issues facing Dodgers in 2016
Get our Dodgers Dugout newsletter for insights, news and much more.
You may occasionally receive promotional content from the Los Angeles Times.