Dodgers Dugout: Will anyone on the team not injured please raise your hand?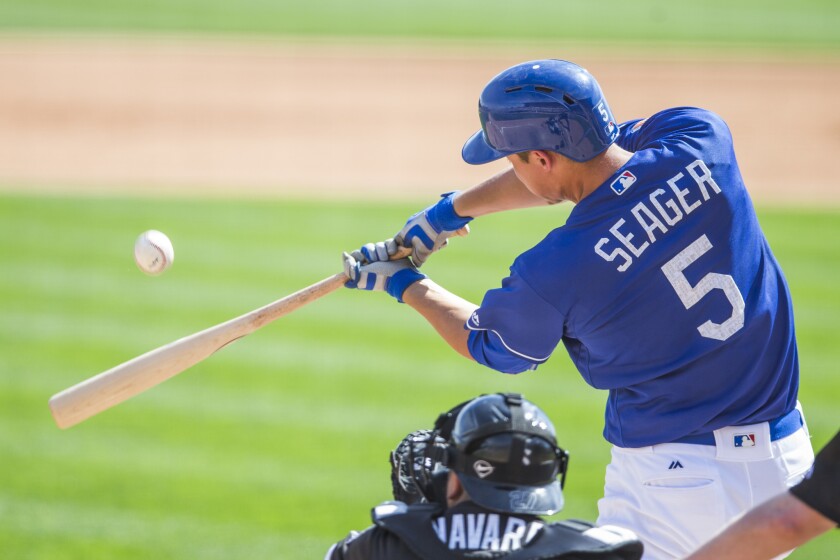 Hi, and welcome to another edition of Dodgers Dugout. My name is Houston Mitchell, and I may be the only person who thought "Batman v Superman: Dawn of Justice" was a good movie.
Line drives
Some random thoughts while waiting for the season to begin on Monday:
--I'd feel a lot more confident that last season wasn't a fluke if Kiké Hernandez wasn't six for 40 this spring.
--Manager Dave Roberts on Kenta Maeda, who has a 1.89 ERA this spring: "He's good, if not better, than advertised. His transition, up to his point, has been pretty seamless."
--There's a chance Howie Kendrick and Yasmani Grandal could start the season on the disabled list.
--In fact, at this point it might be easier for the Dodgers to start listing the players who aren't injured instead of those who are.
--Right now, they need Hernandez to start at second base and left field, which I think might be difficult for him to pull off.
--Or, as Hernandez put it while talking about his bruised ribs: "Of course, with the 35 other injuries we've had they want to be cautious. Considering that I am everybody's backup."
--The Dodgers could start the season with 10 players on the disabled list, which includes guys like Brandon McCarthy and Brett Anderson.
--Corey Seager, 21, will be the youngest Dodger to start on opening day since Adrian Beltre, who was 19 when he started at third base in 1999.
--I get a lot of emails from fans worried about Seager. But check out what Clayton Kershaw has to say about him: "Last year watching what he did on the field, his at-bats and the way he moved at shortstop, you can just tell. His baseball instincts, he just knows what to do. More than the results, it's the approach. He's not intimidated at all…. I didn't do that well in my first year and a half. He's ahead of my career, for sure. You know, the expectations can get in your head at times. The problem is, people expect him to hit .330 and be the All-Star starter and all that stuff. And he very well could be. But if he hits .280 and plays great defense and gets on base, that's a great year."
--This is what Adrian Gonzalez says about Seager: "You can tell by his composure, the way he has a feel for the game, the way he handles himself in the clubhouse. Obviously, he has talent. You can tell he has the ability to slow the game down and regroup."
--I'm still predicting the Dodgers to finish second to the Giants this season. Some of you have written me to pick them to finish fourth, or even last. Which tells me some of you haven't bothered to look at how bad the Rockies and Padres will be this season.
The TV deal
So, judging by the emails I got, a couple hundred of you wrote the Dodgers or called Time Warner or your cable/satellite provider to complain about not being able to watch the Dodgers. The responses that you got were infuriating.
The Dodgers, in their infinite wisdom, decided to respond with a form letter, taking the side of Time Warner Cable and putting the blame on the cable/satellite providers. There are few things worse than sending a form letter, because it sends a message that you don't really care what the person writing has to say and that you view all fans as interchangeable. Many of the fans who wrote me and shared with me the form letter response were very unhappy that the Dodgers would answer their question in such a way.
Here's what the Dodgers send you if you write them:
"Thank you for contacting the Los Angeles Dodgers and most of all, thank you for your continued support.
"We appreciate you taking the time to email and share your concerns with us. The Dodgers do care about their fans and we continue to work behind the scenes in hopes of resolving the impasse.
"We understand that you are frustrated that you are unable to watch Dodgers games on TV. Although your provider has still chosen not to provide you with Dodger baseball, we know that your voice does matter. In fact, it's even more important than ever that you consistently contact your provider to let them know that it's critical that they launch SportsNet LA in order to keep your business. You can also call 844-I-NEED-MY (844-463-3369) or visit www.ineedmydodgers.com to voice your demand.
"Your comments and support are greatly appreciated, and we welcome your feedback at any time."
Wow, that's really quite the lame response. And if anyone on the Dodgers is reading this and is upset, don't worry, I'm working behind the scenes to improve my attitude about the TV situation.
Meanwhile, according to those of you who contacted me about this, if you call Time Warner Cable, it blames the cable/satellite providers and if you call your cable/satellite providers, they blame Time Warner Cable and the Dodgers.
Great world we live in, isn't it?
And finally
Vin Scully held a 30-minute Q&A with reporters last week. Bill Plaschke writes about it here, and there's a video of the entire Q&A on top of his column.
Have a comment or something you'd like to see in a future Dodgers newsletter? Email me and follow me on Twitter: @latimeshouston
---
Get our Dodgers Dugout newsletter for insights, news and much more.
You may occasionally receive promotional content from the Los Angeles Times.