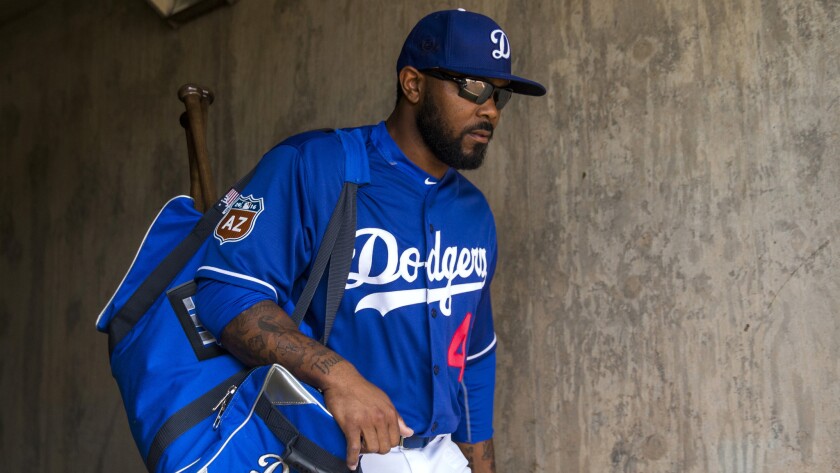 In the lone piece of roster intrigue heading into opening day Monday in San Diego, the Dodgers settled the complexion of their bullpen by keeping right-hander Louis Coleman on the roster and optioning struggling left-hander Luis Avilan to the minors.
Manager Dave Roberts announced the decision after an 8-1 loss to the Angels in the final game of the Freeway Series. He also revealed the composition of his bench, as catcher Austin Barnes, outfielder Trayce Thompson and infielder Charlie Culberson all made the team.
The decision to keep Coleman over Avilan appeared unlikely at the beginning of the spring. Coleman signed with the team in mid-February after being released by Kansas City. The Dodgers traded for Avilan last summer, hoping to pair him with fellow left-hander J.P. Howell.
But Avilan stumbled upon joining the club, with a 5.17 ERA as a Dodger. He gave up 12 runs in nine appearances this spring.
"Seeing him throughout the spring, giving up hits and walking guys, his command just wasn't there," Roberts said. "Also, his ability to spin the baseball. You've really got to bear down to get the left-hander out. So at the end of the day, it was really more about feeling comfortable with what Louis Coleman can do, and getting guys out."
Barnes and Culberson earned roster spots after the Dodgers decided to place both catcher Yasmani Grandal (forearm strain) and infielder Howie Kendrick (calf tightness) on the disabled list to start the season. Both players are eligible to play Friday, but Roberts indicated the team hoped both would return by the home opener on April 12.
The decision with Kendrick was not difficult. He has been sidelined since injuring himself running through first base in a game on March 22. He took batting practice and jogged at Camelback Ranch on Saturday, Roberts said.
Grandal played in a minor league game Saturday. But the team elected to give him additional time to heal, rather than risk his injury flaring up in a more severe fashion early in the season. In his absence, veteran A.J. Ellis will split time with rookie Barnes.
"We've been pretty cautious up to this point," Roberts said. "With the long season ahead of us, it just kind of makes the most sense."
The health of Grandal was a critical question for the Dodgers entering this spring. He pummeled opposing pitchers in the first half of 2015, bashing 14 home runs and posting a .927 on-base plus slugging percentage (OPS). But as he dealt with left shoulder discomfort in the second half, his production plummeted. He had only three hits in September.
Grandal underwent surgery on his AC joint in October. He insisted he would be ready for the start of the season, and his shoulder did not betray him. But his right forearm did. The inflammation there has been intermittent, but visible enough to worry the Dodgers about his readiness for Monday's opener.
When Grandal returns, Roberts said, the team would consider carrying three catchers on the roster. Barnes can also play second base. He was an infielder at Arizona State.
Barnes impressed Roberts throughout spring training, and has long been a favorite of President of Baseball Operations Andrew Friedman. The team acquired Barnes from Miami last winter in the trade that also netted utility man Enrique Hernandez and reliever Chris Hatcher.
With Kendrick out, the playing time at second base will split between Hernandez and Chase Utley. Hernandez will also see time in center field against left-handed pitchers, starting in place of left-handed swinger Joc Pederson.
So the Dodgers do have the reserves handy to mitigate Kendrick's absence. But the team is also hoping to grant days off to third baseman Justin Turner as he returns from off-season microfracture surgery on his left knee. The team intended to play both Kendrick and Utley at third.
Follow Andy McCullough on Twitter: @McCulloughTimes
---