Closer Kenley Jansen rejoins Dodgers, expects offseason heart surgery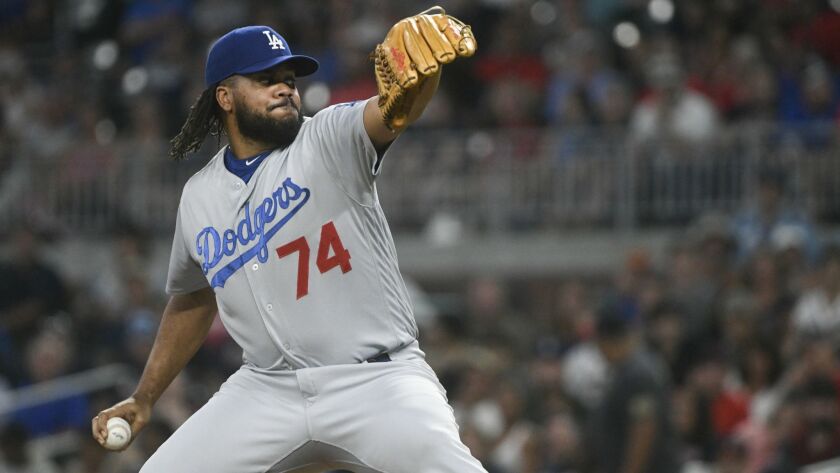 Reporting from cincinnati —
Stuck in Los Angeles over the weekend, unable to travel to Denver because of concerns about his heart, Dodgers closer Kenley Jansen rejoined the club for Monday's series opener against the Cincinnati Reds at Great American Ball Park.
"To be honest, it was a little boring to be at home," Jansen said before the Dodgers faced the Reds. "I love my wife. I love my kids. But my mind was really with the team."
Jansen did not idle during his days away from the team. He maintained his exercise regimen so he could pitch in this series. He visited his cardiologist Thursday and underwent an examination Friday. The tests firmed up Jansen's expectation of undergoing a second ablation to correct his irregular heartbeat.
Jansen said he intended to have the operation performed two weeks after the season ended. He underwent a similar procedure in 2012.
"My cardiologist said he was definitely going to find something in there," Jansen said. "That's why they did the MRI, too. They're going to study the heart more."
Jansen indicated he had resumed taking the medication that affected him during his initial return from the disabled list in August. His doctors decreased his dosage, which Jansen said allowed him to compete without feeling sluggish.
Jansen felt helpless as he watched the team play Friday and Saturday. He didn't watch Sunday's game while flying to Cincinnati. And he didn't watch portions of Saturday's game, too. Whenever he got frustrated at the game, which Colorado won, he switched the channel to the Ice Cube comedy "Friday After Next."
"I was a fan," Jansen said. "Whenever we got down, I got [angry], and went to watch a movie in my house."
Julio Urias returns to majors
With the minor league season wrapping up, the Dodgers recalled left-hander Julio Urias, who had not appeared in a big league game since May 20, 2017. He will be used as a reliever, capable of pitching an inning at a time, manager Dave Roberts said. He will be used in lower-leverage situations at the start.
Urias underwent surgery last year to repair the anterior capsule in his left shoulder, which kept him sidelined until this summer.
Urias made 10 appearances after being activated July 30. He split his time between the rookie-level Arizona League, Class-A Rancho Cucamonga and triple-A Oklahoma City. He struggled at each level, finishing with a 6.08 earned-run average. He gave up a hit in a scoreless inning for Oklahoma City on Sunday.
"I can't lie, there was a moment when I thought there was a possibility that I would never come back after the surgery," Urias said through interpreter Jesus Quinonez. "But thank God that he helped me get here."
Pitching in
Ross Stripling will start Wednesday when the Dodgers run a bullpen game in the series finale against the Reds. Stripling should be able to work three innings, Roberts said.
Twitter: @McCulloughTimes
---
Get our Dodgers Dugout newsletter for insights, news and much more.
You may occasionally receive promotional content from the Los Angeles Times.