Dee Gordon on his opportunity: 'I'm going to seize it this time'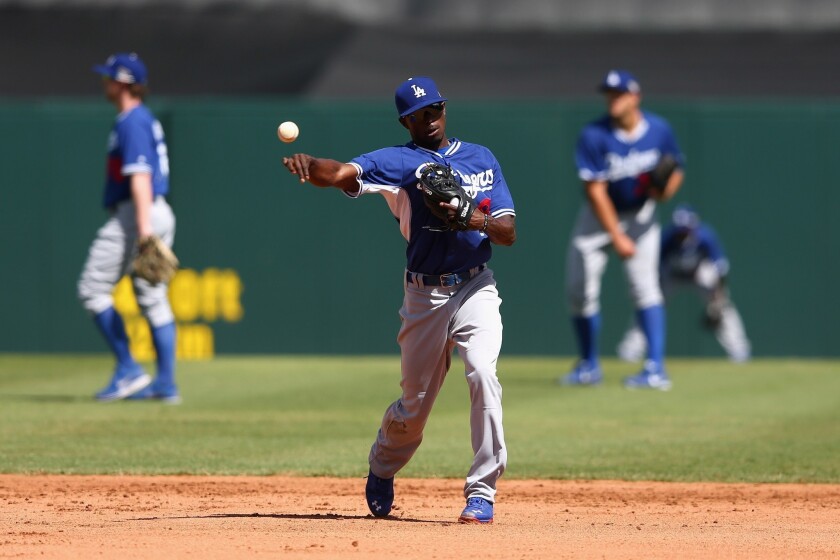 It's a platoon for now, very much subject to change, which should be nothing new for Dee Gordon.
Manager Don Mattingly plans to start the season with a platoon of Gordon and Justin Turner at second base. This became Plan B when it was deemed Cuban infielder Alex Guerrero was a tad too heavy on the rust after not playing last season.
Yet Mattingly sounded Thursday like a manager hoping Gordon would take this opportunity and turn it into something more grand.
"I want to be able to use our guys all over," Mattingly said. "If somebody takes it over, we'll see. For right now, I'd like to give Dee some shots because obviously he brings another dynamic to us if he can kind of go and take that job. Then that allows us flexibility with Justin, how we'd use him and [Chone Figgins]. We'll just see. For right now, [a platoon is] what it kind of looks like."
So for now Turner will start most games against left-handed pitchers, and Gordon against right-handers. For Gordon, it's another opportunity and not one he was ever certain to get again.
In 2012 he was deemed the Dodgers shortstop of the future. But on July 4 he was hitting only .229 when he tore a ligament in his thumb. He had surgery and was sent to triple-A Albuquerque, which was also his home for much of last season.
"I just want an opportunity," Gordon said. "They've given it to me and I'm going to seize it this time. I didn't seize it in the past. I was too immature or didn't know myself.
"I think I'm ready. I'm ready to play. I'm ready to play for a high-profile club. I can play every day and I'm going to do what I can to show them I'm persistent and I'm accountable."
Gordon, 25, is hitting .295 this spring and Thursday night hit his fifth triple (corrected) of the exhibition season. His speed remains a valuable asset, and he's driving the ball a bit more after putting on 15 pounds of muscle in the off-season.
Of course, it was an off-season spent not knowing exactly where his future was headed. He played second and short for Albuquerque the second half of the season. Then the Dodgers experimented at the end of the season with him in center. In the off-season, he played all three positions and it looked like the Dodgers were thinking he had a future as a utility player.
But with Guerrero, also a converted shortstop, still learning second, Gordon is now in position to show the Dodgers how he has matured as a player.
"I'm learning what I can handle and what I can't handle," he said. "What swings I need to take and can't take. Just being more selective at the plate and not panicking so much when I get a strike or two on me."
For now, he'll get to show it as part of a platoon. And then?
"For right now I just want to stay with it and see where it goes," Mattingly said.
---
Get our Dodgers Dugout newsletter for insights, news and much more.
You may occasionally receive promotional content from the Los Angeles Times.