Dodgers defeat the Rockies, 13-4
Freddie Freeman led off the bottom of the eighth with a single. Will Smith homered to left-center. Muncy popped to the pitcher. Martinez reached second when the Rockies right fielder settled under a fly ball and dropped it. Outman struck out looking. Vargas struck out looking.
And that's how the game ended, as Shelby Miller walked the leadoff batter in the top of the ninth but retired the next three Rockies.
Final score: Dodgers 13, Rockies 4
Dodgers extend lead to 11-4
J.D. Martinez doubled to left-center to open the bottom of the seventh. James Outman hit his second triple of the night, scoring Martinez. Miguel Vargas was hit on the right thumb by a pitch. He stayed in the game, so hopefully it's not broken. Jason Heyward flied to deep center, scoring Outman, Vargas to second. Chris Taylor grounded to first. Trayce Thompson struck out.
Score after seven: Dodgers 11, Rockies 4
Dodgers score seven in fifth, lead 9-4
Michael Grove's night came to a quick end. He walked the first two batters in the top of the fifth, then gave up a double to Elias Diaz, scoring a runner. He was replaced by Yency Almonte. Harold Castro singled, driving in both runners. Alan Trejo singled Castro to third. Jurickson Profar grounded into a double play, scoring the man from third. Kris Bryant struck out.
The Dodgers struck back in the bottom of the fifth. Chris Taylor popped to second and Mookie Betts struck out. Freddie Freeman doubled to right. Will Smith walked. Max Muncy walked to load the bases. Bird replaced Feltner. J.D. Martinez singled to left, scoring Freeman and Smith, Muncy to third. James Outman tripled to right, scoring two. Miguel Vargas singled to left, scoring Outman. Five runs in, all with two out. Jason Heyward hit his first homer as a Dodgers. Suddenly, it's 9-4.
Score after five: Dodgers 9, Rockies 4
Dodgers take 2-0 lead on Chris Taylor's homer
The Dodgers took a 2-0 lead in the bottom of the third. Jason Heyward, making his first start, singled. Chris Taylor then hit a blistering shot into the teeth of the wind and homered to left-center. It is extremely windy at the stadium, so hitting one out tonight takes a mammoth blast. Mookie Betts singled and Freddie Freeman grounded into a double play. Will Smith grounded to short to end the inning.
Score after three: Dodgers 2, Rockies 0
Michael Grove off to strong start for Dodgers
We're through the top of the second and Dodgers rookie Michael Grove, who got the final spot in the rotation after an injury to Ryan Pepiot, has given up only one hit and struck out the side in the second inning. Last season, Grove was 1-0 with a 4.60 ERA for the Dodgers.
Max Muncy returns to lineup with key piece of protective equipment
Max Muncy returned to the lineup for Monday night's game against the Colorado Rockies wearing a somewhat new piece of protective equipment after taking a bad-hop grounder to the groin on Saturday and missing Sunday's game against Arizona.
"We're not gonna let that happen again," the third baseman said. "It's like when you see guys wearing elbow guards who have never worn them before. All it takes is one time, and then you start wearing [a protective cup]."
Muncy wore a cup in his first two big league seasons with the Oakland Athletics, when he played some first base, second base and third base in 2015-2016, but he stopped wearing one in late 2018 or 2019, after he started playing mostly first base for the Dodgers.
"I felt like I got too comfortable with wearing [grounders] off the chest and tossing it to the pitcher at first base," Muncy said. "When I started playing other positions, I was kind of doing the same thing, and I wasn't very good. So I talked to someone about it, and they said, 'You've got to trust your hands more.' And I said, 'How do we do that?'
"And he said to stop wearing a cup. The second I did that, I immediately got a lot better in the field. It forced me to trust my hands and let my hands work in a natural way. It got to a point where I was feeling better on defense without it, so I never went back to wearing one."
That changed Saturday night, when Muncy took a ground ball in what the Dave Roberts called "a very sensitive area of his body," and was so sore he couldn't play Sunday.
"It's a little tender, but I should be able to play moving forward," Muncy said. "If you get a hit in the arm with a pitch, it hurts. It's tender, and usually you can play through it. This was just in a very unfortunate spot."
Muncy, who struggled through an injury plagued 2022 season in which he hit .196 with a .713 on-base-plus-slugging percentage, 21 homers and 69 RBIs in 136 games, felt great coming out of spring training but went one for 13 with seven strikeouts in his first three games, including a five-whiff night in Thursday's season-opener.
"My swing feels like it's in a really good spot right now, but that first night I was swinging a bat that had a hole in it," Muncy said. "It obviously wasn't the way I wanted to start the season, but at the same time, I had a really good spring and everything feels right where I want it to be. You just have those nights in baseball."

Tony Gonsolin's ankle sprain gave him time, more than he expected, to correct flaw in delivery
When Tony Gonsolin twisted his left ankle during spring-training fielding drills in Arizona on March 6, the right-hander figured he would return to action "in a week, a week-and-a-half."
Nearly a month later, Gonsolin is still in the early stages of a throwing program that has put the 2022 All-Star on course to return to the rotation by late-April at the earliest.
"The first day it was pretty swollen, tender to touch, I couldn't really move it very well, and the second day, I couldn't put any pressure on it at all," Gonsolin said before Monday night's game against the Colorado Rockies. "After a week, I couldn't put ample pressure on it to even throw. So I was definitely surprised by the severity of the injury."
Gonsolin, who had a breakout 2022 season, going 16-1 with a 2.14 ERA in 24 starts, isn't even sure how he sprained his ankle.
"It was kind of a freak thing," he said. "I was trying to throw a ball kind of across my body, to be a little athletic, and my body was done being athletic for the day. I don't know if a cleat got stuck or I just landed weird, but yeah, it just kind of happened."
Gonsolin has progressed from playing catch to throwing off a mound to simulated two-inning, 35-pitch bullpen sessions, and he will travel to Arizona to throw to hitters at Camelback Ranch on Wednesday.
He will probably repeat that workout this weekend and, barring setbacks, embark on a minor league rehabilitation stint of "no more than four" starts late next week. Manager Dave Roberts said Gonsolin could make two of those starts at Camelback Ranch so the Dodgers can better control his workload.
Pitchers usually need five or six spring starts to be ready for opening day, but last year's lockout-shortened spring showed Gonsolin that "I don't need that many starts to feel comfortable going into the season," he said. "Whatever gets me built up to five innings, 60-75 pitches."
If there was one benefit to the injury, it was that Gonsolin was able to work with pitching coaches Mark Prior and Connor McGuiness to correct a flaw in his delivery.
"I feel like I'm actually in a better spot now," Gonsolin said. "I started to create a little bad habit with my landing [foot] and the arm action, the timing of the throw, was a little weird. Prior and C-Mac saw it immediately. They were like, 'Hey, man, if you're gonna throw, you need to do it the right way.' So it's a blessing that I was able to correct some mechanical stuff."

Dodgers display talented promise, but also potential volatility, in opening series
As his team was coming together at the end of the offseason, a new-look mosaic of veteran acquisitions, rookie prospects and carryover star power from last year's 111-win team, Dodgers manager Dave Roberts could see what was coming.
He knew, with all cylinders clicking, the reconfigured squad could still be a juggernaut worthy of World Series expectations.
But with so many new faces, and an abundance of question marks following in their wake, Roberts cautioned about the pitfalls they'd have to navigate.
Dodgers fail to capitalize on Noah Syndergaard's impressive debut in loss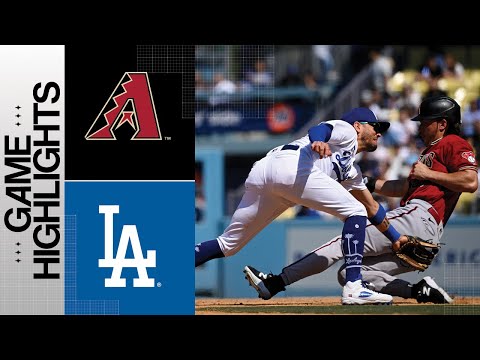 It took four spring training starts for Noah Syndergaard to come to grips with the fact that, despite his December proclamation that there is "no excuse as to why I can't get back to 100 mph," his once-vaunted fastball is not going to approach triple digits like it did before 2020 elbow surgery.
"If I don't throw 100 [mph] again," the new Dodgers pitcher said on the eve of the regular season, "that's fine."
And that's perfectly fine with the Dodgers, who weren't expecting the second coming of Sandy Alcantara when they signed Syndergaard to a one-year, $13-million contract.