What we learned from the Ducks' 3-2 win over Calgary
The Ducks broke out Wednesday with a 3-2 victory over the Calgary Flames in their most impressive performance of the season. Can the Ducks finally put their struggles behind them now that they're regaining their health? Here's what we learned:
Patrick Eaves is finding his touch. The 34-year-old played just two games last season as he battled illness and then underwent shoulder surgery in March. Four games into this campaign, he's reminding everyone just how valuable he is.
The newly formed top line of Eaves, Ryan Getzlaf and Rickard Rakell wreaked havoc against the Flames, and Eaves still hasn't appeared on the scoresheet this season (32 goals in 2016-17). If Randy Carlyle sticks with this trio — and he'd be foolish not to — it's only a matter of time until Eaves breaks through.
"Patty does a heck of a job being a veteran player knowing where to be and knowing where to demand the puck," Getzlaf said. "He's doing all the right things. When he's my linemate, all I care about is him demanding the puck. I need to get him in situations where he can score goals. And he will.
"I can't even imagine what it's like to take an entire year off and try to play again. He's doing all the right things to be in those places and throw pucks at the net. He's doing the right things in the corners. He's getting in position for scoring chances."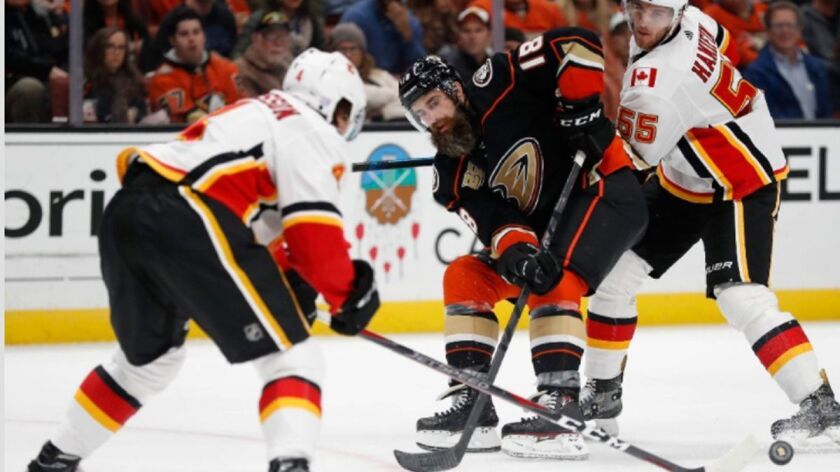 The Ducks are healthier than ever, and more key players are returning imminently. Ondrej Kase, who suffered a concussion during the preseason, has yet to make his season debut. He scored 20 goals last season is one of the team's most dynamic skaters.
He's been skating in practice but in a noncontact jersey. Nick Ritchie remains out with an upper-body injury. He's played just two games this season; he was a restricted free agent who didn't sign his deal until the campaign was already underway.
The team is missing his size in the lineup, but also Max Comtois, the rookie power forward who's missed the last four games with a lower-body ailment. Fourth-line center Carter Rowney remains out with an upper-body injury. It's conceivable that all four players will return next week, and then the Ducks can see what they really have.
With Josh Manson back in the mix, the defense performed at a high level. Carlyle reunited Manson with Cam Fowler on the top unit, but split up Hampus Lindholm and Brandon Montour. The former played alongside Jacob Larsson; Montour skated with another Swedish rookie, Marcus Pettersson.
The defense held the sixth-ranked Flames offense to just two goals (they're averaging 3.47), an impressive feat especially when you consider the kind of skill players Calgary boasts. The biggest accomplishment? Somehow limiting Johnny Gaudreau to zero shots on goal, the first time this season that's happened (he had eight in one game). He had 18 points in 15 games entering the contest and was held off the scoresheet entirely.
---
Get the latest on L.A.'s teams in the daily Sports Report newsletter.
You may occasionally receive promotional content from the Los Angeles Times.