Cam Fowler returns to practice as the Ducks prepare for the Florida Panthers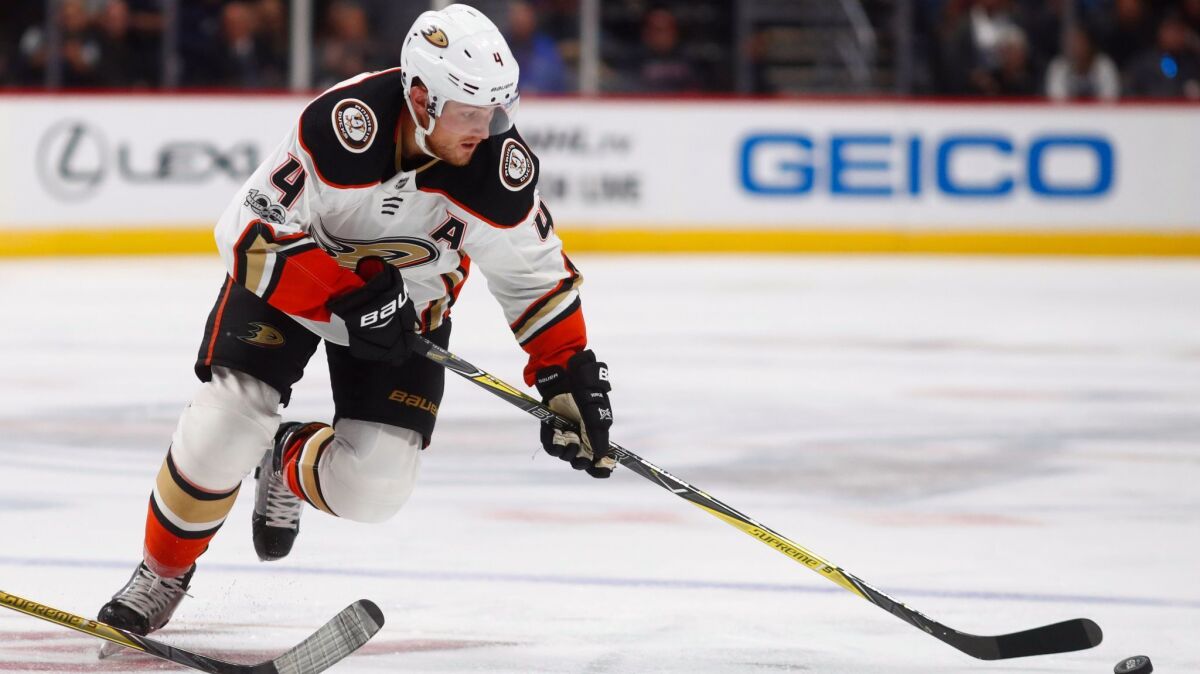 A welcome sight was on the ice Saturday at Honda Center: No. 4.
Cam Fowler practiced with the Ducks for the first time since he injured his right knee in the first period of an Oct. 20 victory over the Montreal Canadiens.
It was a scary sight, with the team's top defenseman unable to put any weight on his leg after he awkwardly bent his knee backward. Amid a season with a litany of long-term injuries, the Ducks could ill afford another one.
So it was a relief when it was learned Fowler's injury wasn't long term, and even more so now that it seems he'll return on the shorter end of the initial four-to-six-week recovery timetable.
"You spend a decent amount of time by yourself when you're injured so to get back with the team and get back into the routine of things is always a good feeling," said Fowler, who posted two points in seven games this season. "It was a scary thing. I guess I consider myself pretty lucky more damage wasn't done."
Fowler, 25, is thankful because he realizes "things could have been a lot worse." Knees simply aren't meant to bend that way.
But now that Fowler is practicing, his return isn't far off. Fowler won't suit up Sunday against the Florida Panthers, but Ducks coach Randy Carlyle is hopeful the former No. 12 overall draft pick "can get up to speed with our hockey club in the next couple of days and be available shortly."
And when he does play again, it will be the first time this season the Ducks have access to their full array of talented defensemen.
Hampus Lindholm and Sami Vatanen both underwent offseason shoulder surgery, and neither player was active along with Fowler this campaign.
With so many important players injured up front for the Ducks, fortifying the back end should boost the offense greatly.
"We've got so many good, young defensemen," said defenseman Francois Beauchemin, the veteran of the group at 37.
"We went through a lot of injuries obviously early in the season, we're still going through that with the forwards, but now that our 'D' is getting healthy … we're only going to get better."
Fowler has twice suffered injuries to his knees (ligament sprain on the left in 2014; sprain on the right in 2016), so there were "really no surprises" when it came time for rehab and the day-to-day life of recovery.
"You're able to settle into that pretty quickly," Fowler said, "and then you also have a good feeling when you're close."
Fowler is close now, and when he's back on the ice, there's also no surprise in what he brings to the team.
Injury update
Ryan Miller (lower-body injury) faced shots before practice Saturday, and if he progresses as expected, the No. 2 goalie will join the team next week, Carlyle said.
Ondrej Kase (head injury) was one of the players taking those shots, but he isn't practicing with the team yet, either, and there's no timetable for the winger's return.
UP NEXT
VS. FLORIDA
When: Sunday, 5 p.m., Honda Center
On the air: TV: Prime Ticket; Radio: 830
Update: The Ducks will honor Teemu Selanne and Paul Kariya, who were inducted into the Hockey Hall of Fame on Monday. The ceremony begins at 4:45 p.m, and it will be a rare appearance at Honda Center for Kariya, the franchise's first superstar player. … The Panthers (7-9-2, 16 points) were defeated by the Kings 4-0 on Saturday, and it was James Reimer in net, so it's probable the Ducks will face No. 1 goaltender Roberto Luongo.
---
Get the latest on L.A.'s teams in the daily Sports Report newsletter.
You may occasionally receive promotional content from the Los Angeles Times.