Regional basketball playoff roundup: Chino Hills holds on to defeat Mayfair in Division I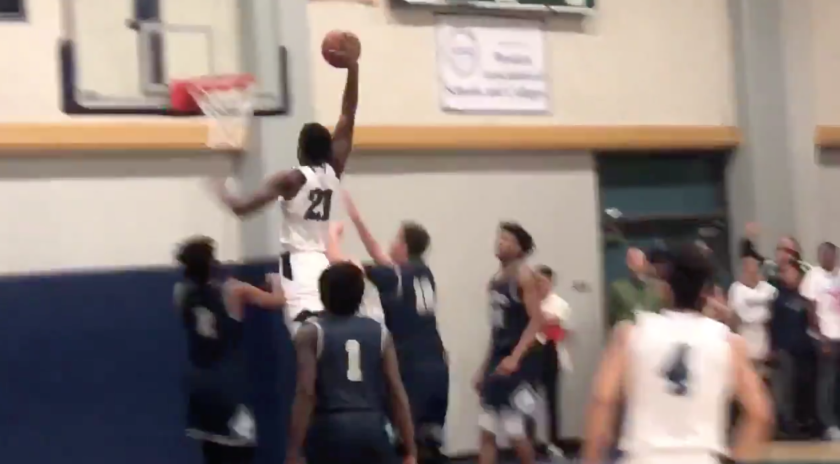 There was little doubt that the Southern California Division I Regional basketball playoff opener matching Chino Hills and 6-foot-9 center Onyeka Okongwu against Lakewood Mayfair and standout junior guard Joshua Christopher would end up being a classic.
Okongwu fouled out with 20.8 seconds left and Chino Hills desperately trying to hold a dwindling lead. He finished with 28 points. Christopher rallied Mayfair from a 14-point deficit. He finished with 44 points.
When Michael Ofoegbu of Mayfair scored with 4.6 seconds left, Chino Hills' lead was down to a single point. But Mayfair had no timeouts left and was assessed a technical foul for delay of game when the ball was touched out of bounds.
Will Pluma made both free throws and Chino Hills got the ball out of bounds at half court. All the Huskies had to do was inbound it and run out the clock. Except it was stolen and Christopher was able to get off a three-point attempt from the top of the key. It missed and Chino Hills escaped with a 72-69 victory.
Only three days earlier, Chino Hills lost a 12-point lead to Santa Margarita and fell in overtime in the Southern Section Division 1 final.
"It's pretty frustrating from a coaching standpoint," coach Dennis Latimore said of the Huskies' failure to protect leads. "We talked before about dealing with pressure and like LeBron James said, you got to feel comfortable in the uncomfortable."
Hampering the Huskies was Okongwu getting into foul trouble. He was pulled after picking up his third foul with 3:43 left in the second quarter and Chino Hills ahead 23-8. By halftime, Mayfair was down only 25-19. Then Okongwu got a fourth foul for a technical in the fourth. That allowed Christopher to attack. He scored 31 points in the second half.
"It was tough to challenge him when I was in foul trouble," Okongwu said. "We've been having leads and blowing them at the end. We'll work it out."
Chino Hills received help from Pluma, who scored 18 points, and Nick Manor-Hall, who had 16 points.
Chino Hills will play at Bellflower St. John Bosco in the second round on Thursday. St. John Bosco defeated San Diego Vista 96-71. Jalen Manson scored 19 points and Josh Camper 16.
Washington Prep received 27 points from Bilal Mike in a 64-55 win over Los Angeles Windward.
Sign up for our daily sports newsletter »
Top-seeded Etiwanda defeated San Diego St. Augustine 68-57. Tyree Campbell finished with 24 points.
Santa Margarita rolled to a 68-50 win over San Diego Mission Bay. Jake Kyman scored 27 points.
Lake Balboa Birmingham defeated Studio City Harvard-Westlake 69-67. Corey Cofield scored 25 points and Tyrese Windham 19. Moreno Valley Rancho Verde defeated Woodland Hills Taft 64-53. Jaxen Turner had 25 points.
In Division II, Granada Hills defeated Palos Verdes 59-55. Jesse Bannout scored 16 points. In Division III, Los Angeles University defeated San Diego Montgomery 78-74 in overtime. David Cheatom scored 27 points and had 15 rebounds for University.
Twitter: @latsondheimer
---
Get the latest on L.A.'s teams in the daily Sports Report newsletter.
You may occasionally receive promotional content from the Los Angeles Times.