Brian France is trying to keep NASCAR relevant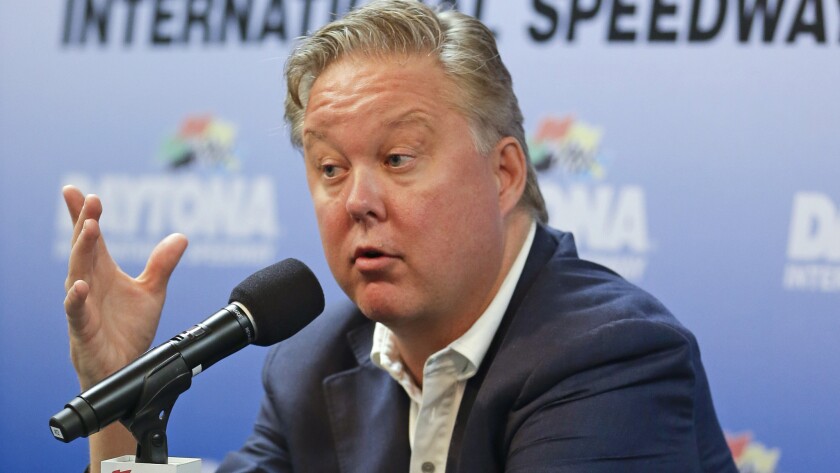 NASCAR driver Brad Keselowski remembers slamming into a rival's car in Phoenix a few years ago, only to be summoned after the race by officials who scolded him for being too aggressive on the track.
Then NASCAR Chairman Brian France, the third generation of his family to run stock car racing's empire, walked into the room.
France "looked over at them and said, 'Are we yelling at him?' " Keselowski said. "Nobody really answered. Then [France] turned and said to me, 'I love what you're doing. Don't change a thing.' And he walked out."
Fender-banging is part of NASCAR's appeal, one reason the sport draws tens of thousands of spectators to tracks each weekend along with the 4 million to 8 million who watch Sprint Cup Series races on television.
It's a multibillion-dollar sport that France runs as a family business, just as his ancestors did.
His grandfather, "Big Bill" France Sr., founded NASCAR in 1947, uniting the Southern sport and moving it from mostly small dirt tracks to high-speed paved venues such as Daytona International Speedway. Brian France's father, Bill France Jr., then ran NASCAR for three decades as star drivers such as Richard Petty and the late Dale Earnhardt helped lure corporate sponsors and TV contracts that turned stock car racing into a mainstream sport.
Brian France became chairman in 2003 and has implemented some controversial changes that have again transformed NASCAR, while tackling the economic collapse of the late-2000s. But while his grandfather and father were outsized personalities who reveled in commanding NASCAR in full view at speedways each week, Brian France is one of the most publicity-averse bosses of any major American sport.
He has that luxury because NASCAR, as a family business, is unlike the NFL, MLB or NBA, leagues with individual teams that elect a commissioner to oversee their sport and become its public face. Roger Goodell, Bud Selig and Adam Silver would draw attention in any major city. France likely wouldn't, and he prefers it that way. He's not even at the track on many NASCAR weekends or makes brief, unannounced visits to the speedways.
"I'm not part of the show," he said.
As a result, France, 51, has long battled perceptions that he's a wealthy, disengaged policy buff more interested in think-tank studies than the ear-splitting action on the track.
The criticism "bothers me, I'm human," France said. "[They say] I'm a technocrat . . . that I'm somehow aloof, that everything is going on and I'm sort of there having a cup of coffee watching it all happen."
Four-time NASCAR champion Jeff Gordon, a 22-year Cup series veteran who also drove while Bill France Jr. was in charge, said "people don't see [Brian France] as much at the track and they say, 'Oh, well, he doesn't know what's going on.' Is he a hands-on type of guy like his dad was? No, he's not. But that doesn't make him less effective. The world has changed."
Making changes
Brian France's spree of changes included two versions of safer, redesigned race cars (the first bombed with fans). He also implemented a 10-race championship playoff called the Chase for the Sprint Cup, a format so foreign to motor racing, which traditionally awards titles to any driver who accumulates the most points over an entire season, that it "didn't help my popularity either," France said.
This year he changed the qualifying format for races in hopes of boosting fan interest in the time trials. He has also fostered long-awaited gains in NASCAR's diversity with a black driver, Darrell Wallace Jr., winning a truck series race last year in Martinsville, Va., the first African American to win at the sport's national level in nearly 50 years.
France also negotiated NASCAR's first national TV package that started in 2001, and later inked two more huge TV-rights deals The first was a $4.5-billion contract that began in 2007, the second a 10-year, $8.2-billion deal that starts next year.
"Brian's fingerprints are on billions and billions of dollars of value that have flowed into the sport," said Paul Brooks, a former NASCAR executive and a close France friend.
France also dealt with a cheating scandal last year when the Michael Waltrip Racing team used deliberate late pit stops and other actions at a race in Richmond, Va., in hopes of manipulating the finish to get one of its drivers in the Chase playoff. France levied a record $300,000 fine against the team, penalized its three drivers and added another driver, Gordon, to the Chase because France believed the cheating left Gordon at an unfair disadvantage.
Then France held a news conference to assure the public that NASCAR's integrity was intact.
"You had no question . . . who was in charge," driver Kevin Harvick said.
But as NASCAR reaches the midpoint of another season — the Brickyard 400 at Indianapolis Motor Speedway is July 27 — France faces what might be an intractable challenge: NASCAR's popularity has flat-lined. Attendance has tumbled 15% or more and TV ratings have dropped from their peaks in the mid-2000s. Tracks are removing thousands of excess seats and sponsors are harder to find.
The pullback began when NASCAR was hammered by the recession of the late-2000s, and perhaps that peak in popularity was more faddish than sustainable. But France conceded that he deserved part of the blame, with new cars that produced dull races and too many homogenized drivers who were dull as well.
"Our quality of racing for a period of time . . . I wouldn't call it boring, but others might," he said.
In 2007, France rolled out a new, safer NASCAR race car dubbed the "Car of Tomorrow," developed largely without collaboration with the auto manufacturers and teams and drivers. The car proved unwieldy to drive and didn't provide enough of the passing NASCAR fans love. Drivers such as Kyle Busch openly blasted the car's design.
"I was arrogant at that time that whatever we did was going to work," France said. "I learned a great lesson. That started my collaboration with the teams, team owners, the drivers in a way I hadn't done."
So NASCAR's current car, unveiled last year, was designed with the carmakers and NASCAR's teams.
Overseeing an empire
Brian Zachary France is an inquisitive news junkie. He reads what's written about NASCAR and about other sports, businesses, politics and regularly watches the Sunday morning news shows on TV. He also studies the operating methods of other big league sports. It's a penchant that once led to erroneous speculation that France wanted to own a pro football team.
"I've never had an interest in an NFL team," he said.
France and his family have enough to keep them busy. They own NASCAR, the sanctioning body, and control International Speedway Corp., a publicly traded company with 13 tracks where NASCAR holds races, including Daytona International Speedway. France's uncle, James France, is ISC's chairman and Brian's sister, Lesa France Kennedy, is ISC's chief executive. Forbes estimates the France family is worth $5 billion.
Brian France has a 120-foot yacht, plus a smaller fishing boat, that he takes to the Bahamas and on fishing trips to the Florida Keys. He has homes in Daytona Beach (where NASCAR is based), Charlotte, N.C., (where most NASCAR teams are based), Los Angeles and New York. NASCAR was born in Dixie but its leader probably spends more time at his midtown-Manhattan apartment than anywhere else. Gordon and six-time champion Jimmie Johnson also have Manhattan homes and the drivers sometimes dine with France.
One bout of publicity that stung France involved his latest divorce. He has 7-year-old twins from his former wife Megan. The couple was married twice and divorced twice, and the second divorce, in 2008, became a contentious, publicized affair that he declines to discuss. She alleged that France hired private investigators to track her and threatened to withhold some of the money owed her, which reportedly was $9 million plus alimony and child support totaling $42,000 per month. France, in turn, alleged that she had violated the terms and confidentiality of their divorce agreement. They reached a confidential settlement last year. France has 3-year-old twins with his current wife, Amy.
As for his NASCAR stewardship, France makes no apologies for how he runs the sport.
"My father gave me some advice a long time ago . . . that in our business it's all about the drivers and the events," France said. "My big interest in the business is getting the right people, writing policies and strategies. That's the thrill for me."
No shortage of detractors
Because it's unquestionably Brian France's show, he has his critics.
O. Bruton Smith, chairman of Speedway Motorsports Inc., which operates eight tracks that hold NASCAR races, long has grumbled he doesn't always get the best race dates on NASCAR's calendar, that NASCAR's revenue flows unevenly to some France-controlled ISC tracks and about a lack of excitement in the sport.
"He's done a respectable job," Smith said of France.
Some NASCAR critics also have urged France to shorten the Cup series' 36-race schedule that runs from February to November; change the mix of the 10 tracks in the Chase playoff for more variety, and push harder for driver and team diversity to gain NASCAR a wider following.
Speculation also is mounting that France might soon face a challenge from the sport's teams.
The nine largest NASCAR Sprint Cup Series teams, including Hendrick Motorsports, Joe Gibbs Racing and Team Penske, recently formed the Race Team Alliance, ostensibly to find ways to cut costs and improve their marketing efforts.
NASCAR and the RTA say there's no animosity between the two. But speculation persists that the teams are angling for more money, particularly with the start of NASCAR's new TV rights contract next year. NASCAR's total revenue is $3 billion to $4 billion per year: 65% goes to the tracks, 25% to the teams and their drivers and 10% to NASCAR itself.
Rob Kauffman, chairman of RTA, is a co-owner of Michael Waltrip Racing, the main culprit in last year's racing scandal. Asked to grade France's leadership at NASCAR, Kauffman was terse.
"I think he has a hard job," Kauffman said, declining to elaborate.
France said he did not see the RTA as signaling owner dissatisfaction with his leadership.
"We have a long history of doing business by listening to everyone in the garage," he said. "It's worked well and each owner will continue to have input."
Mindful of the future
As for his longer-term plans, France said he has "no timeline" for how long he'll remain NASCAR's chairman. But the young ages of his children raises the question of who in the France family might succeed him.
One possibility: France's nephew Ben Kennedy, 22, son of France's sister. Ben Kennedy races in NASCAR's truck series but also just graduated from the University of Florida with a degree in sports management.
"My hope is that Ben will want to play a significant role in the company, but that will be his choice," France said. "He's focused on driving right now." As for France's children, "you always hope they will be interested in the family business, but there is certainly no pressure or expectation that they will be," France said.
In the meantime, France said he's proud of his "body of work" at NASCAR, that the sport remains healthy and that there will be more changes.
Just don't expect him to tip off the changes in a flurry of televised news conferences.
"Walking around with a bullhorn," he said, "I don't think that's helpful."
---
Get the latest on L.A.'s teams in the daily Sports Report newsletter.
You may occasionally receive promotional content from the Los Angeles Times.