North Carolina grabs another shot at an NCAA championship with win over Oregon, 77-76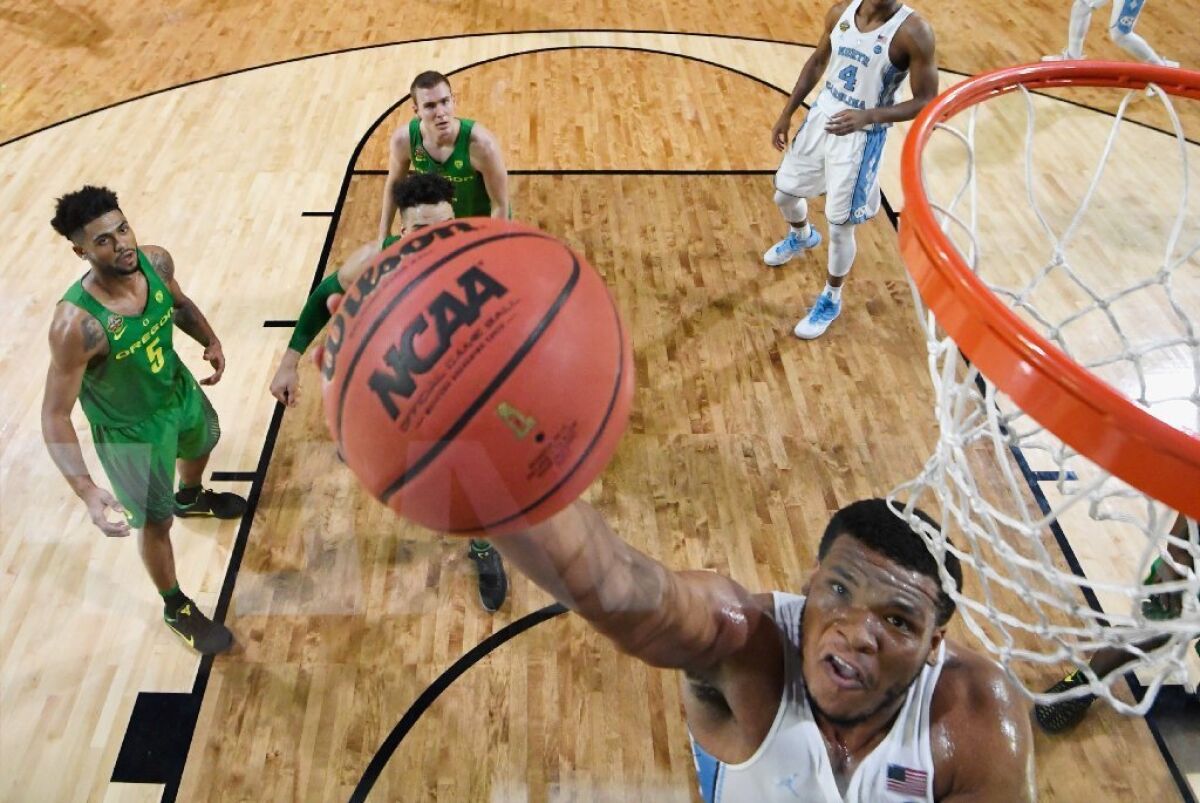 The sequence that vacillated between hope and despair, a crowd of 77,612 disbelieving what was unfolding one way or the other, started with an outstretched hand.
Oregon's Jordan Bell held the position but North Carolina's Theo Pinson had the moxie. The Ducks trailed the Tar Heels by one point in an NCAA tournament semifinal Saturday night at University of Phoenix Stadium and needed to grab a missed free throw and go the length of the court with only 5.8 seconds left.
Pinson timed his jump perfectly after teammate Kennedy Meeks' free throw bounced off the front of the rim, tapping the ball to North Carolina guard Joel Berry II. The Ducks quickly wrapped up Berry, who missed his first free throw. And then his second.
Four consecutive missed free throws had twice opened the door in a nearly inconceivable way for the Ducks. But Meeks closed it for good when he snatched the rebound on Berry's second miss, outmaneuvering Bell amid a scrum of players under the rim. Meeks flipped the ball to Pinson, who dribbled toward halfcourt before hurling it into the air in triumph at the buzzer.
The Ducks quacked under the might of the moment and a more burly counterpart, falling to North Carolina, 77-76, in a game that will be cursed for eternity in the Pacific Northwest.
"I lost the game," a despondent Bell said after his team had yielded 17 offensive rebounds. "I had it and I just lost it."
Bell had seemed to sense the possibility of an unhappy ending several minutes earlier. After Meeks had powered his way to one of his eight offensive rebounds midway through the second half, Bell waved his arm in frustration and muttered something to two teammates, presumably about not letting the Tar Heels stomp their way to so much success around the basket.
Apparently no one listened when it mattered most.
"I wish I had something I could say to make them feel better," said Oregon Coach Dana Altman, whose team had rallied from nine points down in the final minutes. "It hurts."
North Carolina (32-7) advanced to play Gonzaga on Monday night in its second consecutive appearance in the championship game. Not that Tar Heels coach Roy Williams was contemplating anything pleasurable after all the missed free throws.
"Oh, jump off a building," he said of his thoughts.
There were plenty of opportunities for Oregon in the final minutes, some sloppy play by the Tar Heels letting the Ducks (33-6) stay within range of an improbable comeback. But Oregon continually missed three-point shots and misfired on other chances, such as when Dylan Ennis failed to connect with Bell while throwing an errant alley-oop pass.
Oregon did cut its deficit to 77-74 with 42 seconds left after Tyler Dorsey's three-pointer hit the front of the rim and rolled toward the back before reversing course and dropping through the net. The Ducks had an opportunity to tie the score after Pinson missed a jumper during a disjointed possession for North Carolina.
Oregon never got off a three-pointer, however. Ennis hurled a pass underneath the basket to Keith Smith for a layup with six seconds left. The Ducks fouled Meeks on the inbounds pass and he missed both free throws, starting the madcap final sequence.
"If it wasn't for Kennedy Meeks, we wouldn't have been in the basketball game," Williams said of the forward who finished with 25 points on 11-for-13 shooting to go with 14 rebounds. "To miss those two free throws, it just killed him, but he got the last rebound as well.
"He was sensational until the two free throws. But we're still playing."
Meanwhile, the title drought continues for the Pac-12 Conference, which has not produced a national champion since Arizona in 1997 or had a team make the final game of the season since UCLA in 2006. Oregon was trying to get to the championship game for the first time since 1939, when it won the inaugural NCAA tournament.
Dorsey nearly went from Mr. March to Mr. April, scoring 21 points to log his eighth consecutive game with at least 20. Ennis added 18 points in his final college game and Bell finished with 13 points and 16 rebounds. It wasn't enough.
Ennis could only crouch in disgust near midcourt after an ending that left multiple Ducks feeling culpable.
"The first one got tipped out, they got it," guard Casey Benson said of the Tar Heels' late rebounds. "The second one, they got it again. I wish I could have gone up and gotten it. That was on me."
Twitter: @latbbolch