Lonzo Ball and UCLA kick it into gear in second half to beat Cincinnati, 79-67
Reporting from Sacramento —
UCLA was so unstoppable Sunday evening that the Bruins ran a give-and-go long after their most significant triumph of the season.
As power forward TJ Leaf sat in front of his locker stall, reflecting on how he had elevated his game following a horrid first half, he received kudos from Lonzo Ball two lockers over as his shirtless teammate reached for a towel.
"We appreciate you, bro," Ball said.
Said Leaf: "Yeah, I appreciate that, 'Zo."
Said Ball: "Next time, try to play two halves."
The two freshmen could openly crack on one another after leading the third-seeded Bruins to an equally joyful 79-67 victory over sixth-seeded Cincinnati in an NCAA tournament second-round game at the Golden 1 Center.
Leaf scored all 11 of his points and grabbed five of his seven rebounds in the second half. Ball scored 11 of his 18 points, snagged five of his seven rebounds and tallied all nine of his assists over the same span. Not to be left out of the fun, UCLA shooting guard Bryce Alford scored 13 of his 16 points after halftime, including a three-pointer during a decisive 9-0 run.
The late efficiency came as UCLA shot 63.3% and scored 49 points in the second half, easily wiping out a three-point halftime deficit.
"I don't know of a more fun basketball team to watch when we're clicking," UCLA Coach Steve Alford said after the Bruins (31-4) advanced to play second-seeded Kentucky in a South Regional semifinal on Friday at the FedEx Forum in Memphis, Tenn. It will be UCLA's third trip to the Sweet 16 in four seasons under Alford.
The celebrating started with just under three minutes to play, Bryce Alford holding his hands high and wriggling his fingers to coax cheers from roaring Bruins fans.
Alford had just driven into the lane and passed to Leaf for a dunk that pushed UCLA's advantage to 74-63, prompting Cincinnati (30-6) to call a timeout with 2:59 left.
"I talked to TJ at halftime and made sure that he stayed aggressive," Bryce Alford said. "That's all you can do is stay aggressive and continue to trust in what you do and we both got hot in the second half."
The Bruins finally found their outside touch after halftime, making three consecutive three-pointers — two by Ball and one by Alford — to take a 55-47 lead with 12:25 left. They also received an infusion of energy from reserve forward Ike Anigbogu, who blocked Gary Clark's shot and then dunked in transition off a pass from Ball.
UCLA started the second half hot, going on a 10-3 push that included a flying put-back dunk from center Thomas Welsh, to take a 40-36 lead. More importantly, Leaf scored his first points on a two-handed dunk. He followed it up a few minutes later by powering over two defenders for a layup on which he was fouled.
Cincinnati Coach Mick Cronin said the game changed when his team repeatedly tried to score inside in the second half but missed shots and couldn't draw fouls, leading to empty possessions.
The primary talking point at halftime was ball movement after UCLA had struggled to make shots or play the frenzied style it prefers on the way to a 33-30 halftime deficit. That put the Bruins in a precarious spot considering they trailed at the midpoint of all four of their losses this season.
"The key to that was going to be defensive stops," Steve Alford said, "and we came out and got three stops in a row."
Leaf struggled mightily in the first half, picking up two fouls in a matter of seconds and going to the bench with 10:01 left in the first half after having missed his first four shots. He returned with 6:22 left and quickly had a shot blocked by Clark.
UCLA center Thomas Welsh throws down a dunk against Cincinnati in the second half.
(Wally Skalij / Los Angeles Times)
UCLAA forward Ike Anigbogu celebrates after his dunk in front of Cincinnati guard Jacob Evans during the second half.
(Wally Skalij / Los Angeles Times)
UCLA guard Lonzo Ball blocks the shot of Cincinnati forward Gary Clark, but is called for a foul.
(Wally Skalij / Los Angeles Times)
UCLA guard Bryce Alford scores against Cincinnati guard Troy Caupain during the second half.
(Wally Skalij / Los Angeles Times)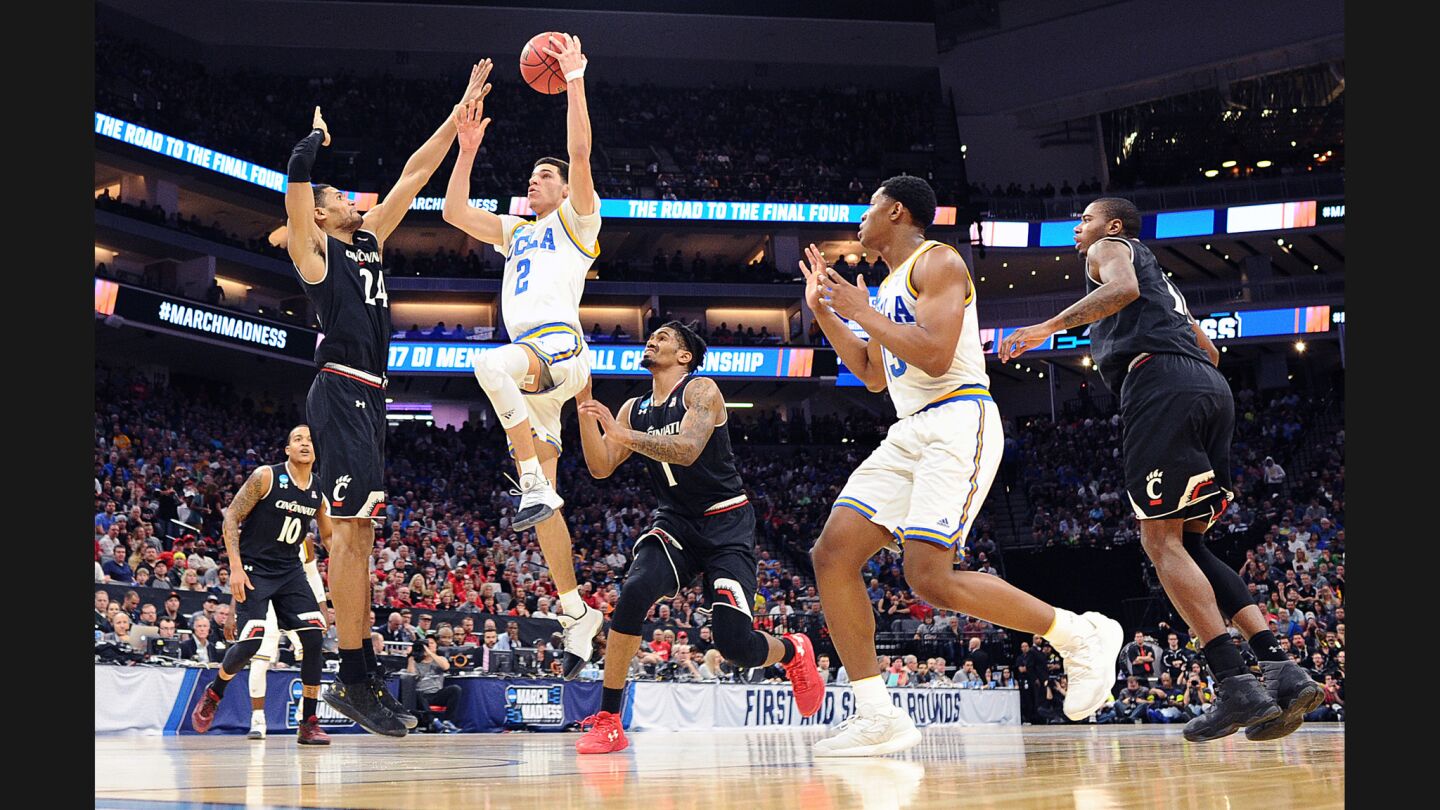 UCLA guard Lonzo Ball drives through the Cincinnati defense to score a basket during the second half.
(Wally Skalij / Los Angeles Times)
UCLA guard Aaron Holiday beats Cincinnati guard Troy Caupain to the basket during the first half.
(Wally Skalij / Los Angeles Times)
UCLA guard Lonzo Ball forces Cincinnati guard Troy Caupin into a turnover during the first half.
(Wally Skalij / Los Angeles Times)
UCLA guard Aaron Holiday (3) and forward TJ Leaf apply defensive pressure on Cincinnati forward Gary Clark during the first half.
(Wally Skalij / Los Angeles Times)
The evening was not without distractions for the Bruins after a report surfaced that Indiana had offered Alford a seven-year, $31-million contract to fill the coaching vacancy created by the firing of Tom Crean.
"I've already addressed that matter and I'm not going to address it anymore," Alford said. "This is about our team and what these guys are doing."
Jarron Cumberland finished with 15 points for the Bearcats, who made 44.8% of their shots and committed 10 turnovers to the Bruins' three. Cronin said he wished Steve Alford luck as UCLA headed off the court and into a rematch with Kentucky.
"I told him they got a chance to win the whole thing," Cronin said.
Said Leaf: "It's extremely exciting. At the end of the day, we're not done yet."
That also goes for the silly banter in the locker room, where Leaf said his teammates picked him up at halftime.
"Screamed at you," Bryce Alford interjected with a smile.
Said Leaf: "He didn't scream. He didn't say a word, but I knew what I had to do, so I just picked it up."
Twitter: @latbbolch
---
Get the latest on L.A.'s teams in the daily Sports Report newsletter.
You may occasionally receive promotional content from the Los Angeles Times.