Column: Rams have a chance to make Los Angeles their own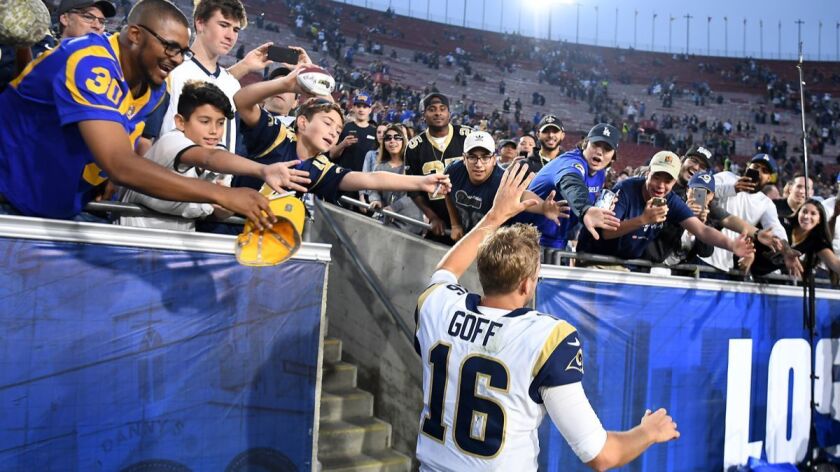 The USC and UCLA football teams are not only done for the season, but their star quarterbacks are already gone for good.
The Lakers are essentially done for the season, even in the middle of their season, losing so often and awfully that one of their players has publicly called them quitters.
The Dodgers are still reeling from a World Series hangover, and they have shown new economic restraint that's turned their hot stove cold.
It is upon this barren local sports landscape that one star-filled, title-contending professional franchise will step this weekend with a perfect chance, two years after coming home, to finally feel at home.
Will this be the moment Los Angeles embraces the Rams?
That will be the question swirling around town Saturday when the wildly entertaining but attention-starved locals host the Atlanta Falcons in the first NFL playoff game at the Coliseum in 39 years.
This is about much more than winning a football game. It's about winning over a city. Two years of spotty attendance, lagging TV ratings and sluggish interest would all begin to evaporate with a victory awakening fans to the stunning reality that the Rams would be two wins away from the Super Bowl.
"This is huge,'' Rams kick returner Pharoh Cooper said. "Lots of people are still on the fence for us, but if you win that first playoff game, those people will be like, 'OK, this team has a legitimate chance to win the Super Bowl.' ''
They do. They can. It's crazy but true. One year after winning just four games in their nightmarish homecoming, the Rams went 11-5 this season with a head shot that Hollywood should love.
They are the league's highest-scoring team, led by its youngest coach in 31-year-old Sean McVay. They possibly have the league's most valuable player in running back Todd Gurley, one of the league's best young quarterbacks in Jared Goff, and a defensive superstar in tackle Aaron Donald.
"Don't forget handsome,'' joked Johnny Hekker, the Rams punter and community cornerstone. "This is one handsome team.''
They are a team that can look like a video game — Gurley hurdling tacklers, Goff throwing the ball 60 yards in the air, Donald crushing quarterbacks, and linebacker Alec Ogletree somersaulting into the end zone after returning an interception for a touchdown.
"Some of the things we did at USC, that's what we're doing here,'' said Rams receiver Robert Woods, a former Trojan. "It's literally a show.''
But while the Trojans are long established as Los Angeles' favorite football team, the Rams have been looking for love since bringing the NFL back to town last season after a 22-year absence.
In their first year, they won four games and fired head coach Jeff Fisher. Their fans were turned off by everything from their lack of offense to the long and unruly lines at a Coliseum that lacked the family atmosphere of a USC game.
This season it was immediately different. McVay's ideas, along with the maturation of Goff, changed the offense. The Rams halted ticket sales at around 65,000 to better manage their 92,000-seat beast of a stadium. The team and experience were vastly better. Yet even after the Rams began winning and entertaining, the response has been slow.
They were overshadowed for a month by the Dodgers' postseason run. They have had to battle the constant buzz over the Lakers. The room became even more crowded when the Chargers showed up and set up a competing shop down the road.
Empty seats and apathy abounded, and mocking photos of a half-filled Coliseum filled the tittering internet.
"A lot of fans were snakebit after last season and were pretty wary to come back to the bandwagon,'' Hekker said.
Even as attendance slowly increased with each win, many still-skeptical fans waited for them to flop. But they didn't. They won the NFC West Division title over the celebrated Seattle Seahawks. They earned the NFC's No. 3 seed in the postseason tournament.
And so, finally, Saturday at 5:15 p.m., they will own Los Angeles' biggest stage on the week's most glittery night in their most important act of their brief tenure, and the question will again arise.
Will this be the moment Los Angeles embraces the Rams?
"You strive to create great opportunities for yourself and great platforms, and this game is one of them,'' said Kevin Demoff, the Rams chief operating officer. "A Saturday night game in the Coliseum, there's a buzz and energy in the city, you want to make sure you're ready for it.''
They should be ready. Many of their key players were rested during the regular-season finale last week against the San Francisco 49ers, and they have no major injuries except for the loss of kicker Greg Zeurlein.
The Falcons, who historically blew a 25-point lead to the New England Patriots in last year's Super Bowl, haven't seemed ready all season. While they went 10-6, their quarterback, Matt Ryan, wasn't as sharp, and they never seemed to quite shake their Super Bowl blues.
A victory would not only advance the Rams into a winnable NFC semifinal game in Minnesota against the Vikings — they were tied in the fourth quarter of their previous meeting, a Vikings victory — but could finally begin to cement their new footing in their old town.
"There will be people who are back in the Coliseum for first time since last September, and this is your chance to imprint in their minds the direction of the franchise,'' Demoff said. "Rarely do you get one night in prime time all to yourself in the playoffs. These are the kind of games that bring a city together. I think the team will embrace it and take advantage of it.''
Maybe the giant hug has already started. Just the other day, Demoff spotted the one consistently enduring sign of Los Angeles' sports love.
Yes, driving among you are cars flying Rams flags.
"It was just three or four, but it's a start,'' Demoff said with a hopeful grin.
A flapping, rippling Saturday night awaits.
Get more of Bill Plaschke's work and follow him on Twitter @BillPlaschke
---
Get our high school sports newsletter
Prep Rally is devoted to the SoCal high school sports experience, bringing you scores, stories and a behind-the-scenes look at what makes prep sports so popular.
You may occasionally receive promotional content from the Los Angeles Times.