Angels hire Dave Hansen as assistant hitting coach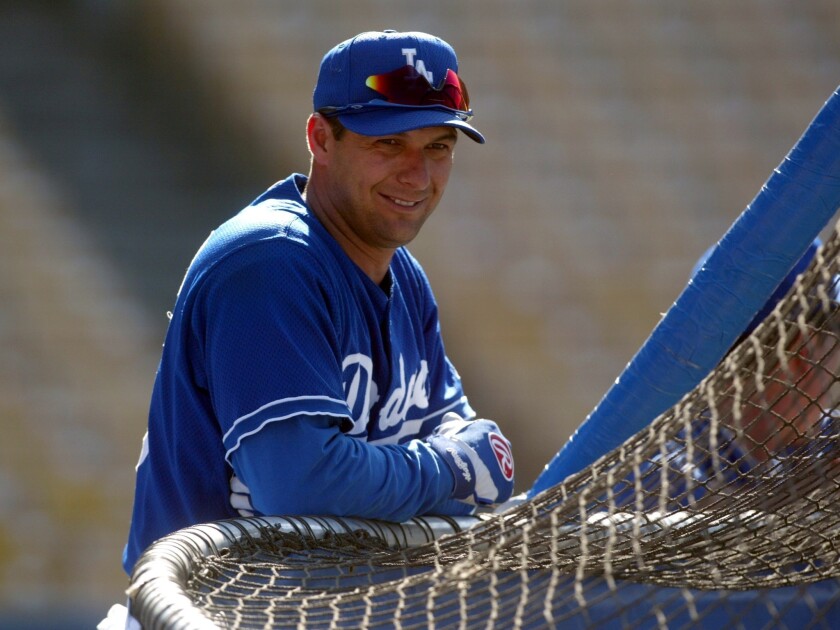 New Angels hitting coach Don Baylor will have no shortage of input as he looks for ways to improve the team's offense next season. The Angels on Wednesday hired Dave Hansen as an assistant hitting coach, adding a second former major league hitting coach to their staff.
Hansen, 45, was the Dodgers' hitting coach in 2012 and the Seattle Mariners' hitting coach in 2013. Rick Eckstein, recently hired as the club's major league player information coach, spent most of the last five years as the Washington Nationals' hitting coach.
Hansen, the team's seventh on-field coach, will dress in uniform and be allowed on the bench for games; Eckstein will not.
Hansen, a graduate of Rowland Heights High and a teammate of Angels Manager Mike Scioscia on the Dodgers from 1990 to 1992, played 15 years in the big leagues, hitting .260 with a .360 on-base percentage, 35 home runs and 222 runs batted in for the Dodgers, San Diego Padres, Mariners and Chicago Cubs.
But he made his biggest mark coming off the bench, accumulating 139 pinch-hits, which ranks fourth on the all-time pinch-hit list, 15 home runs and 81 RBIs in 593 at-bats. One-third of his 1,793 at-bats came as a pinch-hitter.
Hansen retired after the 2005 season and spent three seasons (2008-10) as Arizona's minor league hitting coordinator. He took a job as the Dodgers' assistant hitting coach in 2011 before becoming the team's hitting coach in 2012.
Hansen had one year remaining on his contract with Seattle but was told he would not be retained in his major league position under new Manager Lloyd McClendon.
ALSO:
Jim Mora to remain as UCLA football coach
As the world turns, we watch the young and the restless
With Clippers' J.J. Redick injured, Willie Green and others step up
---
Get the latest on L.A.'s teams in the daily Sports Report newsletter.
You may occasionally receive promotional content from the Los Angeles Times.