Dodgers President Stan Kasten understands the task before Jeanie Buss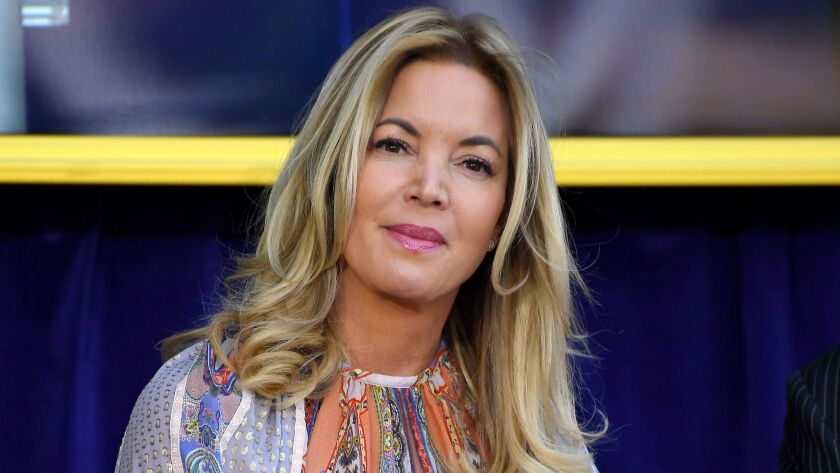 When Stan Kasten entered the Los Angeles sports scene in 2012, as part of the group buying the Dodgers, he was keenly aware of the stakes.
They bought a franchise that had filed for bankruptcy protection earlier in the year from an owner whose standing in major league baseball had taken a hit. Returning the once-proud franchise, that meant so much to Los Angeles, to respectability would mean so much.
"From a distance this was always one of those franchises you held in such a high regard," said Kasten, the Dodgers president and co-owner. "Such a special place among all franchises in any sport, and clearly the Lakers are the same kind of franchise."
Kasten succeeded. The Dodgers haven't won a championship with this ownership group yet, but they have finished first in the NL West for the past four seasons. He believes Lakers owner Jeanie Buss is well equipped to succeed as well.
Kasten has known Buss since her family entered the NBA in 1979. He was an executive for the Atlanta Hawks from 1979 to 1990.
"I think she has great credibility from having been associated with and instrumental in so much of their success over such a long period of time," Kasten said. "I think everyone around her in the organization has tremendous confidence in her... the decisions she's made have been decisive and really smart and I think people can already attribute that to success."
To succeed in a rebuild, Kasten believes a team's fans must be brought along for the ride.
"When we came in we made a point of first of all focusing on our long-term plan to achieve long-term success," Kasten said. "We were lucky to also have immediate success. But having that long term plan and then articulating to your fans what you're going to do, if you do that clearly your fans are going to be there for you."
There, he feels Buss has a head start.
"The best thing Jeanie has going for her, apart form the fact that she has been around more success than anyone in the world, she's blessed with maybe the most loyal, patient fan base anywhere in the world," Kasten said. "They have continued to stick with the Lakers and that's critical. They are just ready to embrace it even more fully. … I know they don't think they're patient but they've been extraordinarily patient."
The idea that fans in Los Angeles create extra pressure because of the expectation for championships can be exaggerated, Kasten said. He believes all executives feel that same pressure to win.
He added: "If you are good at what you do, and Jeanie is, you can block out any extraneous unhelpful pressure."
Follow Tania Ganguli on Twitter @taniaganguli
---
All things Lakers, all the time.
Get all the Lakers news you need in Dan Woike's weekly newsletter.
You may occasionally receive promotional content from the Los Angeles Times.